Bridge Cameras
Bridge cameras offer enhanced optical zoom, ideal for taking close-up photos of subjects you would usually be quite far away from, such as wildlife and sporting events. They feature built-in lenses which generally encompass a wide range of zoom and focal lengths.

Due to their vast zoom range, the majority of bridge cameras feature built-in image stabilisation to keep your photographs as sharp as possible. As bridge camera lenses need to be larger to allow for this extended zoom, the camera itself is much bigger than a compact camera - but many models are still lightweight and compact enough for travel and on-the-go use.

Electronic viewfinders feature on bridge cameras too, allowing you to perfectly frame your shot – even in bright sunlight. Sensor sizes can vary between bridge cameras - some offer smaller CCD sensors while others feature CMOS sensors for better image quality.

Click the icons below to read more

 
Image Quality
Image quality from bridge cameras is determined by two main factors: sensor size and lens brightness. Bridge cameras can feature either a CCD or a CMOS sensor. CCD sensors are often found in basic bridge cameras, while CMOS sensors increasingly mirror the capabilities of sensors used in many DSLRs and compact system cameras. Their excellent light-capturing properties result in more detailed, high quality images.
View all Bridge Cameras with CMOS sensors
View all Bridge Cameras with CCD sensors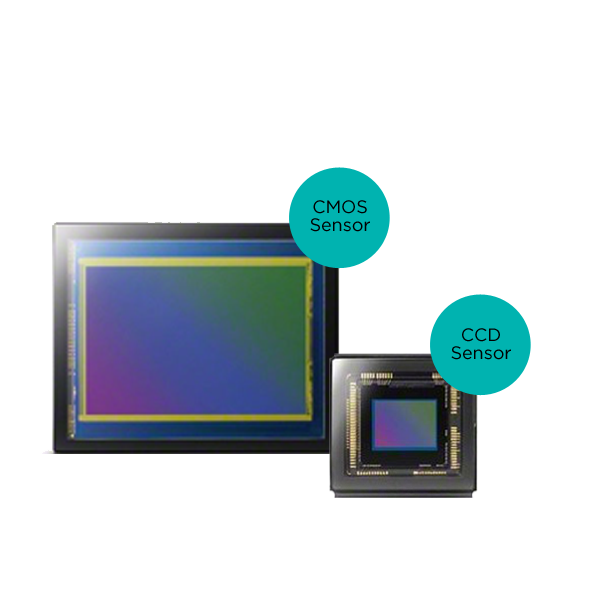 Optical Zoom
Bridge cameras offer the ultimate in optical zoom. This means you can hone in very close to a subject without degrading image quality, since the lens itself is adjusted. The zoom value- e.g. 30x optical zoom - means you can zoom in 30 times closer to your subject.

Digital zoom brings subjects closer by enlarging a section of the existing image so that its contents appear nearer. This is the same concept as cropping an image, and can decrease image resolution. Some cameras allow you to combine optical and digital zoom for more powerful results.
View all bridge cameras +20x optical zoom
View all bridge cameras +30x optical zoom
View all bridge cameras +40x optical zoom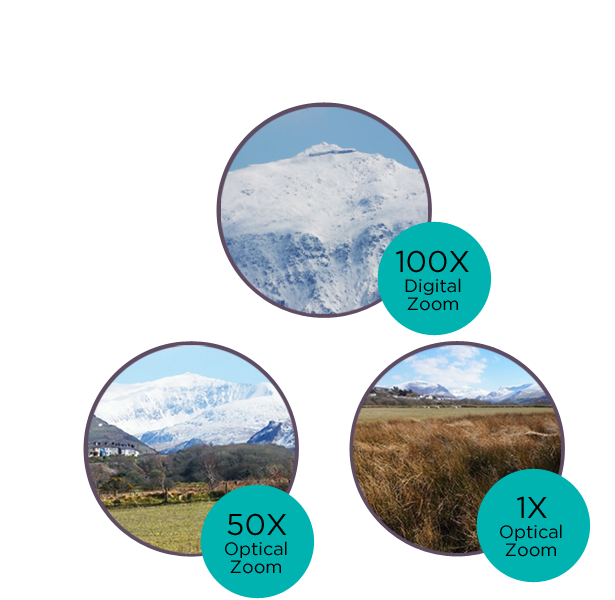 Electronic viewfinder
Many bridge cameras feature an electronic viewfinder, which lets you frame shots without having to rely on the camera's screen. The viewfinder is a small glass interface which you place one eye against to compose your scene.

This gives the bridge camera a DSLR-like feel and allows you to be more accurate and creative, rather than using the general framing style of the screen.

The viewfinder is particularly useful in bright sunlight when it is hard to see the screen, and gives you much better control over your photography.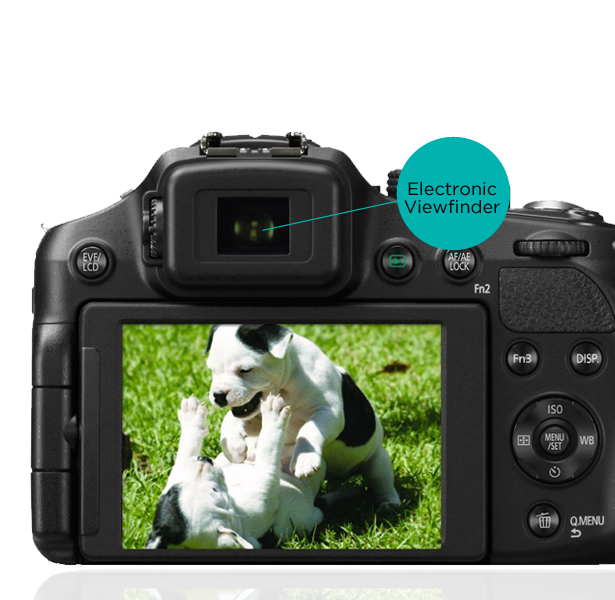 WiFi
Many bridge cameras feature built-in WiFi, which enables you to share your images wirelessly via a smartphone or tablet. If you're the social type, you can upload photos directly to sites like Facebook and Twitter with certain models.

Some cameras also feature NFC, which will allow you to send images to a device using one-touch wireless pairing. Other WiFi-enabled cameras even give you the option to download apps to your camera, so you can edit shots, surf the web, play games and much more.

Cameras with built-in GPS can automatically register where each photo was taken, which makes for more comprehensive and exciting travel photography. View your pictures by location and create the ultimate holiday or adventure slideshow to wow your friends and family with.
View all Bridge cameras with WiFi
View all Bridge cameras with NFC
View all Bridge cameras with GPS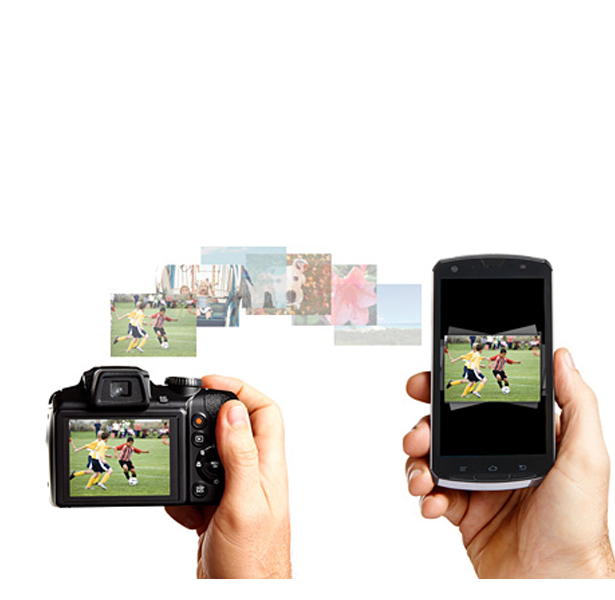 Video Quality
All bridge cameras are capable of recording video as well as capturing still images. This gives you a great way to relive those special or unexpected moments in full – connect your bridge camera to a compatible HD TV or monitor to share your movies with friends and family in large, high-quality format.

You can even combine your photos and videos into an exciting multimedia project if you have the right editing software, making your camera an even more versatile device.

The majority of bridge cameras are capable of shooting 1080p Full HD videos, which offer twice the image quality of regular HD video recording for sharper, more detailed footage.
View all bridge cameras with full HD 1080p video recording
View all bridge cameras with HD 720p video recording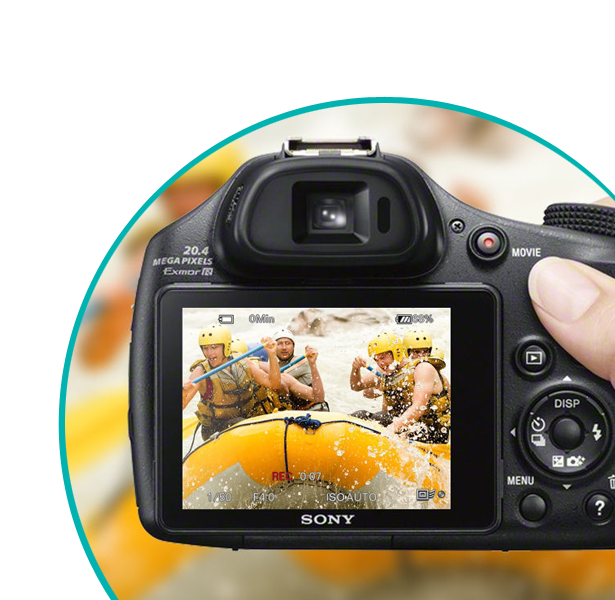 Manual Control
A bridge camera is a great option if you want the manual control of a DSLR or compact system camera, without having to worry about changing lenses.

You will typically have manual control over the same settings as you would on a DSLR, with the ability to adjust aperture, shutter speed, ISO and other values to get the results that you want. Achieve different depth of field, exposure and motion effects as you apply combinations of settings to suit the subject you're shooting.

Some bridge cameras also feature a hot shoe adapter on top of the camera, which allows you to mount accessories such as external flash guns or mini flash diffusers.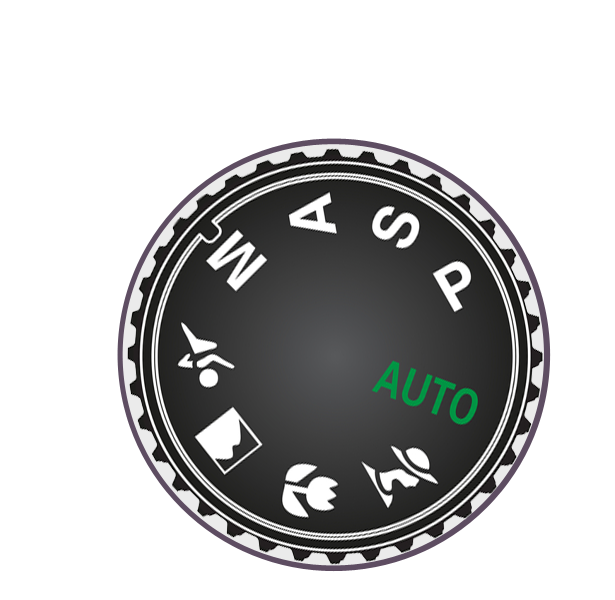 Size and Weight


Bridge cameras are larger and heavier than compact cameras since they incorporate long lenses for optical zoom. Their shape and grip is similar to that of a DSLR, so they're best worn around the neck and kept in a camera bag for easy shooting and transport.

However, they're still lighter than many DSLRs and compact system cameras, and because they feature fixed lenses you won't have to worry about additional lenses adding extra weight.

A bridge camera is great for taking on holiday or for travel photography with its high image quality and versatile features, which allow you to conveniently capture great shots of everything from portraits and street scenes to architecture and landscapes.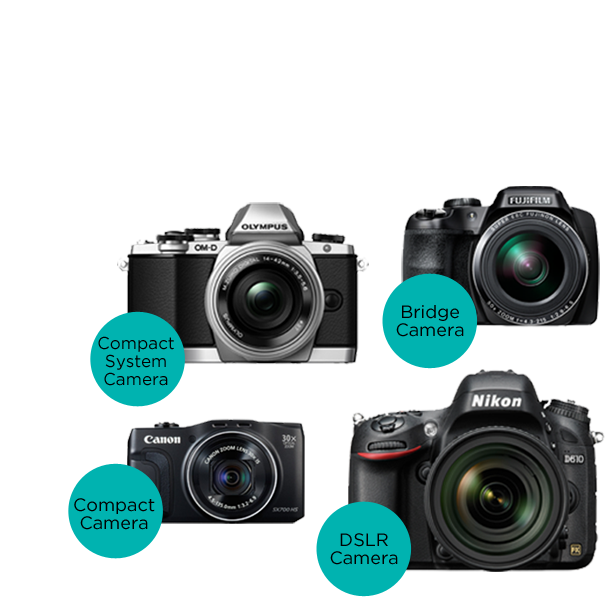 Shopping with Currys
Unbeatable services brought to you by