Canon Camcorders
Capture and relive those priceless memories in full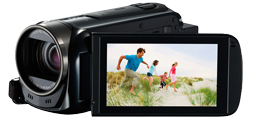 Canon Camcorders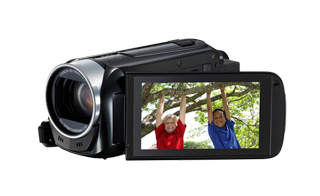 HF R406
The Full HD Canon Legria HF R406 Camcorder gets you closer to the action with a sensitive CMOS sensor and 53x advanced zoom. High-rate progressive recording, scene-specific modes and Cinema-Look filters enable perfect subject capture. Optical Intelligent image stabilisation offsets camera shake, while advanced DIGIC DV4 processing enhances quality and minimises distortion. Store hours of footage on an SDXC card and use Audio Scene Select to apply scene-specific sound modes. Enjoy superb control on a 3" capacitive LCD touchscreen to never miss a moment.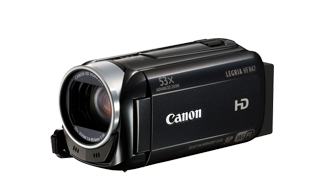 HF R47
Packed with features, the Canon Legria HF R47 Camcorder lets you record memories in Full HD. Its CMOS sensor delivers high quality filming as 53x advanced zoom and 2650x digital zoom take you closer to your subjects. Intelligent Optical Image Stabilisation makes for fluid shooting and playback, while dynamic shooting modes let you capture important moments in the best quality. Stream and share via WiFi, and compose and navigate easily on the wide-angle 3" LCD touchscreen. Connect the camera directly to an HDTV via HDMI for hi res review.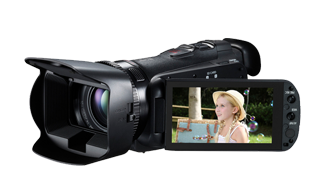 HF G25
With a wide-angle lens and full manual controls, the Full HD Canon Legria HF G25 Camcorder boosts your creativity. Its CMOS PRO sensor gives superb contrast and low light performance, as Optical Image Stabilisation counters camera shake for sharp, detailed images. Instant AF delivers pin-sharp HD quality, while Face Detection helps you take flawless people shots. A hi-res 3.5" LCD touchscreen allows 100% scene coverage, a retractable colour viewfinder expanding shot-framing options. Audio Scene Select and a sensitive integrated zoom mic create movies that sound as amazing as they look, and 32 GB of internal memory combines with two SDXC slots for reams of shooting space.
Compare Canon Products
| | HF R306 | HF R406 | HF R37 | HF R47 | HF R48 | HF G25 |
| --- | --- | --- | --- | --- | --- | --- |
| Resolution/Sensor | Full HD CMOS | Full HD CMOS | Full HD CMOS | Full HD CMOS | Full HD CMOS | Full HD CMOS PRO |
| Optical Zoom | 32x | 32x | 32x | 32x | 32x | 10x |
| Digital Zoom | 1020x | 1060x | 2550x | 2650x | 1060x | 40x/200x |
| Image Processor | DIGIC DV III | DIGIC DV4 | DIGIC DV III | DIGIC DV4 | DIGIC DV4 | DIGIC DV III |
| Image stabiliser | Yes | Yes | Yes | Yes | Yes | Yes |
| Internal Storage | | | 8GB | 8GB | 32GB | 32GB |
| SDXC Slots | 1 | 1 | 1 | 1 | 1 | 2 |
| LCD Screen Type & Size | 7.5cm Touchscreen LCD | 7.5cm Touchscreen LCD | 7.5cm Touchscreen LCD | 7.5cm Touchscreen LCD | 7.5cm Touchscreen LCD | 8.8cm Touchscreen LCD |
| Wi-Fi | | | Yes | Yes | Yes | |
| Max recording time | 1h | 1h 45mins | 1h | 1h 45mins | 1h 45mins | 1h 55mins |
| | | | | | | |