Canon Compact Digital Cameras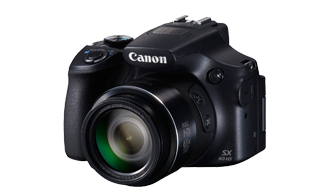 PowerShot SX60
Zoom into the exquisite detail of distant wildlife. Capture stunning ultra-wide landscapes with this hugely versatile and gifted 65x Wi-Fi bridge camera, which combines fun with expert control.
Explore distant detail like never before with a huge 65x zoom Fast and flexible, so you always get the shot you want.
Designed with big zooming and your comfort in mind.
Enjoy beautiful, crisp shots and smooth Full HD movies - day or night.
Shoot remotely and share easily using Wi-Fi and NFC.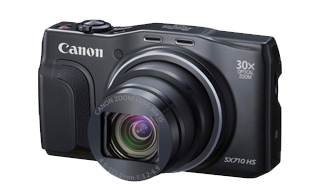 PowerShot SX710
This camera is the perfect travel companion!
Pocket this powerful, compact travel superzoom camera and be ready to shoot beautiful stills and movies you'll want to share. A 30x zoom lens and advanced features help you capture precious moments in superb detail.
Sharing your images is simple. You can quickly transfer images and movies to smartphones, tablets using Wi-Fi & NFC, or you can upload them to social networks directly from the camera.
PowerShot G7 X
An expert's pocket camera, the PowerShot G7 X has been specifically designed for those who want uncompromising image quality and control from a pocketable camera. From the refined metal body to the impressive quality of its results everything says Canon premium G-Series DNA.
Capture beautiful background blur and superb detail with bright f/1.8-2.8 zoom lens, and 1.0-type sensor. Master low light shots with HS System, and DIGIC 6.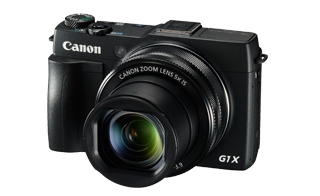 PowerShot G1 X Mark II
The PowerShot G1 X Mark II has a large 1.5-type sensor which is combined with a 12.8 megapixel resolution. The CMOS image sensor gives you greater control over depth-of-field and produces outstanding low-noise images even when shooting at high ISOs in challenging light.
Achieve stunning levels of detail, colour and tonal gradation with this outstanding imaging tool. A DIGIC 6 image processor is incorporated to deliver a responsive shooting experience on all occasions. 
Make your next step with Canon compact cameras
Canon's exciting range of compact digital cameras are packed with advanced, easy-to-use features to help you take your next step in capturing priceless moments. Responsive image sensors deliver high-resolution photos and videos that will make everything you shoot look as stunning as it should. Intelligent image stabilisation, built-in GPS and WiFi and custom image modes combine for enhanced image quality, creative freedom and usability. Whether you want to get in close with 20x zoom, print wirelessly for added convenience or simply do your memories the justice they deserve, Canon digital compact cameras allow you to make pictures – not just take them.
Compare Canon Products
IXUS 160

IXUS 170

PowerShot SX610 HS

PowerShot SX710 HS

PowerShot SX60 HS

PowerShot
G16

PowerShot
G7 X

PowerShot
G1 X MKII

Megapixels - Sensor
20MP - 1/2.3 type CCD
20MP - 1/2.3 type CCD
20.2MP - 1/2.3 type back-illuminated CMOS
20.3MP - 1/2.3 type back-illuminated CMOS
16.1MP - 1/2.3 type back-illuminated CMOS
12.1MP - 1/1.7 type Canon high-sensitivity CMOS
20.2MP - 1.0 type back illuminated CMOS
12.8MP - 1.5 type Canon high-sensitivity CMOS
Processor
DIGIC 4+
DIGIC 4+
DIGIC 4+
DIGIC 6
DIGIC 6
DIGIC 6
DIGIC 6
DIGIC 6
Optical Zoom
8x (16x Zoomplus)
12x (24x Zoomplus)
18x (36x Zoomplus)
30x (60x Zoomplus)
65x (130x Zoomplus)
5x (10x Zoomplus)
4x (8x Zoomplus)
5x (10x Zoomplus)
Screen size & type
6.8cm LCD
6.8cm LCD
7.5cm LCD
7.5cm LCD
Vari-Angle 7.5cm LCD
7.5cm LCD
7.5cm Touchscreen LCD
7.5cm Touchscreen vari-angle LCD
Smart Auto Scene
32
32
32
58
58
58
58
58
HD Video
FULL HD (720p, 25fps)
HD (720p, 25fps)
Full HD (1080p, 30fps)
Full HD (1080p, 30fps)
Full HD (1080p, 30fps)
Full HD (1080p, 30fps)
Full HD (1080p, 30fps)
Full HD (1080p, 30fps)
Manual Control
No
No
No
Yes
Yes
Yes
Yes
Yes
Wi-fi
No
No
Yes & NFC
Yes & NFC
Yes & NFC
Yes
Yes & NFC
Yes & NFC
GPS
No
No
Yes via Mobile
Yes via Mobile
No
No
No
No
Viewfinder
Yes