WHATEVER HAPPENS
brought to you by





Fridge Freezers, Fridges, Freezers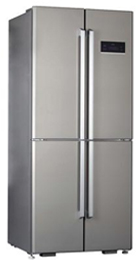 When you buy your new fridge freezer the manufacturer's guarantee will provide cover for mechanical and electrical breakdown. Our Whatever Happens Care Plans is designed to provide a more comprehensive after-care service, for the first 12 months to give you the peace of mind that the product you've just bought will be protected from a minor hiccup to a major mishap.
There are two levels of support - Whatever Happens Care Plan and Whatever Happens Care Plan Premier. Upgrading to our Premier plan guarantees the same high level of support with additional benefits, such as an annual valet to ensure your dishwasher is in tip-top condition.
Key benefits:
Covers breakdown through mishaps
We'll fix or replace
All parts and labour charges covered
No fault-no charge
Ask yourself these few simple questions:
Is your Fridge freezer a vital appliance in your household?

Do you or your family members occasionally forget to close the door properly?

A: Worldwide protection

Do you place your fridge freezer in your shed or garage?

Do you need your fridge freezer to be fixed quickly if it goes wrong?
If your answer is yes to any of the above, don't leave things to chance; a Whatever Happens Care Plan will give you the peace of mind you need that should anything go wrong your fridge freezer will be taken care of
There are two levels of support to choose from; Whatever Happens Care Plan and Whatever Happens Care Plan Premier. See the table below for the key benefits of each plan.
Benefits at a glance

Whatever Happens Care Plan

Whatever Happens Care Plan Premier

We'll fix or replace it
If we are unable to repair, we'll replace it with the same or similar product.

Max repair time 7 days*

We'll aim to visit within 2 days
If the spares are on the van, we'll try to fix your appliance there and then.
Breakdown through mishaps
Because incidents do happen, even to the most careful of us!
Parts costs covered
No expensive charges for parts and labour – we'll pay for them all.
No labour charges
No matter how long the repair takes, there's no cost to you.
No fault - no charge
If no fault is found we won't charge
Request a replacement
If your fridge freezer goes wrong again after the 3rd repair you can request a replacement.
Valet every year
We will carry out a full check and deep clean so your appliance is as good as new.
*7 day maximum repair time starts from the date of the engineer's first visit.
You can purchase plans with a one off payment for 3 or 5 years, or monthly by direct debit from as little as £1.50 a month. There's no fixed term and you can cancel the agreement at any time you like.
WHATEVER HAPPENS CARE PLAN

Fridge Freezers
3 Years
5 Years
Monthly
£150 and under
£29
£49
£1.50
£151 - £200
£49
£69
£2.00
£201 - £250
£59
£79
£2.50
£251 - £300
£79
£99
£3.00
£301 - £400
£89
£119
£3.50
£401 - £600
£129
£159
£4.00
£601 - £800
£159
£199
£5.50
£801 - £2500
£199
£249
£6.50
With 2 years standard guarantee
£200 and under
£39
£49
£1.50
£201 - £300
£49
£59
£2.00
£301 - £400
£59
£79
£2.50
£401 - £500
£79
£99
£3.00
£501 - £600
£99
£129
£3.50
£600 - £2500
£129
£159
£4.00
WHATEVER HAPPENS CARE PLAN

PREMIER

Fridge Freezers
3 Years
5 Years
Monthly
£150 and under
£49
£89
£2.50
£151 - £200
£69
£109
£3.00
£201 - £250
£79
£119
£3.50
£251 - £300
£99
£139
£4.00
£301 - £400
£109
£159
£4.50
£401 - £600
£149
£199
£5.50
£601 - £800
£179
£239
£6.50
£801 - £2500
£219
£289
£7.50
With 2 years standard guarantee
£200 and under
£59
£89
£2.50
£201 - £300
£69
£99
£3.00
£301 - £400
£79
£119
£3.50
£401 - £500
£99
£139
£4.00
£501 - £600
£119
£169
£4.50
£600 - £2500
£149
£199
£5.50