CARE PLANS
brought to you by





Fridge Freezers, Fridges, Freezers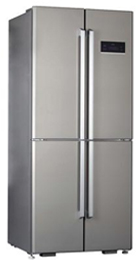 When you buy your new fridge freezer the manufacturer's guarantee will provide cover for mechanical and electrical breakdown. Our Care Plan is designed to provide a more comprehensive after-care service, to give you complete peace of mind that the product you've just bought will be protected from a minor hiccup to a mishap.
With a Care Plan you'll benefit from a 14 day repair promise, unlimited repairs and you'll never pay a penny more - all parts, labour and call out charges are included. You have the option to pay once for 3 or 5 years protection or you can choose to pay as you go.
Key benefits:
Protection against breakdown or mishap
We'll fix or replace with new
All parts, labour and call out charges covered
Full valet of your fridge freezer every year
Ask yourself these few simple questions:
Is your fridge freezer a vital appliance in your household?

Do you or your family members occasionally forget to close the door properly?

A: Worldwide protection

Would you like to have no hidden or extra fees if things go wrong?

Do you need your fridge freezer to be fixed quickly if it goes wrong?
If your answer is yes to any of the above, don't leave things to chance. A Care Plan will give you the peace of mind you need that should anything go wrong, your fridge freezer will be taken care of.
BENEFITS:

Protection against breakdown
Whether it's a defrosting issue, electrical problem or not cooling, if your fridge freezer breaks, we'll fix it.
Protection against mishap
We don't expect you to wrap your fridge freezer in cotton wool. If your product suffers a mishap, we'll fix it.
Fast fix
We're so confident we can repair your appliance quickly we've made a promise – if we fail to fix it within 14 days you can ask for a replacement.*
You won't pay a penny more
No expensive charges for parts, labour or call out – we'll pay for them all. And if no fault is found you'll not be charged.
We'll fix or replace with new
If we are unable to repair your fridge freezer, we'll give you a brand new one.
Unlimited repairs
There's no limit to the amount of repairs you can have, we'll always be there to help.e
Request a replacement
If your product goes wrong again after the 3rd repair, you can request a replacement.
Valet every year
We'll carry out a full check and deep clean so your appliance is as good as new.
Worldwide protection
If you take your appliance with you when you move abroad and it breaks down, don't worry, we can still help.
*14 day repair promise starts from when we collect your item or when you drop your item to one of our stores.
You can purchase a Care Plan with a one off payment for 3 or 5 years, or monthly by direct debit from as little as £1.50 a month. There's no fixed term and you can cancel the agreement anytime you like.
CARE PLAN

Fridge Freezers
3 Years
5 Years
Monthly
£150 and under
£29
£49
£1.50
£151 - £200
£44
£64
£2.00
£201 - £250
£59
£79
£2.50
£251 - £300
£79
£99
£3.00
£301 - £400
£84
£114
£3.50
£401 - £600
£129
£159
£4.50
£601 - £800
£144
£184
£5.00
£801 - £2500
£164
£214
£6.00
With 2 years standard guarantee
£200 and under
£39
£49
£1.50
£201 - £300
£49
£59
£2.00
£301 - £400
£59
£79
£2.50
£401 - £500
£79
£99
£3.00
£501 - £600
£94
£129
£3.50
£600 - £2500
£119
£149
£4.50