Desktop PCs
Browse Desktop PCs
Black tag Event now on - shop now
Desktop PCs
A desktop PC isn't just a computer - it's your future career, your entertainment and your family time, so selecting the right one is a big decision.
Whether you're looking for an everyday workstation for college work or a performance PC for gaming, you can explore our range to find the ideal combination of power and price to suit your needs and budget.
If you aren't sure where to start, we have some handy tips on what to look out for. If you need more in-depth information, check out our buying guide where we break down the technical information you're likely to come across when browsing desktop PCs.
Look out for 'our expert love' PCs for models which offer exciting features, new technology and great value.
Reasons to buy Windows 10 Desktop PCs
Which operating system is right for you?
One of the first things to think about when buying a PC is the operating system. Windows and OS X look, feel and work very differently to each other, with most people preferring one over the other.
Windows
Windows is the most popular operating system available today. The majority of software out there is compatible with Windows, while the familiar layout and easy-to-pickup navigation makes it the first choice of many professionals, gamers and families.
Find out more about Windows 10
OS X
OS X is exclusive to Apple Macs and offers bright, intuitive access to your files, software and the internet. Used in homes and studios alike, OS X users praise it for its reliability, simple interface and 'plug and play' compatibility with Apple certified software and accessories.
Barebones (no OS)
Barebones PCs come without an operating system, so you can install an older version of Windows if you have one, or an alternative OS such as Ubuntu or Linux. Barebones PCs are perfect for businesses or users with very particular requirements.
Need for information?
Call into one of our stores to try each operating system out and get a feel for which one you prefer.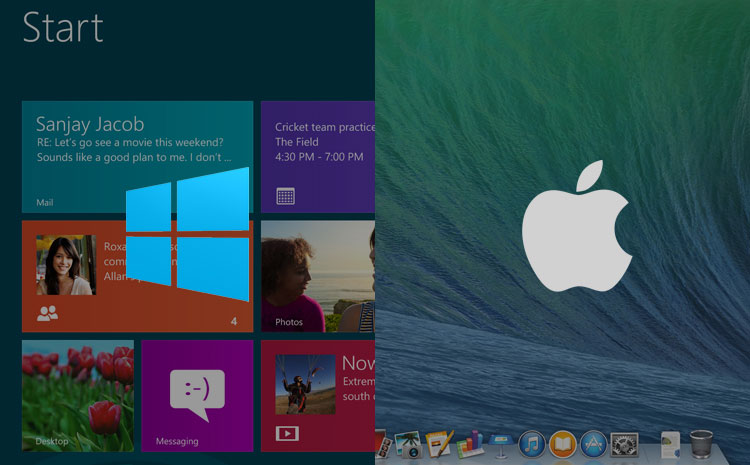 Things to consider when buying a PC
Screen

Some all-in-ones and monitors feature touchscreens, which give you the ability to navigate your PC just like you do on your smartphone or tablet.

Windows 8 is optimised for touch control, so why not discover the fun and functionality of touchscreen control and let it change the way you use a PC forever.

Processor

If you're looking for a PC for typing up documents, surfing the web or social networking, the processor needn't be your main concern, although it will affect how fast it runs. If you're working on things like music creation or photo and video editing, look for something with more power.

RAM

Random Access Memory (RAM) feeds the processor information, so the more you have, the more the processor (and you) can do at once.

4 GB is plenty for reliable everyday computing, but look for a PC with more if you plan on editing, creating or designing in the future.

Storage

Desktop PCs usually come with a hard disk drive (HDD) for storage. HDDs offer huge amounts of storage, with all desktop PCs offering plenty of space onboard for media and documents.

Some also feature a solid state drive (SSD), which deliver far faster read and write times than HDDs. SSDs are ideal for performance or gaming PCs that need to be as fast as possible.

Dedicated graphics

If you plan on watching a lot of films or editing photos, dedicated graphics are highly recommended, as they dramatically improve the visual performance of your computing.

Gaming PCs always feature dedicated graphics cards which can easily be swapped and upgraded as technology develops.

PC accessories

There a hundreds of accessories to help you work, play and create using your PC.

From software and speakers to webcams , keyboards and mice , we have something to help you get the best from your PC.
Shopping with Currys
Services brought to you by our experts