Laptops
Browse Laptops
Black tag Event now on - shop now
Laptops
A laptop isn't just a computer - it's your entertainment, education, social life and business. The perfect laptop makes your life easier, more productive and more enjoyable, so finding the right one is important.
Whether you know the exact spec you need, have a general idea of what you're after, or don't know where to start, we can hel p you find the right one.
We have some handy tips on what to look out for when browsing, along with a comprehensive buying guide which breaks down some of the technical information you'll encounter on your journey.
Also, look out for 'our experts love' laptops. These have been hand-picked by our experts and feature the latest technology, most exciting features and represent great value.
Reasons to buy a new Windows 10 Laptop
Which operating system is right for you?
One of the first things to think about when choosing a laptop is the operating system. While it might seem difficult, especially if you haven't used Windows, OS X or Chrome before, each has a distinct layout and a range of benefits that can help you decide.
Windows
If you've used a PC before, then chances are you've used Windows. It offers familiar, intuitive computing and is used everywhere from businesses and homes to nuclear power stations and banks. Windows is reliable, easy to use and well supported.
Find out more about Windows 10
OS X
OS X looks great and is the perfect operating system if you use an iPhone or iPad. OS X is exclusive to Apple Macs and is well regarded in the creative and business community for its reliability, performance and simplicity.
Chrome OS
Chrome OS is a web-focussed operating system that's designed to get you to your online and web-based content as quickly and easily as possible. If you need a laptop for computing on the go or don't need the extra performance of full-size laptop, Chrome OS is a great place to start.
Need more information?
Gaming laptops always feature high-performance graphics cards so you enjoy games that just won't run on normal laptops at their best.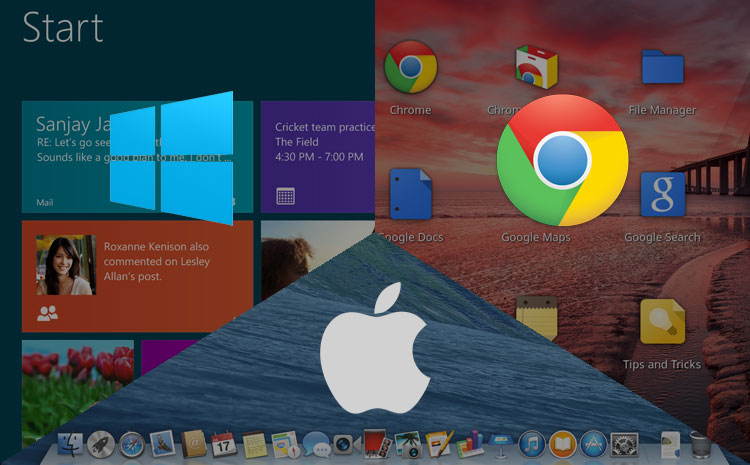 Things to consider when buying a laptop
Touchscreen

If you've never used a touchscreen laptop before, now is the perfect time to try it out. Windows 8 is optimised for touch, and it makes navigating your computer fast, fun and easy.

You'll be right at home if you use a smartphone or tablet, as many of the gestures you already know work just the same in Windows 8.

Processor

The processor is one of the main specifications that determines the speed and performance of your laptop. More affordable laptops have processors optimised for battery life and web usage, while performance focussed computers are tuned specifically for speed.

There are plenty of processors in-between that offer the best of both worlds for everyday use.

RAM

Random Access Memory (RAM) sounds complicated, but it really just helps your laptop manage more things at once.

The more your laptop has, the more it can do simultaneously, so if you regularly work between multiple documents or run demanding software, consider a laptop with above average RAM.

Dedicated graphics

Dedicated graphics greatly improve the way everything on your laptop looks and let you enjoy films, TV and games at their best.

Gaming laptops always feature high-performance graphics cards so you can enjoy games that just won't run on normal laptops.

Storage

Laptop storage comes from either a hard disk drive (HDD), solid state drive (SSD), or a combination of both.

HDDs typically feature large capacities and are ideal for family computers or workstations, while SSDs are faster and work at their best in a laptop optimised for performance.

2 in 1

A 2 in 1 offers the best bits of a laptop and tablet in one convenient device. You can switch between modes in seconds, so can move from typing an email to shopping online with ease.

They run on the full Windows 8 operating system, so are compatible with all the software you use at home and work for complete integration into your life.
Shopping with Currys
Services brought to you by our experts