Did you know? Our Smart Tech range of appliances are only available at Currys.

Smart Fridge Freezers
Optimum temperature control for food freshness.
Smart cooling
Smart Cooling intelligently monitors the fridge and freezer to maintain the optimum temperature for maximum food freshness.
Super Cool
Allows large amounts of food to be cooled very quickly. Perfect to quickly bring your fridge and food to an optimum temperature.
Super Freeze
Lowers the freezer temperature fast, freezing food quickly to lock in freshness or prevent items from defrosting.
Smart Washing Machines
Introducing Smart Washing Machines with Technology that thinks for you.
Performance +
Performance + intelligently boosts the intensity of the wash, with an additional rinse phase to first soften then remove dried in stains.
Speed +
Speed + intelligently manages the wash cycle, increasing temperature and intensity, and speeding up the cycle, with no compromise on performance.
Auto +
Intelligently senses the load size & type to tailor the water and drum action. So that the machine only uses the energy required, saving money.

Built In Ovens
Fits in the space of a single oven but gives you all the convenience of a double oven using our innovative insulating divider so you can cook two different dishes at two different temperatures at the same time. It'll also save you energy by only heating the oven space you're actually using. The oven features many intelligent cooking programmes including pastries and pizzas. Also fitted with a powerful inner element which quickly pre-heats the oven, saving you up to 40% in total cooking time, helping to save you money.
Double oven versatility in a single oven space!

Diamond Clean
Hate cleaning the oven? Diamond clean combines a non-stick lining with a hydrolytic steam cycle, making any baked on food or grease easy to wipe away. Leaving you with sparkling results, without the use of harsh chemicals. Saving you precious time.

Smart Temperature Control
Has intelligent sensors which maintain precise temperature control to within 2 degrees to optimise cooking performance. Perfect cooking results every time.

Dual Flow Technology
The Dual Flow system eliminates hot spots inside the oven by ventilating heat in all directions, leaving your food cooked perfectly throughout.
Smart Dishwashers
30% more cleaning power, right where you need it.
Maximum loading flexibility inside your machine.

Zone Wash
Our new Zone Wash system lets you direct 30% more washing power to one of the two internal baskets, giving you maximum cleaning power just where you need it for stubborn baked on food meaning no need to pre-soak your pots and pans saving you time and money!

Smart Load
Gives you maximum storage flexibility and can be moved and split so you can arrange the baskets to suit any type of wash, giving you maximum space. There's also a third upper cutlery tray, folding removable glass supports and fully folding plate racks.
Diamond Hob
Perfect cooking results & minimal cleaning

Diamond Clean
Reduces cleaning to a minimum with the durable coating that prevents dirt sticking to the stainless steel.

Smart Gas
Specially designed controls to give you more precise control of the gas, ensuring just the right amount of heat is supplied to each pan.

Induction Hob
Fast, clean, safe and controllable for perfect cooking results

Induction Hob
Even heat is instantly generated via a magnetic field, activated by the presence of the pan so only the cooking zone becomes warm.


Extended Warranty
Large Appliances
Register your Hotpoint large appliance and we'll provide you with free parts for the first 10 years, as long as they are fitted by our highly qualified engineers.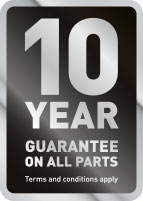 Small Appliances
We provide a 2 year parts and labour guarantee on all of our small appliances, please register within 28 days of purchase.