NEW WORLD
NW901DOP Electric Double Oven - Black & Stainless Steel
Product code: 014551
Product features
Main oven capacity: 63 litres
Main oven type: Fan
Main oven cleaning: Easy-clean enamel
Main oven energy rating: A
One-year manufacturer's warranty
Save 10% off marked price - enter code INTB11. Offer also available in store and for reserve and collect orders (discount applied in store)

More info
Product features
Main oven capacity: 63 litres
Main oven type: Fan
Main oven cleaning: Easy-clean enamel
Main oven energy rating: A
One-year manufacturer's warranty
Save 10% off marked price - enter code INTB11. Offer also available in store and for reserve and collect orders (discount applied in store)

More info
Product information
Make the most of flexible cooking with the New World NW901DOP Electric Double Oven.

Variable cooking

This built-in variable electric fanned oven is great when it comes to whipping up a culinary delight at home. With a whopping great 69 litre main oven you will be able to cook anything from a Sunday roast to the Christmas turkey without any difficulty.

A secondary smaller oven with variable grill is great for making a quick meal as you can grill vegetables, meat or any snack as well as utilising it as a prominent top conventional oven.

A defrost function makes life easier and stops you from cooking through your food and overdoing it.

Practical prominence

The New World NW901DOP Oven has a programmable timer allowing you to set up your times when it comes to cooking meals.

The dial controls make programming effortless and allow you to get your running straight away as you cook up a meal with no problems.

With easy clean enamel lining cleaning is simple as you keep your oven looking spotless for future use.

The heat reflective glass door makes operations safe too and stops wandering hands from touching the hot exterior.

Enjoy cooking with the A rated energy efficient New World NW901DOP Electric Double Oven.
Specification
Technical specifications for NEW WORLD NW901DOP Electric Double Oven - Black & Stainless Steel
OVERVIEW

| | |
| --- | --- |
| Type | Built-in double oven |
| Fuel | Electric |
CONTROLS

| | |
| --- | --- |
| Timer type | Programmable |
| Display type | LED display |
| Control type | Dials |
OVENS
Oven type
- Top: conventional
- Bottom: fan
Number of cavities
2
Size
- Top: medium
- Bottom: large
Capacity
- Top: 35 litres
- Bottom: 63 litres
Energy rating
A
Energy consumption
4.6 kWh
Viewing window
- Top: double-glazed
- Bottom: double-glazed
Interior light
Yes
Type of cleaning
Easy-clean enamel
GRILL

| | |
| --- | --- |
| Grill type | Integrated |
| Grill features | Variable |
GENERAL

| | |
| --- | --- |
| Colour | Black and stainless steel |
| Installation | Please note this product should be installed by a qualified engineer, such as one of our Knowhow experts. |
| Box contents | Grill pan |
| Dimensions | 885 x 595 x 550 mm (H x W x D) |
| Recess dimensions | 880 x 585 x 545 mm (H x W x D) |
| Weight | 56.6 kg |
| Manufacturer's guarantee | 1 year |
Bundles
Build your own bundle
You could save money by choosing extra items with your purchase - look out for great savings on some products when added as part of the bundle
You can choose some items more than once - just click the "add" button twice
Select up to 5 items from the tabs below
ITEM
2
ITEM
3
ITEM
4
ITEM
5
ITEM
6
NW901DOP Electric Double Oven - Black & Stainless Steel
Hobs
Build your own bundle -
Choose up to 1 item(s) from this category
.

NEW WORLD NWCR614 Electric Ceramic Hob - Black
Width: 60 cm
4 zones
Side-mounted dial controls
Home delivery
Collect in store
NEW WORLD NWCR614 Electric Ceramic Hob - Black
Close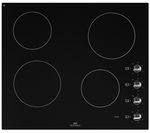 Width: 60 cm
4 zones
Side-mounted dial controls
One-year manufacturer's warranty
Cook culinary delights with the good looking New World NWCR614 Electric Ceramic Hob.

Hob heating

Make the most of four hob zones that provide high powered heating with six power levels. The zones are designed in differing sizes and powers so you can use them most efficiently.

Red for safety

The heating zones will turn red for a short time before...

NEW WORLD NWGHU601 Gas Hob - Black
Width: 60 cm
4 burners
Enamel pan supports
Home delivery
Collect in store unavailable
NEW WORLD NWGHU601 Gas Hob - Black
Close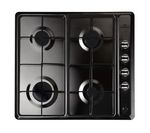 Width: 60 cm
4 burners
Enamel pan supports
Control dial ignition
Enjoy the benefits of gas cooking with the stainless steel New World NWGHU601 Gas Hob.

Professional results

The stylish stainless steel hob offers accurate controllable heat and instant temperature change, essential for making your perfect culinary creations. Four burners provide ample room for all your pots and pans so you can cook multiple dishes at the same time.
Splashbacks
Build your own bundle -
Choose up to 1 item(s) from this category
.
Delivery, Order & Collect and Services
Delivering your online order
Choose when you want it delivered
We deliver 7am to 7pm, 7 days a week, even at weekends. Your options include:
FREE next day delivery when you order online before 9pm.
FREE delivery on another day of your choice.
Delivery in your preferred 4 hour time slot (next day or on the day of your choice) for £19.99.
If you tell us your mobile number when you order we'll text you on delivery day or the night before to let you know what time we'll be at your address. Or you can use our Knowhow Track It service.
Weekend and next day delivery is available in most areas, subject to availability.
Order online and collect in store
Reserve and Collect

Selected large items are available to reserve online and collect in store.

It's simple and easy to use - just select 'Collect in store' from the basket page, type in your town or postcode and we will show stock availability for your nearest stores. You can reserve it online to be paid for and collected in store. Your item will be available to collect one hour after the reservation and it will be held until the end of the following day.

Built-in Electric Oven or Hob Installation
We can also install your new appliance on the day we deliver, for most of the UK. Just add installation at the 'Confirm basket' page during checkout,charge applies.
Here's what we'll do:
Check the area where the oven or hob will be installed is suitable and electrical connections meet legal requirements.
Disconnect the existing appliance, un-box and check the new product.
Connect the new cooker or hob and make sure it's fully operational.
Give a quick demo of the oven or hob and its settings then provide you with a copy of the Electric Appliance Installation Certificate.
Take the packaging from your new appliance away. If you add recycling to your order we'll also take your old appliance away for recycling.
Note: Before we arrive, you will need to make sure access is clear to the area you want your appliance installed, that the appliance will fit into the space and that there is a suitable electrical connection is within 1.5 metres.
Remove and recycle your old product
To save you the hassle we can take away and recycle your old appliance, along with any packaging when we deliver your new one.
Just add the service at the 'Confirm basket' page, charge applies.

Note: You will need to disconnect your old product before we arrive unless you have purchased installation. If you're having a refrigeration unit removed, please defrost it before we arrive.


For peace of mind our Care Plan service protects your cooker if it develops a fault or breaks down, even as the result of a mishap. Additional benefits include:
14 day repair promise
No extra costs
Unlimited repairs
An annual service clean
Just add 'Care Plan' at the basket page or ask in store for details; charges apply. Customers selecting a monthly Care Plan will have the payment debited from their chosen card every month.
Learn more about the benefits of our Cooker Care Plan.
Important information and exclusions
Compare prices of extended warranties for electrical goods at www.compareextendedwarranties.co.uk from any internet enabled mobile device, smart phone, PC or laptop.
14 day repair promise starts from when we collect your item or when you drop your item to one of our stores.
Top deals

1
Product offers
Save 10% off marked price - enter code INTB11. Offer also available in store and for reserve and collect orders (discount applied in store)

Save 10% off the marked price on all built-in double ovens, hoods and cooking packages over £299. Enter code INTB11 at checkout for home delivery orders only. Offer also available in store. For reserve & collect please ask in store for the discount to be applied at payment. Not available in conjunction with any other offer. Hurry, ends 30/11/2015.
NEW WORLD NW901DOP Electric Double Oven - Black & Stainless Steel