SAMSUNG
RB31FEJNDSA Fridge Freezer - Silver
Product code: 043733
Was £549.99 (from 12/05/15 to 10/06/15)
Available for Home Delivery
Collect in store unavailable - please check in store
Product features
Fridge: 212 litres / Freezer: 98 litres
Energy rating: A+
Freezer defrost system: frost-free
Twin thermostat
Two-year manufacturer's warranty
Product information
For large capacity and energy efficient cooling, the smart silver Samsung RB31FEJNDSA Fridge Freezer makes a fantastic choice for your family.

Cooling made easy

The large capacity RB-31FEJNDSA has an ample 212 litre refrigerator that provides space to store all of your fresh groceries. There are 3 easy slide adjustable tempered glass shelves that make it simple to store fresh food, whilst eggs can be safely stored in the egg rack.

There's even space to store dairy products such as butter thanks to the dairy compartment. Bottles are just as safely cooled thanks to the wine and bottle racks.

With Multi Flow Cooling vents, you can be assured of fast cooling and an even temperature throughout the shelves of the fridge, and anti-bacterial protection helps to prevent potentially harmful bacteria from affecting your food.

A frosty feeling

The RB31-FEJNDSA has 3 freezer drawers that provide 98 litres of space so you can store plenty of frozen food for your family. There are clear drawer fronts that allow you to easily see what you are storing in the 4-star freezer. There's no need to worry if the power fails either, as your food will stay safely frozen for up to 20 hours without power.

The frost free technology means that you can avoid wasting time and effort manually defrosting your fridge freezer, helping to make your life easier.

Superb features

It is easy to control the RB-31-FEJNDSA as it has an external LED display that makes it simple to change the settings of your fridge freezer to suit your needs.

It also boasts a digital inverter motor that provides durability, and has a 10 year parts warranty for added peace of mind when you're using your fridge freezer. It is also more energy efficient than standard motors, so with the A+ energy efficiency rating, you need not worry about this fridge freezer running up large energy bills.

Store the family food with ease when you  bring home the great-looking Samsung RB31FEJNDSA Fridge Freezer with a smart silver finish.

_______________________________________
PLEASE NOTE:

Use in outbuildings: This refrigerator is not designed to be used in an outbuilding – both your food and the appliance can be damaged. Do not use it in any unheated area.

Reversible door hinges: This refrigerator has a reversible door - please consult with installation experts such as our Knowhow team to carry out door reversal.
Specification
Technical specifications for SAMSUNG RB31FEJNDSA Fridge Freezer - Silver
OVERVIEW
Manufacturer's guarantee
2 years
Energy efficiency rating
A+
Annual energy consumption
280 kWh
Total storage capacity
- 272 litres
- 11.0 cu.ft
Total gross capacity
- 331 litres
- 11.7 cu.ft
Suitable for outbuildings
No
Climate class
SN - ST
Noise level
39 dB(A)
Colour / Finish
Silver gloss
FRIDGE INTERIOR
Number of shelves
3
Number of salad crispers
1
Number of door compartments
4
Interior light
Yes - LED
Shelves
Safety glass
Adjustable shelves
Yes
Storage features
- Egg racks x 1
- Bottle racks x 1
- Wine racks x 1
- Dairy compartment
Fridge gross capacity
- 213 litres
- 7.5 cu.ft
Fridge storage capacity
- 212 litres
- 7.5 cu.ft
FRIDGE FUNCTIONS

| | |
| --- | --- |
| Fridge auto-defrost | Yes |
| Fast chill function | No |
| Air-flow cooling | Yes |
| Door cooling | Yes |
| Hygiene features | Anti-bacterial liners |
| Other functions | Easy slide shelves |
FREEZER INTERIOR
Number of compartments
3
Compartments
Drawers
Clear drawer fronts
Yes
Interior light
No
Ice making facility
Yes - Ice cube tray
Freezer gross capacity
- 118 litres
- 4.2 cu.ft
Freezer storage capacity
- 98 litres
- 3.5 cu.ft
FREEZER FUNCTIONS

| | |
| --- | --- |
| Freezer star rating | **** |
| Defrosting | Yes |
| Fast freeze function | Yes |
| Power failure safe-storage time | 20 hours |
CONTROLS
Controls
Yes
Digital display
- LED
- Temperature information
Thermostat
Twin
SAFETY FEATURES

| | |
| --- | --- |
| Temperature/open door warning | Yes |
ENVIRONMENTAL

| | |
| --- | --- |
| CFC free | Yes |
| HFC free | Yes |
GENERAL

| | |
| --- | --- |
| Recommended installation space | 50 mm top and sides |
| Flat back design | Yes |
| Door | Reversible - please consult with installation experts such as our Knowhow team to carry out door reversal. |
| Dimensions | 1850 x 595 x 668 mm (H x W x D) |
| Weight | 63 kg |
Bundles
Build your own bundle
You could save money by choosing extra items with your purchase - look out for great savings on some products when added as part of the bundle
You can choose some items more than once - just click the "add" button twice
Select up to 5 items from the tabs below
ITEM
2
ITEM
3
ITEM
4
ITEM
5
ITEM
6
RB31FEJNDSA Fridge Freezer - Silver
Washing machines
Build your own bundle -
Choose up to 1 item(s) from this category
.
Wine cooling & mini refrigeration
Build your own bundle -
Choose up to 1 item(s) from this category
.

CAPLE WI155 Built-in Wine Cooler - Stainless Steel
Capacity: 7 bottles
Energy rating: B
Temperature range: 5-18°C
Normal price £199.99
When added to this bundle
Save
Home delivery
Collect in store unavailable
CAPLE WI155 Built-in Wine Cooler - Stainless Steel
Close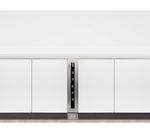 Capacity: 7 bottles
Energy rating: B
Temperature range: 5-18°C
UV protection
The single-zone Caple WI155 Built-in Wine Cooler in stainless steel is a stylishly compact way to keep red or white wine stored at the right temperature.

Perfect wine drinking

It's important to keep your wine at the correct temperature to ensure that it lasts, and that it's full of flavour and depth when you decide to open a bottle.

The Caple WI155 lets...

ESSENTIALS CWC15B14 Wine Cooler - Black
Capacity: 15 bottles
Temperature range: 5-20°C
UV protection
Normal price £79.99
When added to this bundle
Save
Home delivery
Collect in store
ESSENTIALS CWC15B14 Wine Cooler - Black
Close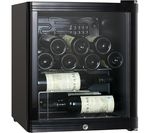 Capacity: 15 bottles
Temperature range: 5-20°C
UV protection
Single temperature zone
One-year manufacturer's warranty
This Essentials CWC15B14 Wine Cooler in black is a compact and useful way to keep your wine stored at the perfect temperature.

Simple and versatile design

Thanks to an uncomplicated interior design, you can store up to fifteen 750 cl bottles of wine in this 46 litre Essentials wine cooler, plenty for entertaining or your own enjoyment.

With a 5-20°C...
Delivery, Order & Collect and Services
Choose when you want it delivered
We deliver 7am to 7pm, 7 days a week, even at weekends. Your options include:
FREE next-day delivery when you order online before 8pm.
FREE delivery on another day of your choice.
Delivery in your preferred 4-hour time slot (next day or on the day of your choice) for £19.99.
For the surest idea of what time we'll be at your address, tell us your mobile number when you order and we'll text you on delivery day or the night before. Or use our Knowhow Track It service.
Weekend and next day delivery is available in most areas, subject to availability.
Order online and collect in store
Reserve and Collect

Selected large items are available to reserve online and collect in store.

It's simple and easy to use - just select 'Collect in store' from the basket page, type in your town or postcode and we will show stock availability for your nearest stores. You can reserve it online to be paid for and collected in store. Your item will be available to collect one hour after the reservation and it will be held until the end of the following day.

Door Reversal Service
Some fridge freezers can have their door hinges on either side – we can reverse the direction the door opens to your preference and put it into place when your new fridge freezer is delivered.
Your fridge freezer doors must be reversible to be eligible for our Door Swap service. Please check the specification - Physical Characteristics on the product page.
You can add the door reversal service at the 'confirm basket' page when you place your order online,charge applies.


Remove and recycle your old product
To save you the hassle we can take away and recycle your old appliance, along with any packaging when we deliver your new one. Please note that you will need to disconnect your old product before we arrive unless you have purchased installation.
Just add the service at the 'Confirm basket' page, charge applies.
Care Plan for Refrigeration
A Care Plan protects your fridge/freezer if it develops a fault or breaks down, even as the result of a mishap.
There are two ways to pay for your plan - monthly or fixed term. Paying monthly means you'll only pay a small amount each month for as long as you want, whereas paying a fixed term is ideal if you just want to pay once and know your product is protected from then on.
Please note, customers selecting a monthly Care Plan will have the payment debited from their chosen card every month
Care Plan

| Benefits | Care Plan |
| --- | --- |
| Protection against breakdown | |
| Protection against mishap | |
| Fast fix - 14 day repair promise* | |
| You won't pay a penny more | |
| We'll fix or replace with new | |
| Unlimited repairs | |
| Request a replacement | |
| Valet every year | |
| Worldwide protection | |
Important information and exclusions
*14 day repair promise starts from when we collect your item or when you drop your item to one of our stores.
Learn more about the benefits of our Refrigeration Care Plan.
You can add a Care Plan to your chosen products on your basket confirmation page when you are ready to checkout, or for Order online & collect in store please ask when you collect your item.
Compare prices of extended warranties for electrical goods at www.compareextendedwarranties.co.uk from any internet enabled mobile device, smartphone, PC or laptop.
Was £549.99 (from 12/05/15 to 10/06/15)
Available for Home Delivery
Collect in store unavailable - please check in store
SAMSUNG RB31FEJNDSA Fridge Freezer - Silver
Was £549.99 (from 12/05/15 to 10/06/15)