Kärcher window vacuum cleaner
Kärcher WV 50 window vacuum
Quick and easy window cleaning: the innovative WV50 Window Vac vacuums dirty water before it drips. No more dripping dirty water when wiping surfaces. The WV 50 cleans windows hygienically without leaving streaks. The WV 50 is cordless which makes it easy to use and extremely versatile.
Time Saving
Remove liquid from any hard surfaces
Up to 45 windows per charge
Lightweight
Fun solution to an age old chore

Effortlessly sucks windows bone dry, streak free and without drips
The Karcher WV50 window vac delivers effortless cleaning for a streak-free, brilliant shine. Glass and other transparent surfaces can be arduous to clean. Dirt and cleaning agents can leave unsightly smears when mixed with water and left to dry. The Karcher window cleaner allows you to clean a surface with the handy accessories supplied, and use the vacuum to suck up the dirty water before it drips down. This helps eliminate dirty marks, smudges and streaks that can take the dazzle out of sparkling surfaces. Suitable on a variety of surfaces such as windows, tiles, mirror and even cars, this Karcher window vacuum has an impressive level of versatility suitable for virtually any flat surface.
Its efficiency also carries over to its external design and included accessories! Make light work of cleaning, as the Karcher WV50 window cleaning vacuum features a large scraper and 2 in 1 microfiber windshield. This window cleaning kit lifts dirt off surfaces with absolute ease while a robust plastic container with a generous 12 litre reservoir ensures that you won't have to continuously refill the appliance. An expansive 4 metre cord and 1.9 metre hose provides unrestricted movement, for your cleaning convenience. Reach skylights and high corners for a cleaning experience that know no bounds! It is also Li-on battery operated for surfaces that are some distance away from the power supply, and is fully rechargeable once the battery is depleted. Maintenance of the Karcher window washer is just as simple as the clean! Just disassemble the cleaner in a snap and rinse out its contents. The microfiber cloth is machine washable at temperatures up to 60°C.
For an unrivalled clean and a brilliant gleam, the Karcher rechargeable window vac will leave you dazzled!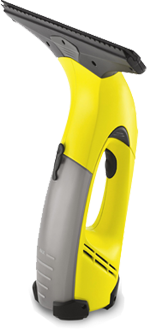 Application
Suitable for different surfaces:
Windows, roof-lights
Tiles, e.g. at the wall
Mirrors, e.g. in the bathroom
Glass surfaces, e.g. glass door, table, shower cabins
Other flat surfaces
Car Windows/Bodywork
Suitable for different surfaces
Electrical water suction
No dripping of dirty water.
No contact with dirty water and therefore hygienic working Optimal, streak-free result.
Battery operation
High flexibility.
Lightweight & compact construction
Easy & comfortable working without effort
Space saving storage
Lithium Ion battery
Allows adequate running time, no working interruption
Long lifetime of the unit, no self-discharging of the battery