FRIDGE FREEZER INSTALLATION
 brought to you by





Fridge freezer Installation Service
We'll take the hassle out of getting your new American-style fridge freezer installed and up and running.

We can install your new American-style fridge freezer (water and ice models) seven days a week in most areas of the UK at the same time we deliver. We can even take away the packaging and recycle your old appliance if you want us to.

We'll unpack, check and connect your new fridge freezer so it's ready to use and ensure the appliance is levelled and that there are no leaks.

Why us?

Plumbed in by one of our expert installers
We'll disconnect your old appliance for free
We'll ensure your fridge freezer is fully working and ready to use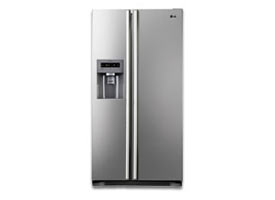 Pricing
American-style
Fridge Freezer*

£25

Door Reversal
freestanding fridge freezers available with delivery only

£35

Removal & recycling

£10
Note: If your product is delivered directly by the manufacturer, installation is done through them and prices may vary.

*Standalone price at £30 (without delivery)


Here's what we'll do...
1.

Evaluate the plumbing connections for water and ice models.
2.

Disconnect the existing fridge freezer, un-box and check the new product.
3.

Remove and re-attach doors if there is restricted access.
4.

Connect your American-style fridge freezer to a suitable mains water supply within 1.5 metres of your product.
5.

Test the American-style fridge freezer to make sure there are no leaks.
6.

Take the packaging from your new appliance away. If you purchase our removal and recycling service we'll also take your old appliance away.
* Door reversal service is only available for selected models of freestanding fridge freezers. Some fridge freezers can have their door hinges on either side. Please check the product specification - physical characteristics on the product page for details before booking the door reversal service.
Check list before we arrive
Before we arrive, please ensure the following:
That we have clear access to the area you want your new appliance installed and that it will fit into the space. If stairs are involved that there is room to manoeuvre the appliance.
That there is a suitable electrical connection within 1.5 metres of the required location.
That there is the necessary plumbing and waste connections within 1.5 metres of the required location.
You check www.knowhow.com to track your delivery and make sure someone responsible is home to sign for the installation.
If you are unsure your fridge freezer installation can meet the requirements listed above, please call to discuss on 0344 561 1234.
How to book
Add installation at the 'confirm basket' page when you order a fridge freezer online at Currys.co.uk.
Already have an America-style fridge freezer and want it installed? Call our Knowhow Contact Centre on 0344 561 1234. Please have your card details to hand when you call.
Ask a store colleague to book the installation service when they arrange delivery of your new fridge freezer on a day to suit you.