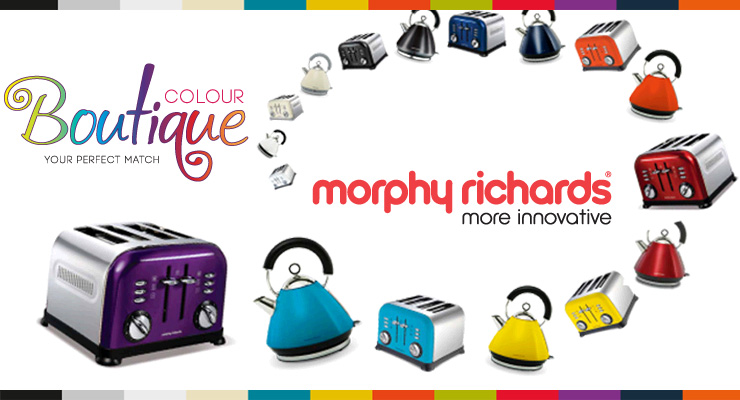 Morphy Richards kettle and toaster
The Morphy Richards kettle and toaster Colour Boutique is the stylish new collection for your kitchen. Take a look at our 12 eye-catching colours across the Vibrant, Classic and Sparkle ranges, there is sure to be something for everyone.

Be inspired and make a statement in your home with the Colour Boutique, it has never been easier to find your perfect match.
VIBRANT
For a modern twist, make your kitchen stand out with the Morphy Richards kettle and toaster vibrant range. The fun cyan, yellow, orange and oasis colours add a bit of liveliness to your kitchen with the Morphy Richards Vibrant Collection, offering a wow factor while you make a cup of tea or quickly get some toast!
CLASSIC
Stay classy with this Morphy Richards kettle and toaster range. The timeless Morphy Richards kettle collection glistens in your kitchen, exerting the style and sophistication you come to expect, combining with efficiency for great results.

The Morphy Richards 4 slice toaster means your bread has never toasted so stylishly with dual lifters and variable heating functions. Not only does it have excellent features, the colour shades will fit in well with any classic kitchen to exciting effect.
SPARKLE
Grab guests' attention with the futuristic, modern Morphy Richards Sparkle Collection, giving radiance to what can be seen as mundane tasks in the kitchen.

The Morphy Richards kettle and toasters range exert coolness with the classy red and blue colours given an extra shine, while the plum and copper colours stand out in glimmering fashion. Do not be afraid to show your personality with the Morphy Richards Colour Boutique, offering that extra sparkle in the kitchen.