NVIDIA GeForce
DESKTOP GPUs


The NVIDIA GeForce graphics processor accelerates an exceptional gaming experience and delivers smoother multimedia performance.
In an advanced age of computing technology our time is spent watching movie playback, streaming TV over the web and finding new ways to share our own media.
We demand our visual requirements to deliver faster performance as we surf the web, edit digital photos and watch seamless high-definition videos. What's more, is that we want our technology to support us as we view and interact inside a richer gaming experience.
Jump into the future of visual clarity with an intense GeForce desktop PC graphics processor, giving you the ultimate in high-performance HD video and high-res photo editing. Stream your favourite video in flawless playback, without the demands on your time.
Discover a visually rich and interactive web experience with the accelerated browser capabilities of Google Chrome and Microsoft Internet Explorer.
Engage in top multiplayer game drama and enjoy the comradery of the gaming world enhanced by DirectX 11 technology. Take pleasure in the epic features of NVIDIA GeForce graphics and discover your very own potential.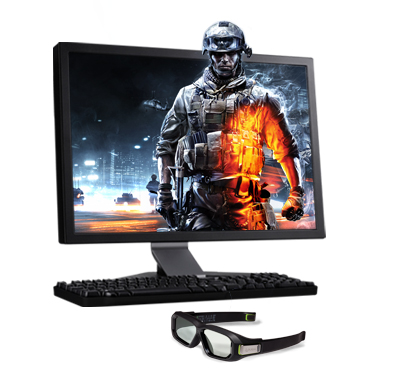 The impressive NVIDIA GeForce GTX GPU delivers high-powered operational benefits and possesses commanding features for a sophisticated games experience. Play the most demanding special effect games at incredible frame rates.
Leap into the turbo-charged features of the new 600 series GTX GPUs including GeForce Boost technology which gives you addictive performance. Feel the thrills of NVIDIA PhysX gaming and submerge yourself in the ultra-realistic gaming environment of NVIDIA 3D Vision 3D technology.
The dramatic impact of NVIDIA GeForce GPU is perfect for experiencing a whole new world of sensory overload right from your desktop.