Why Us?
To save you the hassle of having to dispose of your large product yourself, we can come take it away for recycling when we deliver. We'll also take away all the packaging from your new product. This applies to large kitchen appliances and TVs over 39". What's more, if you've chosen to have your new product installed by Knowhow, we'll disconnect it too.
You can also bring any unwanted electrical item into your nearest Currys PC World for free recycling, even if you haven't bought it from us.

Recycling
on all products
At Home
We'll take your old product away when we deliver, plus any packaging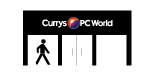 In Store
Bring any electrical product into your nearest Currys PC World and we'll take it off your hands
What we'd ask you to do
Large appliances and TVs over 39" delivered by Knowhow
If you're having your new product delivered, we just ask that you make sure your old product has been safely disconnected and is in a fit state to take away before we arrive. If you've purchased a Knowhow installation service, we'll also disconnect your old product for you.
Built-in / integrated appliances should be disconnected and completely removed from their housing, and refrigeration appliances should be fully defrosted and free of water.
Gas and dual fuel cookers should be disconnected by Gas Safe registered engineers.
We certainly do not want to damage your property during collection, so in some circumstances we are not able to disconnect old appliances. Below are some examples of why we would not be able to disconnect:
Your old appliance is hard wired into a fused spur
Your old appliance has tap connections that have seized up
Your old appliance cannot be moved
All other products
Before bringing your unwanted electrical items into store for recycling, please make sure the product is in a presentable condition. If your product (PC, laptop, mobile phone, tablet etc...) has any personal data stored on it, please ensure that the data has been deleted prior to us receiving it. Alternatively, this can be done with our Data Wipe service for computers.