Sonos with your TV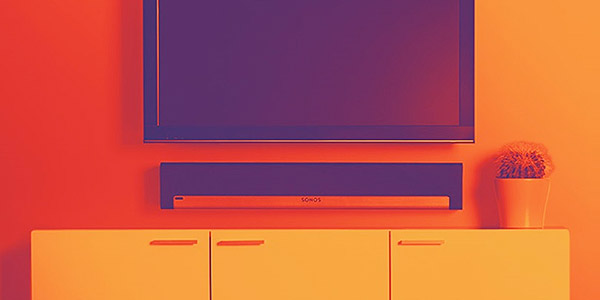 Start with a Sonos PLAYBAR
Designed to keep the focus on the TV, PLAYBAR's modern one-piece design features a subtle matte cloth exterior & aluminium finishes. PLAYBAR's nine-speaker design fills your room with amazing audio for games and movies, plus wirelessly streams of all the music on earth. And it all comes from one easy-to-use player that brings HiFi sound to your high-definition TV. Can be wall mounted or place it on your TV stand. Simple to set up and control.
Shop now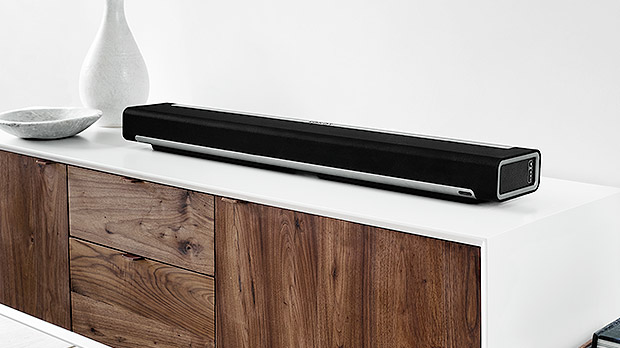 Add SUB for soul shaking bass
PLAYBAR is perfect on its own but ready to welcome any new Sonos additions into the fold. Add a Sonos SUB for soul-shaking sound. The stunning Sonos SUB - designed to be compatible with Sonos PLAY and PLAYBAR systems - employs two face-to-face, force-cancelling speakers to fill the room with deep, thick sound so you can feel and hear every nuance of songs and movie audio.
Shop now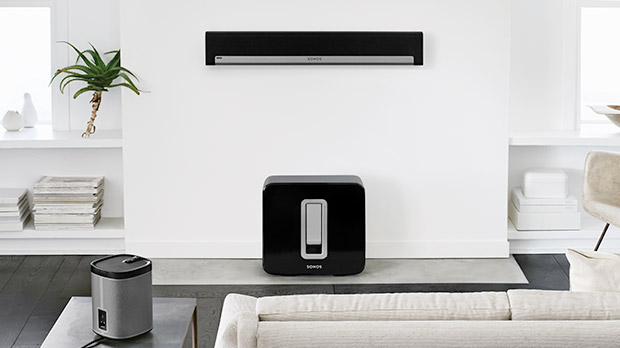 Add rear speakers for a 5.1 sound experience
You can even use the versatile Sonos speakers to create your own wireless home cinema system. By adding the SUB to the PLAYBAR you create an enhanced 3.1 home theatre setup. Add a stereo pair of PLAY:1s or PLAY:3s and you will have an incredible, compact 5.1 system. Place the speakers where you want and combine the power of your Sonos speakers in one immense unit.
Shop now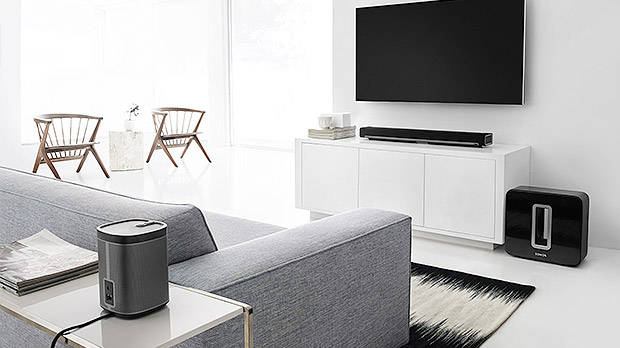 The Expandable Home System
Get full-theater HiFi sound for TV, movies and your world of music - with both 3.1 and 5.1 options.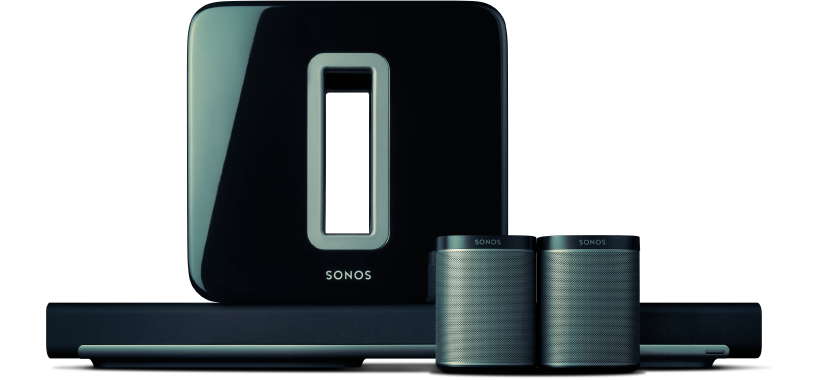 View features
Nine Class-D digital amplifiers -six midrange and three tweeters
Connects to your TV via single optical cable.
Control PLAYBAR volume and mute using your existing remote.
PLAYBAR works with all amplified and nonamplified Sonos products
Built-in alarm clock
Wall mountable
Two force-cancelling speakers positioned face-to-face offer deep sound with zero cabinet buzz or rattle
Place it anywhere in the room - even lying flat under a couch
All filter settings, active equalization, and time alignment are done digitally through state-ofthe-art DSP (Digital Signal Processing) circuitry for zeroloss audio quality and energy.
The system automatically adjusts audio settings to perfectly balance your SUB and the paired Sonos component to ensure amazing sound quality
SUB plays down to 25Hz
SUB works with all amplified Sonos products: CONNECT:AMP, PLAY:5,PLAY:3, PLAY:1 and PLAYBAR
Two custom designed speakers with dedicated D-class amplifiers
Quick access to music, volume and play/pause with dedicated buttons
Humidity resistant
Stereo pair option with 2 PLAY:1's
Can be used as home theater rears
Built-in alarm clock
Wall mountable