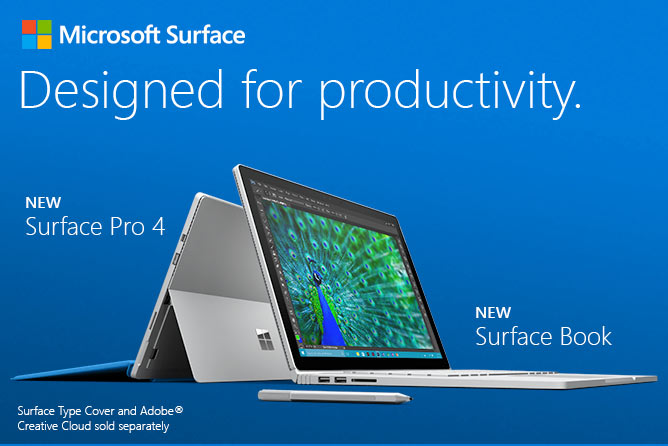 Discover the potential of Surface

For creating
Be creative on the go.

For work
Break free from your desk with Surface.

For study
Surface does more so you don't have to.
For creating
Whether you love to edit photos, sketch, make music, or create amazing videos, Surface Pro 4 packs the power you need to be ready when inspiration strikes. Even with its lightweight design, Surface Pro 4 powers your favourite creative tools, like Adobe® Creative Cloud1 optimised for Surface Pen and touch.
For work
Surface Pro 4 has the power of a laptop, but is light and has all day battery life2 so you can work on the go. The stunning display is meticulously crafted and built to last. It comes with Surface Pen1 so you can write directly on screen.
For study
Surface 3 is fast and responsive so it won't slow you down on the go. Take typed and handwritten notes in the same document, and even highlight and write directly in them with Surface Pen3 . And with all day battery life2 , you never have to lug around a heavy laptop and power cords again.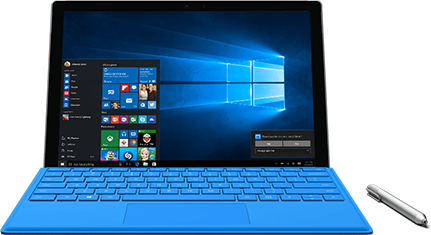 Windows 10 is your partner in making things happen. Get faster start-ups, a familiar yet expanded Start menu, and great new ways to get stuff done even across multiple devices. You'll also love the innovative features like an all-new browser built for online action, plus Cortana, the personal digital assistant who helps you throughout your day.4
Compare Surface devices to see how they stack up

Run desktop software just like a laptop







Stream music and shows with iTunes and Netflix3







Write and draw directly on your screen with Surface Pen1







Make music with professional grade apps3






Organise and enhance photos with Adobe® Photoshop CC and Lightroom CC3





Build something inspired with AutoCAD®3 for 3D modelling



Create amazing videos with Adobe® Premiere Pro CC1


Windows6

Microsoft Office
Limited time offer. 1 year Microsoft Office 365 Personal7

Screen size / resolution

Weight

Battery life
Up to 10 hours of video playback
Up to 9 hours of video playback
Up to 12 hours of video playback

Cameras
3.5MP front facing / 8.0MP rear facing
5.0MP front facing / 8.0MP rear facing
5.0MP front facing / 8.0MP rear facing

Ports
Full size USB 3.0
Mini DisplayPort
MicroSD™ card reader
Micro USB charging port
Cover port
Headset jack
Full size USB 3.0
Mini DisplayPort
MicroSD™ card reader
Micro USB charging port
Cover port
Headset jack
Surface Connect
Two full size USB 3.0
Mini DisplayPort
MicroSD™ card reader
Cover port
Headset jack
Surface Connect
Accessories to complement your Surface
1 Adobe® Creative Cloud sold separately for Surface Book. Adobe® Creative Cloud, Keyboard and Office applications sold separately with Surface Pro 4. Keyboard and Pen sold separately with Surface 3.
2 Testing conducted by Microsoft in September 2015 using the following SKUs. Testing consisted of full battery discharge during video playback. All settings were default except: Wi-Fi was associated with a network and Auto-Brightness disabled. Battery life varies significantly with settings, usage and other factors. Surface 3: Up to 10 hours of video playback, 128GB units with 4 GB RAM. Surface Pro 4: Up to 9 hours of video playback and Surface Book: Up to 12 hours of video playback, using preproduction Intel Core i5, 256GB, 8 GB RAM device.
3 Sold separately.
4 Cortana available in selected markets at launch; experience may vary by region and device.
5 System software uses significant storage space. Available storage is subject to change based on system software updates and apps usage. 1GB= 1 billion bytes. See surface.com/storage for more details.
6 Windows 10 features vary by device. See www.windows.com/windows10specs and www.surface.com/upgrade for details.
7 Available on Surface 3 devices. Office activation required within 6 months of Windows activation date. Limited time offer while supplies last