PANASONIC
DMR-BWT740EB Smart 3D Blu-ray Recorder with Freeview+ HD Recorder - 1 TB HDD
Product code: 098456
Product features
Records on hard drive and Blu-ray
Up to 518 hours of SD & 259 hours HD recording
Advanced Smart: App store with Catch up TV & Movies
WiFi built-in
Services brought to you by
Was £449.99 (from 29/10/15 to 19/11/15)
Product features
Records on hard drive and Blu-ray
Up to 518 hours of SD & 259 hours HD recording
Advanced Smart: App store with Catch up TV & Movies
WiFi built-in
Services brought to you by
Product information
The Panasonic DMR-BWT740EB Smart 3D Blu-ray Recorder with Freeview+ HD Recorder gives you easy recording, wireless connectivity, online viewing and much more.

Twin HD recording

You'll never miss your favourite programmes with the DMR- BWT740EB recorder. As well as playing your favourite Blu-ray movies, you can record to Blu-ray and onto the 1 TB hard drive, providing you with enough space to record up to 684 hours of high definition content.

The built-in Twin HD tuners allow you to record two HD programmes simultaneously. It's easy to set-up to thanks to the 7-day electronic programme guide and series link – pick out the shows you like or choose to record an entire series.

What's more, you can even pause and rewind live TV - the ultimate viewing convenience.

Remote recording

You can set the recorder using the app available for Android and iOS smartphones. This means you can record your favourites show from anywhere in the world. This innovative app even lets you stream your recordings around your WiFi network, so you can watch your show on your smartphone or tablet even if the recorder is in another room.

Screen mirroring

With screen mirroring you can view whatever is on your smartphone screen on your TV. This mirroring feature pairs up to two compatible devices with the TV, so you can show off your content, browse the web and it will all be mirrored on the large screen TV.

Cinematic viewing

The Blu-ray player provides excellent 3D viewing when connected to your HD 3D TV. Enjoy Full HD quality movies in the comfort of your living room, without having to go to the cinema.

This clever recorder can even convert 2D video to 3D, so you can enjoy your favourite 2D movies with a new edge.

That's not all, this BWT740EB Blu-ray recorder can upscale existing Blu-ray movies to near 4K quality, so you're ready for the new generation of 4K TVs.

DVD playback

Keep hold of your DVD collection as Panasonic Blu-ray player will upscale these into near HD picture quality, giving older movies a new lease of life.

Smart entertainment

With Smart features, the DMR- BWT740EB brings the best of the internet to your TV. All you need to do is connect to your home wireless network to get access to plenty of additional features.

Enjoy the best internet clips on YouTube and keep in touch with friends and family using Facebook and Twitter and enjoy movies on demand with Netflix and Acetrax.

Thanks to Viera Connect you can even use Skype and access Panasonic's own cloud internet service that provides you with extra video on demand and internet applications.

DLNA technology

With DLNA technology you're able to stream content from one compatible device to another, letting you enjoy content recorded onto your DMR- BWT740EB recorder's hard drive on your laptop, or enjoy a movie from your PC on the TV in your living room.

Don't forget your HDMI cables

Check out our range of HDMI cables to connect this Blu-ray player to your TV for a perfect picture with improved transfer speeds.

Look out for the Sandstrom Silver Series HDMI cables, which have a lifetime warranty.

Bring the full home entertainment experience to your home with the Panasonic DMR-BWT740EB Smart 3D Blu-ray Recorder with Freeview+ HD Recorder.
Specification
Technical specifications for PANASONIC DMR-BWT740EB Smart 3D Blu-ray Recorder with Freeview+ HD Recorder - 1 TB HDD
OVERVIEW

| | |
| --- | --- |
| Type | Smart 3D Blu-ray recorder with Freeview+ HD Recorder |
SMART
Smart TV services
- YouTube
- Netflix
- Facebook
- Twitter
App store
App store
PLAYER
Region/Zone
- DVD: Region 2
- Blu-ray: Region B
3D compatible
Yes. Though this player is 3D compatible, to experience 3D playback you will need other 3D equipment such as a 3D TV, 3D glasses, a 3D-capable HDMI cable, and of course a 3D Blu-ray Disc.
Readable discs
BD-ROM, BD-RE, BD-RE DL, BD-R, BD-R DL, DVD-RAM, DVD / DVD-R, DVD-R DL, DVD-RW, DVD+R, +R DL, +RW, CD, CD-R, CD-RW, Xvid/ MKV / JPEG/ MPO /MP3 / AVCHD / FULL HD 3D
BD load time
Approx. 1 secs
Supported audio file formats
MP3, AAC
Supported video file formats
DivX, XVid
Supported image file formats
JPEG
RECORDING
Built-in hard drive
1 TB
Maximum recording time
- High Definition: 259 hours
- Standard Definition: 518 hours
TUNER

| | |
| --- | --- |
| TV tuner | Freeview+ HD |
| Electronic programme guide | 7-day EPG |
AV FUNCTIONS
Advanced video features
Upscales DVDs to High Definition
Advanced audio features
- DTS-HD Master Audio
- DTS-HD High Resolution Audio
Audio processing
- Dolby Digital Plus
- Dolby TrueHD
Upscaling capabilities
Upscales to HD
CONNECTIVITY
Ethernet
Yes
WiFi
Built-in WiFi
USB
USB 2.0
Screen mirroring
Yes
DLNA
Yes
Memory card
- SD
- SDHC
- SDXC
GENERAL
Box contents
- AC mains lead
- RF coaxial cable
Dimensions
430 x 59 x 238 mm (H x W x D)
Boxed weight
4.2 kg
Colour
Black
Manufacturer's guarantee
1 year
Bundles
Build your own bundle
You could save money by choosing extra items with your purchase - look out for great savings on some products when added as part of the bundle
You can choose some items more than once - just click the "add" button twice
Select up to 5 items from the tabs below
ITEM
2
ITEM
3
ITEM
4
ITEM
5
ITEM
6
DMR-BWT740EB Smart 3D Blu-ray Recorder with Freeview+ HD Recorder - 1 TB HDD
Home cinema systems and sound bars
Build your own bundle -
Choose up to 1 item(s) from this category
.
SONY BDV-E3100 5.1 Smart 3D Blu-ray Home Cinema System
1000 W
Basic Smart: Fixed apps with Catch up TV & Movies
Bluetooth with NFC
Home delivery
Collect in store
SONY BDV-E3100 5.1 Smart 3D Blu-ray Home Cinema System
Close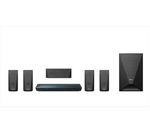 1000 W
Basic Smart: Fixed apps with Catch up TV & Movies
Bluetooth with NFC
Fill the room with dynamic sound and compliment 3D HD entertainment with the Sony BDV-E3100 5.1 Smart 3D Blu-ray Home Cinema System.

1000 W power

With 5 satellite speakers and a subwoofer working in harmony to deliver a whopping 1000 W of power, the BDVE3100 brings DVDs, Blu-rays and music to life.

Bass Boost technology gives you punchy and full low-end tones...
ORBITSOUND M10LX Sound Bar
240 W
Wired subwoofer
Bluetooth
Home delivery
Collect in store
ORBITSOUND M10LX Sound Bar
Close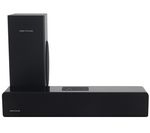 240 W
Wired subwoofer
Bluetooth
Supports high resolution audio
Bringing superb sound to your living room, the Orbitsound M10LX Sound Bar lets you enjoy cinema-style audio with the minimum of fuss.

Superior spatial sound

Whether you're watching a favourite film, football with friends or simply want to connect up your MP3 player so you can listen to music out loud, the M10LX delivers an awesome audio experience.

...
Delivery, Order & Collect and Services
Delivering your online order
Get this delivered on a day to suit youAt Currys we deliver 7 days a week. Choose from:Free delivery: within 5 working days and available on all orders. No minimum spend required.Next day delivery (from £3.95): on orders placed before 7pm Monday-Friday, or 4pm on weekends. Tell us your mobile number and on the day of the delivery we'll text you to say what time your order will be with you.Same day delivery (£9.99): exclusively for selected addresses in Greater London. Simply place your order before 10am Monday-Friday and receive it that evening between 6:30pm and 10:30pm.
Order online and collect in store
Did you know you can order online and collect in store for free?

It's simple - just select 'Collect in store' from the basket page, type in your town or postcode and we will show stock availability for your nearest stores.

There are two Order Online and Collect in Store services:

Reserve and Collect

If your item is in stock locally, you can reserve it online for free, to collect from store minutes later. So you'll get it even quicker than we can bring it to you, and with no delivery charges. Once reserved, your item's held till closing time the next day, to be paid for when you collect.

Pay and Collect

If your local store doesn't have this product in stock, you can pay online and then have it delivered to store for collection.

Your item will be sent from our warehouse to the store for free and will be available to collect from 5pm on your chosen day of delivery, including next day. Your product will be available to collect for 28 days after delivery.

For peace of mind our Care Plan service protects your product if it develops a fault or breaks down, even as the result of a mishap. Additional benefits include:
14 day repair promise
No extra costs
Unlimited repairs
Just add 'Care Plan' at the basket page or ask in store for details; charges apply. Customers selecting a monthly Care Plan will have the payment debited from their chosen card every month.
Learn more about the benefits of our Care Plan.
Important information and exclusions
Compare prices of extended warranties for electrical goods at www.compareextendedwarranties.co.uk from any internet enabled mobile device, smart phone, PC or laptop.
14 day repair promise starts from when we collect your item or when you drop your item to one of our stores.
If your product is less than £150 we offer an Instant Replacement service. This provides 3 years' protection, so that if your product goes wrong, we'll replace it, no questions asked.
Learn more about the benefits of Instant Replacement.
Was £449.99 (from 29/10/15 to 19/11/15)
PANASONIC DMR-BWT740EB Smart 3D Blu-ray Recorder with Freeview+ HD Recorder - 1 TB HDD
Was £449.99 (from 29/10/15 to 19/11/15)