SAMSUNG
BD-H8900M Smart 3D Blu-ray Player with Freeview+ HD Recorder - 1 TB HDD
Product code: 096298
Product features
Records on hard drive
Up to 411 hours of SD & 257 hours HD recording
Advanced Smart: App store with Catch up TV & Movies
WiFi built-in
Multi-room via optional accessory
Services brought to you by
Product features
Records on hard drive
Up to 411 hours of SD & 257 hours HD recording
Advanced Smart: App store with Catch up TV & Movies
WiFi built-in
Multi-room via optional accessory
Services brought to you by
Product information
Get the most out of your television with the Samsung BD-H8900M Smart 3D Blu-ray Player with Freeview+ HD Recorder that lets you watch High Definition content and record all your favourite shows to enjoy whenever you want.

More from movies

Experience high definition like never before with the BD-H8900M. Play Blu-ray movies on your HDTV and get the cinema experience at home with stunning visuals to bring your favourite films to life.

The BD-H8900M boasts an intelligent upscaling engine to improve the picture quality of your DVDs so you don't have to spend a fortune replacing your existing collection. It can even upscale to High Definition to make your existing media appear sharper than ever on your HDTV.

TV recording

An impressive 1 TB built-in hard drive provides plenty of storage space for you to save the programming you love.

Use the BD-H8900M to save all your favourite shows and movies to watch when you want. As there are two HD tuners, you can watch one channel and record another, meaning arguments about missed shows become a thing of the past. Thanks to the built-in Freeview+ HD tuner, you have hundreds of free digital channels to choose from.

An electronic programme guide (EPG) displays the upcoming TV schedule, allowing you to plan your week's viewing and recording. You can record up to 411 hours of standard definition video or 257 hours of HD content.

Smart entertainment

The Samsung BD-H8900M incorporates built-in WiFi technology with access to the Samsung Smart Hub system. Enjoy an array of Smart features including catch-up TV services such as iPlayer as well as movie streaming from Netflix and LOVEFiLM. Turn your large screen TV into a PC and enjoy web-browsing and app downloading to boost your entertainment.

The Smart Hub is driven by a powerful dual-core processor, ensuring fast and reliable loading. The AllShare Play and AllShare Cast feature enables Galaxy smartphone and tablet users to stream TV on to their mobile devices and even push media content from mobile device to TV.

Don't forget your HDMI cables

Check out our range of HDMI cables to connect your input devices and to make sure your new TV has a perfect picture with improved transfer speeds.

Look out for the Sandstrom Silver Series HDMI cables, which have a lifetime warranty.

Record, store and enjoy a world of high definition entertainment with the fantastically versatile Samsung BD-H8900M Smart 3D Blu-ray Player with Freeview HD Recorder.
Specification
Technical specifications for SAMSUNG BD-H8900M Smart 3D Blu-ray Player with Freeview+ HD Recorder - 1 TB HDD
OVERVIEW

| | |
| --- | --- |
| Type | 3D Blu-ray & DVD |
SMART
Smart TV services
- BBC iPlayer
- ITV Player
- 4oD
- Demand 5
- Movie streaming
- Facebook
- Twitter
- App store
Full web browser
Yes
App store
App store
PLAYER
Region/Zone
- Bluray region B
- DVD region 2
Blu-ray profile
BD-Live (Profile 5.0)
3D compatible
Yes. Though this player is 3D compatible, to experience 3D playback you will need other 3D equipment such as a 3D TV, 3D glasses, a 3D-capable HDMI cable, and of course a 3D Blu-ray Disc.
Readable discs
BD-ROM (Movie), BD-RE, BD-R, DVD-ROM (Movie), DVD-R (V mode only), DVD-RW (V mode only), DVD+R, DVD+RW, Audio CD, CD-R, CD-RW
Supported audio file formats
MP3, AAC
Supported video file formats
DivX-SD/HD, AVCHD, MKV (Container)
Supported image file formats
JPEG
RECORDING
Built-in hard drive
1 TB
Maximum recording time
- High definition: 257 hours
- Standard definition: 411 hours
TUNER

| | |
| --- | --- |
| TV tuner | Twin Freeview+ HD Tuners |
| Electronic programme guide | Yes |
AV FUNCTIONS
Advanced video features
Upscales to 4k
Advanced audio features
- Secondary Audio Decoding and Mixing
- Down Sampling
- Dynamic Range Control
- Audio Mixing (Rate Conversion/Mixing)
Audio processing
- DTS 5.1ch
- DTS-HD High Resolution Audio
- DTS-HD Master Audio
- DTS 96/24
- DTS-ES
- DTS-CD Decoding
- DTS Neo:6
Upscaling capabilities
Upscales to 4k
CONNECTIVITY
Multi-room
- Compatible with Samsung products
- Requires WAM250/XU Wireless Audio Multi-room Hub for Multi-room functionality
AV outputs
- 1 x HDMI
- 1 x Optical out
Ethernet
Yes
WiFi
Built-in WiFi
USB
USB 2.0 x 2
Screen mirroring
Yes
DLNA
Yes
GENERAL
Box contents
- Remote control
- Batteries x 2
- RF cable
- User manual
- Warranty card (combined in I/B)
Power consumption
- On mode: 36 kWh
- Standby mode: 1 kWh
Dimensions
55 x 430 x 282 mm (H x W x D)
Weight
3.6 kg
Manufacturer's guarantee
1 year
Bundles
Build your own bundle
You could save money by choosing extra items with your purchase - look out for great savings on some products when added as part of the bundle
You can choose some items more than once - just click the "add" button twice
Select up to 5 items from the tabs below
ITEM
2
ITEM
3
ITEM
4
ITEM
5
ITEM
6
BD-H8900M Smart 3D Blu-ray Player with Freeview+ HD Recorder - 1 TB HDD
Home cinema systems and sound bars
Build your own bundle -
Choose up to 1 item(s) from this category
.
SONY BDV-E3100 5.1 Smart 3D Blu-ray Home Cinema System
1000 W
Basic Smart: Fixed apps with Catch up TV & Movies
Bluetooth with NFC
Home delivery
Collect in store
SONY BDV-E3100 5.1 Smart 3D Blu-ray Home Cinema System
Close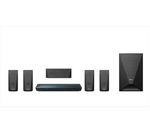 1000 W
Basic Smart: Fixed apps with Catch up TV & Movies
Bluetooth with NFC
Fill the room with dynamic sound and compliment 3D HD entertainment with the Sony BDV-E3100 5.1 Smart 3D Blu-ray Home Cinema System.

1000 W power

With 5 satellite speakers and a subwoofer working in harmony to deliver a whopping 1000 W of power, the BDVE3100 brings DVDs, Blu-rays and music to life.

Bass Boost technology gives you punchy and full low-end tones...
ORBITSOUND M10LX Sound Bar
240 W
Wired subwoofer
Bluetooth
Home delivery
Collect in store
ORBITSOUND M10LX Sound Bar
Close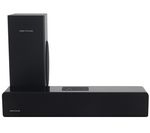 240 W
Wired subwoofer
Bluetooth
Supports high resolution audio
Bringing superb sound to your living room, the Orbitsound M10LX Sound Bar lets you enjoy cinema-style audio with the minimum of fuss.

Superior spatial sound

Whether you're watching a favourite film, football with friends or simply want to connect up your MP3 player so you can listen to music out loud, the M10LX delivers an awesome audio experience.

...
Delivery, Order & Collect and Services
Delivering your online order
Get this delivered on a day to suit youAt Currys we deliver 7 days a week. Choose from:Free delivery: within 5 working days and available on all orders. No minimum spend required.Next day delivery (from £3.95): on orders placed before 7pm Monday-Friday, or 4pm on weekends. Tell us your mobile number and on the day of the delivery we'll text you to say what time your order will be with you.Same day delivery (£9.99): exclusively for selected addresses in Greater London. Simply place your order before 10am Monday-Friday and receive it that evening between 6:30pm and 10:30pm.
Order online and collect in store
Did you know you can order online and collect in store for free?

It's simple - just select 'Collect in store' from the basket page, type in your town or postcode and we will show stock availability for your nearest stores.

There are two Order Online and Collect in Store services:

Reserve and Collect

If your item is in stock locally, you can reserve it online for free, to collect from store minutes later. So you'll get it even quicker than we can bring it to you, and with no delivery charges. Once reserved, your item's held till closing time the next day, to be paid for when you collect.

Pay and Collect

If your local store doesn't have this product in stock, you can pay online and then have it delivered to store for collection.

Your item will be sent from our warehouse to the store for free and will be available to collect from 5pm on your chosen day of delivery, including next day. Your product will be available to collect for 28 days after delivery.

For peace of mind our Care Plan service protects your product if it develops a fault or breaks down, even as the result of a mishap. Additional benefits include:
14 day repair promise
No extra costs
Unlimited repairs
Just add 'Care Plan' at the basket page or ask in store for details; charges apply. Customers selecting a monthly Care Plan will have the payment debited from their chosen card every month.
Learn more about the benefits of our Care Plan.
Important information and exclusions
Compare prices of extended warranties for electrical goods at www.compareextendedwarranties.co.uk from any internet enabled mobile device, smart phone, PC or laptop.
14 day repair promise starts from when we collect your item or when you drop your item to one of our stores.
If your product is less than £150 we offer an Instant Replacement service. This provides 3 years' protection, so that if your product goes wrong, we'll replace it, no questions asked.
Learn more about the benefits of Instant Replacement.
SAMSUNG BD-H8900M Smart 3D Blu-ray Player with Freeview+ HD Recorder - 1 TB HDD