PANASONIC
SC-HTE80EB-K Wireless Soundstage
120 W
Built-in subwoofer
Bluetooth with NFC
Digital connection: optical & HDMI

KNOWHOW®
Care Plan
from £1.50 per month
Care Plan for DVD, Blu-ray & Home Cinema
A Care Plan protects your home cinema equipment if it develops a fault or breaks down, even as the result of a mishap.
There are two ways to pay for your plan - monthly or fixed term. Paying monthly means you'll only pay a small amount each month for as long as you want, whereas paying a fixed term is ideal if you just want to pay once and know your product is protected from then on.
Please note, customers selecting a monthly Care Plan will have the payment debited from their chosen card every month
Care Plan

| Benefits | Care Plan |
| --- | --- |
| Protection against breakdown | |
| Protection against mishap | |
| Fast fix - 14 day repair promise | |
| You won't pay a penny more | |
| We'll fix or replace with new | |
| Unlimited repairs | |
| Request a replacement | |
| Worldwide protection | |
Important information and exclusions
Learn more about the benefits of our Care Plans.
You can add a Care Plan to your chosen products on your basket confirmation page when you are ready to checkout, or for Order online & collect in store please ask when you collect your item.
Compare prices of extended warranties for electrical goods at www.compareextendedwarranties.co.uk from any internet enabled mobile device, smartphone, PC or laptop.
Product details
The 120 W Panasonic SC-HTE80EB-K Wireless Soundbar in black packs dynamic bass response and beautifully clear high frequencies to augment your TV and movie watching.

Bluetooth for total convenience

Equipped with Bluetooth technology, this Panasonic soundbar enables you to wirelessly connect with any Bluetooth-enabled TV set for optimum positioning convenience.

The SC-HTE80EB-K also features NFC (Near Field Communication) technology – team it with the free Panasonic Music Streaming App and touch your NFC-enabled tablet or smartphone to establish a direct pairing with the soundstage. This lets you stream music from your device to enjoy in rich, clear detail.

You'll be able to enjoy wirelessly music stored on your smartphone or PC if it's equipped with Bluetooth too, giving you a great way to enjoy all your different music collections in the comfort of your living room. Share the audio magic with family members or enjoy a convenient way to entertain friends.

Pure and exciting home cinema sound

With its two internal subwoofers and dual aero stream ports, the Panasonic SCHTE-80EBK Soundbar is able to achieve truly deep and exhilarating bass sounds. H.Bass technology adds harmonic low-frequency audio to make your content sound richer than with comparable compact speakers.

The soundbar uses unique sound processing technology to add harmonic bass to low-frequency audio signals, making orchestral scores, on-screen impacts, game soundtracks and urgent dialogue that much more compelling and engaging.

Hear every word

The Panasonic SCHTE-80EBK Soundstage also features a Clear-Mode Dialogue function, which gives you incredibly natural performance by synchronising the sound and picture. Audio depth is enhanced by increasing the sound field in the upper front part of the TV screen, making dialogue feel like it's coming from the middle of the screen.

You can adjust dialogue volume across four levels, particularly handy when other sounds in the film or programme threaten to swamp what onscreen figures are saying.

Get the audio you want

Enjoy stable sound quality and sound tailored to specific scene content with six preset equaliser modes that emphasize or reduce overtones, harmonics or noise. Choose from Standard, Stadium, Music, Cinema, News and Stereo to maximise your entertainment.

You're ensured of consistently clear sound without music signal interference from obstructions.

Keeps you connected

If you've got a Viera TV remote control, you can use it to control your Panasonic SCHTE-80EBK Soundstage. Compatible products that are connected via HDMI can communicate with each other, sparing you the need to use several different remotes.

The device offers HDMI, digital optical audio (SPDIF) and analogue RCA audio (phono) connectors so that you can connect other products like a DVD player or set top box. The HDMI connection houses an ARC (audio return channel), so that you can send high quality TV sound to the soundstage's speakers through the same cable that the video signal travels down. This really cuts down on cabling clutter behind your TV.

Compact and slim, the black Panasonic SC-HTE80EB-K Wireless Soundbar fits easily under your TV or inside a rack, keeping your entertainment area neat and clean while pumping out high-grade home cinema audio.

PLEASE NOTE:
- Wireless connectivity requires compatible devices
- All models still require a power source
Product code: 067646
OVERVIEW

| | |
| --- | --- |
| Type | Soundstage |
| Total power output | 120 W |
SMART

| | |
| --- | --- |
| App store | Panasonic Music Streaming App |
| Full web browser | No |
AV FUNCTIONS
Advanced audio features
6 audio presets:

- Standard
- Stadium
- Music
- Cinema
- News
- Stereo
Audio processing
- Dolby Digital
- Dolby Pro Logic II
- Dolby Virtual Speaker
Additional features
- Clear-Mode Dialogue feature
- VIERA Link™ (HDAVI Control 5)
- Auto Gain Control
- Dialog Level Control
- Up to 7.1ch Linear PCM Input via HDMI
CONNECTIVITY
AV inputs
- HDMI x 1
- Optical x 1
AV outputs
- HDMI x 1
- ARC (Audio Return Channel) x 1
- RCA/aux x 1
Ethernet
No
WiFi
No
Bluetooth
Yes
Screen mirroring
No
NFC
Yes
DLNA
No
SPEAKERS
Configuration
- Dual speaker driver
- Integrated subwoofers x 2
Power
- Centre: 30 W x 2 (1 kHz, 6ohms, 10% THD)
- Subwoofer: 60 W (100 Hz, 3ohms, 10% THD)
Wireless capability
Wireless sound connection to any Bluetooth-capable TV

PLEASE NOTE:
- Wireless connectivity requires compatible devices
- All models still require a power source
GENERAL
Box contents
Panasonic SC-HTE80EB-K Wireless Soundstage
Power consumption
- Normal Use [Approx.]: 27 W
- Standby [Approx.]: 0.25 W
Dimensions
460 x 60 x 280 mm (W x H x D)
Weight
3.2 kg
Boxed weight
4.1 kg
Manufacturer's guarantee
1 year
You could save money by choosing extra items with your purchase - look out for great savings on some products when added as part of the bundle
You can choose some items more than once - just click the "add" button twice
Select up to 5 items from the tabs below
ITEM
2
ITEM
3
ITEM
4
ITEM
5
ITEM
6
SC-HTE80EB-K Wireless Soundstage
Blu-ray players
Build your own bundle -
Choose up to 1 item(s) from this category
.
SAMSUNG BD-H5900 Smart 3D Blu-ray Player
Plays Blu-ray & DVD
Basic Smart: Fixed apps with Catch up TV & Movies
WiFi built-in
Home delivery
Collect in store
SAMSUNG BD-H5900 Smart 3D Blu-ray Player
Close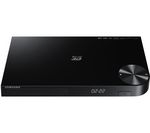 Plays Blu-ray & DVD
Basic Smart: Fixed apps with Catch up TV & Movies
WiFi built-in
Enjoy 3D, HD and Smart media from one compact device with the Samsung BD-H5900 3D Blu-ray Player.

The Samsung BD-H5900 delivers mind-blowing 3D effects and immersive HD quality that are sure to bring your Blu-ray collection to life.

DVD upscaling improves the quality of regular DVDs too, so this is the perfect device to make the most of your entire film and TV...
LG BP640 Smart 3D Blu-ray Player
Plays Blu-ray & DVD
Advanced Smart: App store with Catch up TV & Movies
WiFi built-in
Home delivery
Collect in store
LG BP640 Smart 3D Blu-ray Player
Close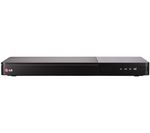 Plays Blu-ray & DVD
Advanced Smart: App store with Catch up TV & Movies
WiFi built-in
The LG BP640 Smart 3D Blu-ray Player is fully equipped with some great features that allow you to access more home entertainment.

More content to enjoy

The LG BP640 Smart Blu-ray Player has both WiFi and Ethernet internet access options, allowing you to stream content instantly from exciting service providers such as Netflix, LOVEFiLM, and YouTube.

Never miss...