SONY
HTCT770 Sound Bar
was £379.99 (£379.99 From 05/07/14 to 23/12/14)
Save £76.26
Output power: 330 W
Wireless subwoofer
Bluetooth with NFC

KNOWHOW®
Care Plan
from £3.00 per month
Care Plan for DVD, Blu-ray & Home Cinema
A Care Plan protects your home cinema equipment if it develops a fault or breaks down, even as the result of a mishap.
There are two ways to pay for your plan - monthly or fixed term. Paying monthly means you'll only pay a small amount each month for as long as you want, whereas paying a fixed term is ideal if you just want to pay once and know your product is protected from then on.
Please note, customers selecting a monthly Care Plan will have the payment debited from their chosen card every month
Care Plan

| Benefits | Care Plan |
| --- | --- |
| Protection against breakdown | |
| Protection against mishap | |
| Fast fix - 14 day repair promise | |
| You won't pay a penny more | |
| We'll fix or replace with new | |
| Unlimited repairs | |
| Request a replacement | |
| Worldwide protection | |
Important information and exclusions
Learn more about the benefits of our Care Plans.
You can add a Care Plan to your chosen products on your basket confirmation page when you are ready to checkout, or for Order online & collect in store please ask when you collect your item.
Compare prices of extended warranties for electrical goods at www.compareextendedwarranties.co.uk from any internet enabled mobile device, smartphone, PC or laptop.
Product details
Bring life to your home entertainment with the Sony HTCT770 Sound Bar and wireless subwoofer.

Natural sound

With the cinematic surround sound this Sony sound bar outputs, you'll really feel transported into the heart of your favourite films and other home entertainment.

A powerful 330 watts of 2.1 channel audio fills the room with S-Force PRO Front Surround sound technology delivering deeper bass.

If you aren't getting enough out of TV speakers, the immersive sound from this high-quality home theatre product is the next best thing to being in the front row.

Bluetooth and NFC

The Sony HTCT770 comes with a wireless subwoofer that can be placed anywhere in the room without trailing wires while Bluetooth and NFC provide more wireless connecting convenience.

Wirelessly stream songs from your tablet, smartphone or PC directly to the soundbar to enjoy clear, defined audio that will really change the way you enjoy your entertainment.

You can also touch your NFC and Bluetooth-enabled tablet or smartphone against the speaker for instant playback. This next level of wireless streaming functionality lets you stream songs from a PC, iPhone, iPad or iPod.

Entertainment

Control the music with the intuitive SongPal app for Android and iOS devices - use your smartphone or tablet device and enjoy control over the sound bar and even find more information about your entertainment content. What's more, Sony Music Unlimited comes built in, giving you access to online streaming services such as Spotify, Deezer and more.

Don't forget your HDMI cables

There are HDMI inputs that enable you to link your high definition components to the sound bar, so you can really make this most out of your movies, games and music.

Check out our range of HDMI cables to connect your input devices and to make sure your new sound bar works perfectly, with improved transfer speeds. 

Look out for the Sandstrom Silver Series HDMI cables with their lifetime warranty.

Bring powerful, immersive and spine-tingling sound to your home viewing with the Sony HTCT770 Sound Bar and subwoofer.
Product code: 099364
OVERVIEW

| | |
| --- | --- |
| Type | Sound bar with wireless subwoofer |
| Number of channels | 2.1 |
| Total power output | 330 W |
AV FUNCTIONS
Advanced audio features
Dolby Prologic II
Audio processing
- DTS HD
- DolbyTruHD
- Dolby Digital+
CONNECTIVITY

| | |
| --- | --- |
| Bluetooth | Yes |
| NFC | Yes |
GENERAL
Box contents
Optical cable
Dimensions
- Sound bar: 1030 x 50 x 113 mm (H x W x D)
- Subwoofer: 271 x 404 x 271 mm (H x W x D)
Weight
11.4 kg
Boxed dimensions
16 kg
Colour
Black
Manufacturer's guarantee
1 year
You could save money by choosing extra items with your purchase - look out for great savings on some products when added as part of the bundle
You can choose some items more than once - just click the "add" button twice
Select up to 5 items from the tabs below
ITEM
2
ITEM
3
ITEM
4
ITEM
5
ITEM
6
HTCT770 Sound Bar
Blu-ray players
Build your own bundle -
Choose up to 1 item(s) from this category
.
SAMSUNG BD-H5900 Smart 3D Blu-ray Player
Plays Blu-ray & DVD
Basic Smart: Fixed apps with Catch up TV & Movies
WiFi built-in
Home delivery
Collect in store
SAMSUNG BD-H5900 Smart 3D Blu-ray Player
Close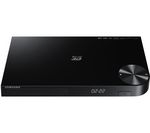 Plays Blu-ray & DVD
Basic Smart: Fixed apps with Catch up TV & Movies
WiFi built-in
Enjoy 3D, HD and Smart media from one compact device with the Samsung BD-H5900 3D Blu-ray Player.

The Samsung BD-H5900 delivers mind-blowing 3D effects and immersive HD quality that are sure to bring your Blu-ray collection to life.

DVD upscaling improves the quality of regular DVDs too, so this is the perfect device to make the most of your entire film and TV...
LG BP640 Smart 3D Blu-ray Player
Plays Blu-ray & DVD
Advanced Smart: App store with Catch up TV & Movies
WiFi built-in
Home delivery
Collect in store
LG BP640 Smart 3D Blu-ray Player
Close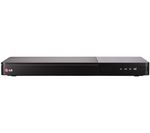 Plays Blu-ray & DVD
Advanced Smart: App store with Catch up TV & Movies
WiFi built-in
The LG BP640 Smart 3D Blu-ray Player is fully equipped with some great features that allow you to access more home entertainment.

More content to enjoy

The LG BP640 Smart Blu-ray Player has both WiFi and Ethernet internet access options, allowing you to stream content instantly from exciting service providers such as Netflix, LOVEFiLM, and YouTube.

Never miss...