Add Alexa to any room.
Amazon's Echo Dot is a compact, hands-free smart speaker that connects to the Alexa Voice Service, Amazon's virtual assistant. Use the Echo Dot to play songs, ask it questions, make calls, and send or receive messages using only voice commands. You can also ask to hear the latest news updates, sports scores and weather forecasts – plus lots more.
For its small size, Echo Dot has seven fine-tuned microphones packed in, to hear your voice commands even when it's noisy. Simply say "Alexa" and the Echo Dot is primed to respond. As Echo Dot uses innovative Echo Spatial Perception technology, or ESP, you can have more than one in your house and only the nearest will respond, so long as each device is at least 6 metres apart.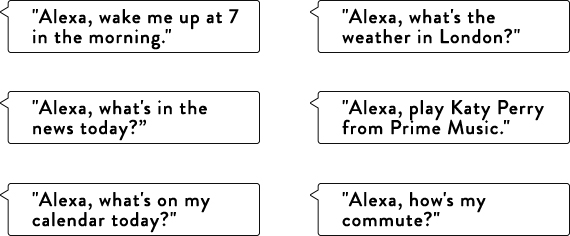 Small and with a minimalist design, the Echo Dot blends in whether it's on your bedside table as an alarm, or in your kitchen to provide cookery tips.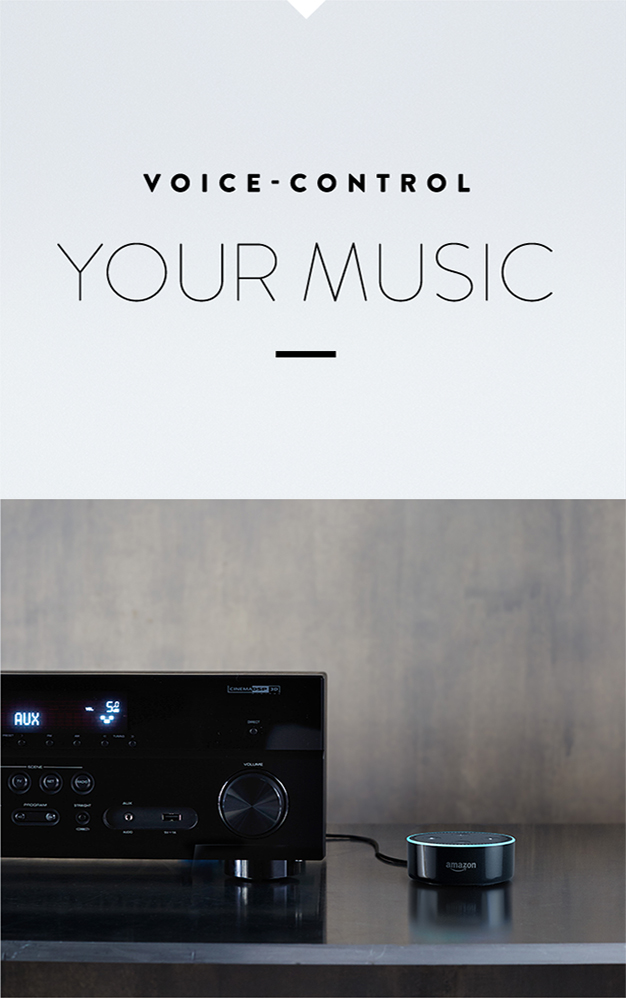 The built-in speaker offers impressive audio, giving you the quality to enjoy music anytime. Simply connect your Amazon Music, Prime Music, Spotify or TuneIn account, say the wake word "Alexa" and ask for the song you want to hear. You can select your favourite songs, pick certain playlists or let Alexa choose for you.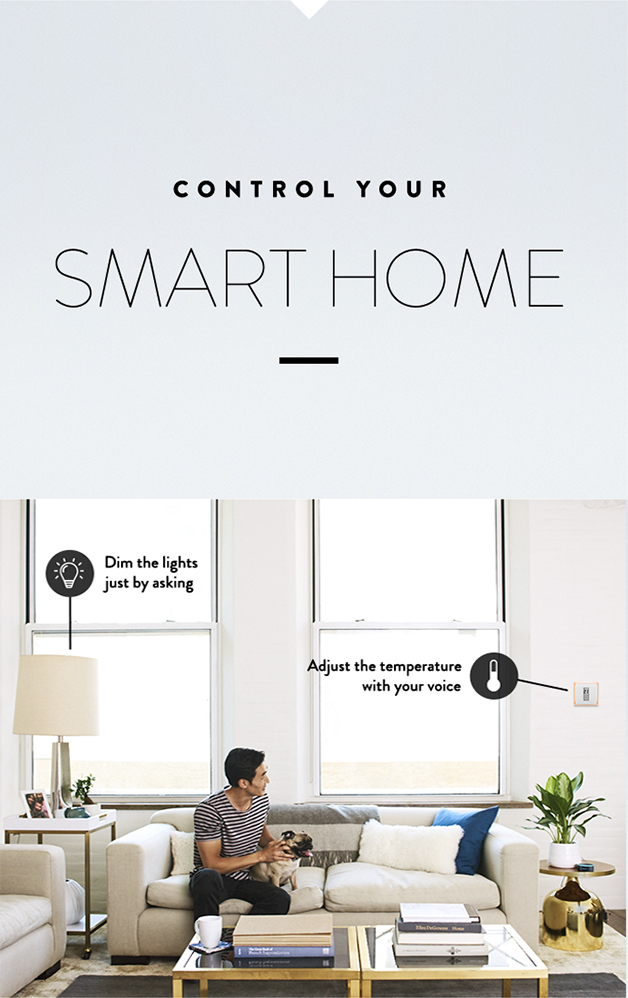 Switch on the light as soon as you wake up, ready the coffee maker or even lower the thermostat while reading in bed - with Echo Dot you can control a variety of household appliances with a simple voice command. You can use Echo Dot with a range of smart devices from WeMo, Philips Hue, Hive, Netatmo, tado plus many others.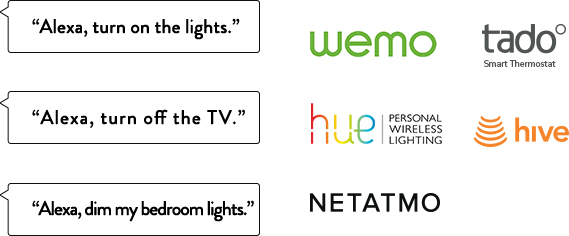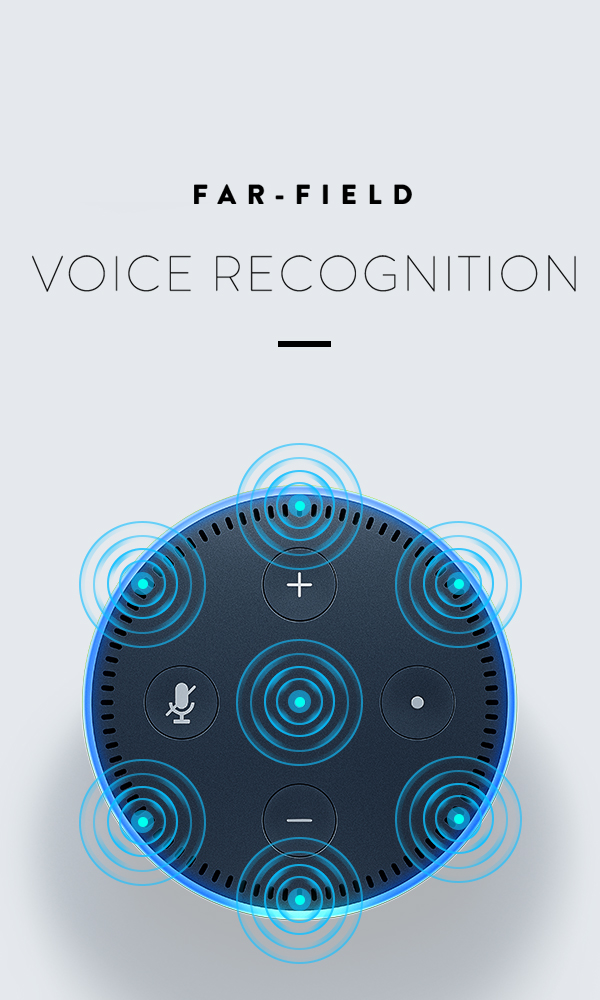 The seven microphones built-in to the Echo Dot use beamforming and noise cancellation technology to hear your voice more clearly, even when music is playing. Whenever you say "Alexa", Echo Dot waits for your command and then streams your voice to the cloud, where the Alexa Voice Service recognises and responds to your request.
Echo Dot becomes smarter every time you use it, thanks to machine learning capability from Alexa, the AI brain behind the device. Alexa learns about your speech patterns, words you like to use, what you like and what you don't like. This info is then saved to the cloud to make Alexa smarter, and more in-tune with you.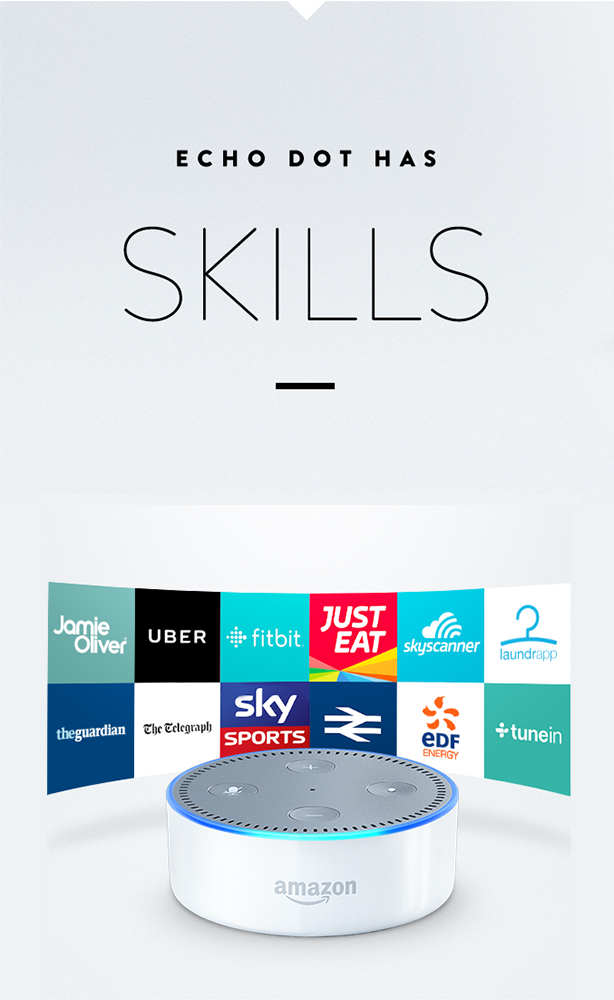 Skills are constantly being developed for the Echo Dot. You can order food from Just Eat, check updates on National Rail plus much more. You can also search for new Skills, see ratings, and check reviews from other Alexa users in the app.





Simple to Set Up & Use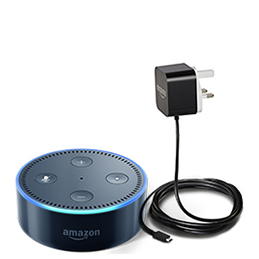 1. Plug in Amazon Echo Dot.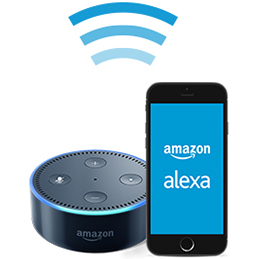 2. Connect to the internet with the Alexa app.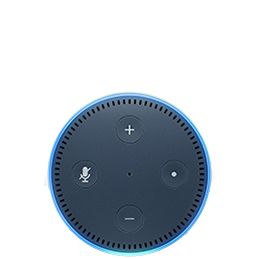 3. Just ask for music, weather, news and more.
Technical details