With the Alexa voice remote control, the Amazon Fire TV Stick lets you stream unlimited content in a flash. All you have to do is ask your remote.
With lightning-fast WiFi, responsive voice-activated search, and buffer-free streaming, the USB-sized Amazon Fire TV Stick puts viewing freedom in the palm of your hand and at the tip of your tongue.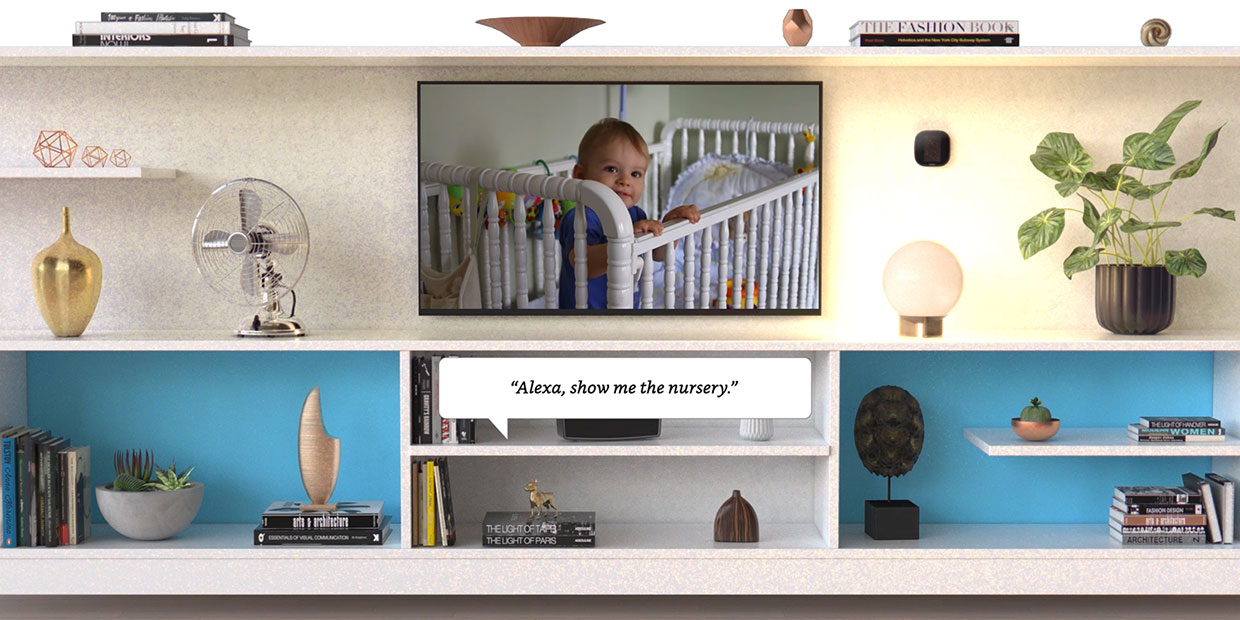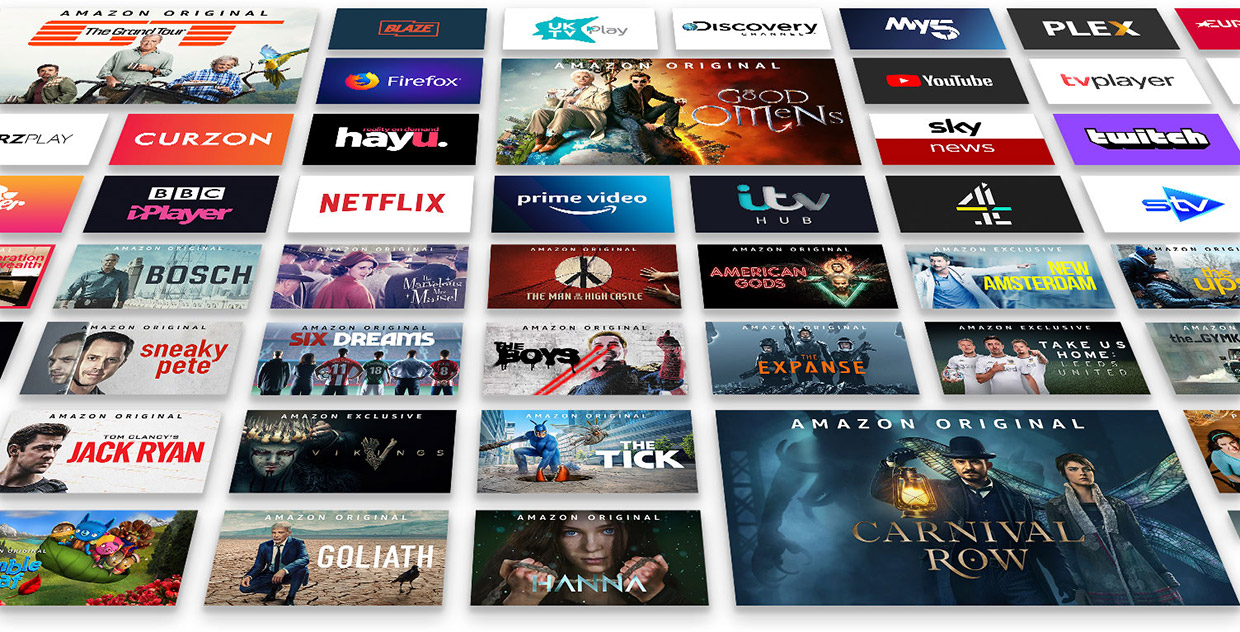 SOMETHING'S ALWAYS ON
With access to Prime Video, BBC iPlayer, Netflix, ITV Hub, All 4, Curzon Home Cinema, YouTube and more, there are thousands of great shows and movies ready to stream.
Watch live TV (including sports and news) as it happens. Subscription fees may apply.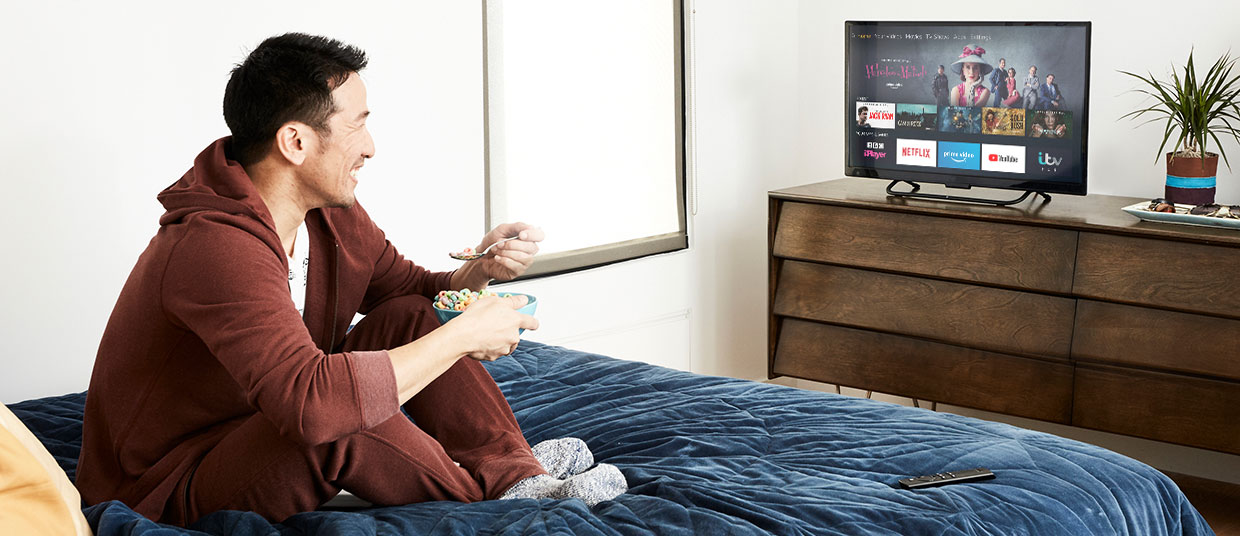 TAKE YOUR TV WITH YOU
Wherever you go, you never have to miss your favourite shows – simply plug the Amazon Fire TV stick into an HDTV and tell Alexa what you're in the mood to watch.
Some content not available in all countries.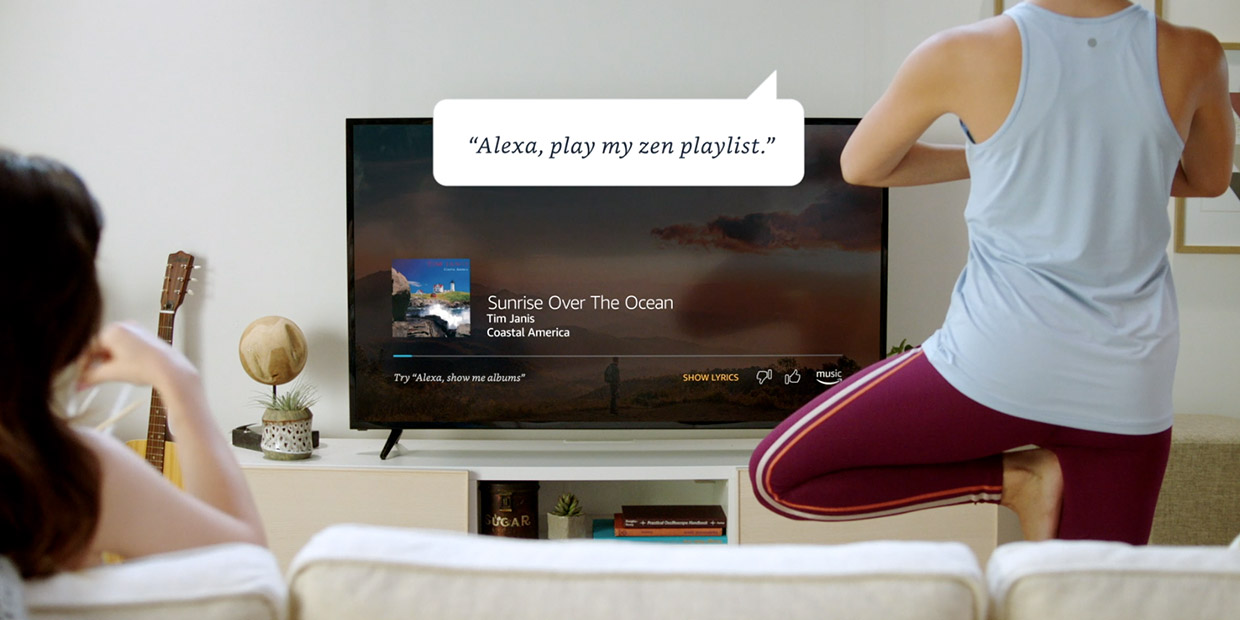 Millions of songs are available to stream on Fire TV Stick through Amazon Music, Spotify, Deezer and more. Subscription fees may apply. With Amazon Music, just press the microphone button on the Alexa Voice Remote and say what you'd like to hear next. Unlock 50 million songs with Amazon Music Unlimited. Plus, watch videos from YouTube, Vevo and Vimeo.
"Play Olly Murs" "Play Sia" "Play Shape of You by Ed Sheeran" "Play indie from the 90s" "Play music for a dinner party" "Play Jazz Radio from Tunein"




Put down the remote and dive straight into the shows you love just by asking. The Amazon Fire TV Cube features a smart speaker that can pick up your voice from across the room. Just say, "Alexa, play The Boys" and Alexa will respond straight away.
And that's not all Alexa can do. Ask Alexa to check the weather, set timers and reminders, play music, find out the news and more - even when the TV is off.
"ALEXA, SWITCH THE TV ON"
The Fire TV Cube features eight microphones that can hear you from any direction, so it's easy to ask Alexa to switch to another show, turn up the volume or mute your compatible TV or sound bar. It's also the only streaming media player that lets you control your compatible satellite box with your voice.
With Alexa on the Fire TV Cube, there's a huge range of devices you can control via the cloud, infrared and HDMI-CEC. And there are more devices being added all the time.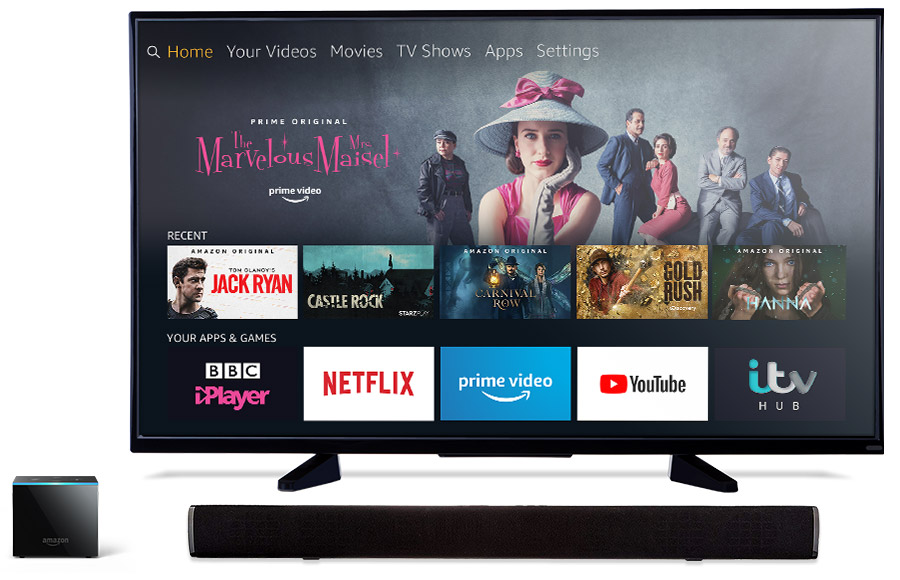 THERE'S ALWAYS SOMETHING UNMISSABLE
The Amazon Fire TV Cube gives you a huge choice of over 200,000 TV shows and movies, including thousands of titles in amazing 4K Ultra HD, HDR or Dolby Vision. With big shows from Prime Video, BBC iPlayer, Netflix, ITV Hub, All 4, Curzon Home Cinema, YouTube and more, you'll never run out of great content to watch.
Stream millions of songs on Amazon Music, Spotify or Deezer, using your voice to choose a song, artist or playlist and control playback. Subscription fees may apply.
MUCH MORE THAN JUST STREAMING
Do even more with Alexa. With a built-in speaker, the Fire TV Cube is also a brilliant smart home hub. You can control compatible lighting, heating and other smart home devices, check the weather, hear the latest news and more – even with the TV off.
Ask Alexa to display live feeds from your smart security cameras or play music in every room with compatible smart speakers. With new Alexa skills being added all the time, Fire TV Cube only gets smarter.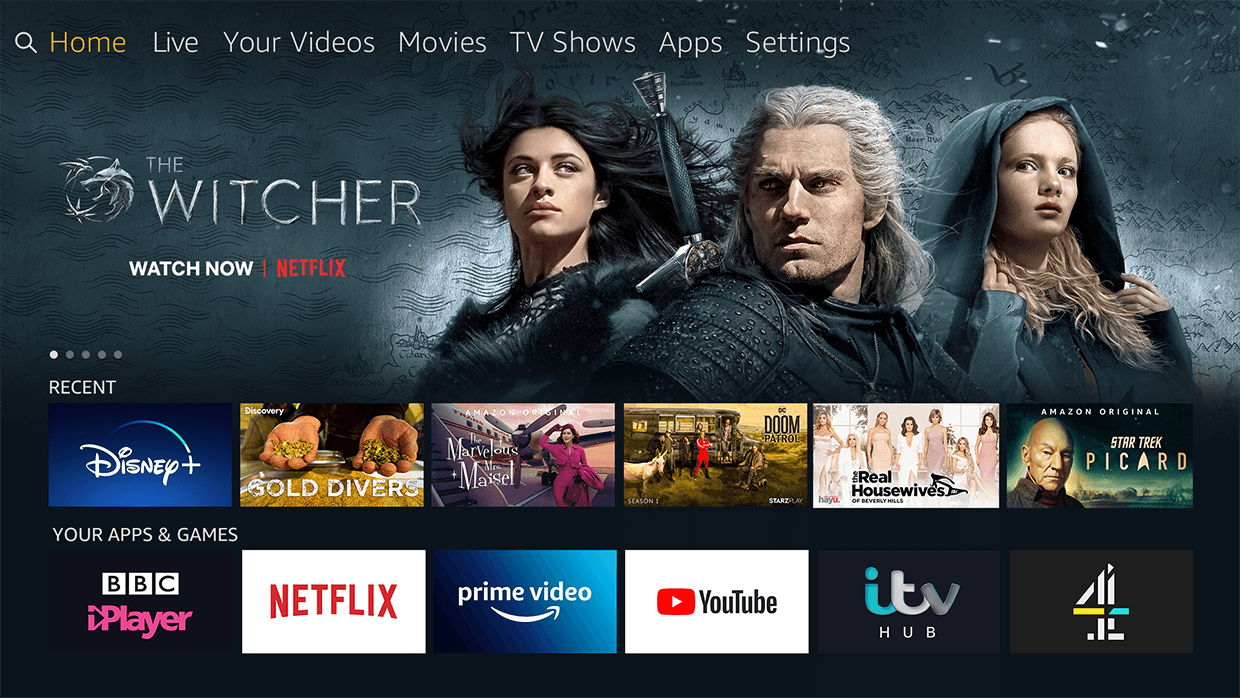 INTRODUCING JVC Fire TV Edition
THE FIRST AMAZON FIRE OS POWERED SMART TV
Meet the new generation of Smart TV. The JVC Fire TV Edition Smart 4K HDR LED TV is the first to feature Amazon's Fire OS operating system, along with its easy navigation and Alexa Voice Remote. With support for HDR and Dolby Vision, you'll get incredible contrast in action movies, live sports and big dramas.
The JVC Fire TV Edition comes in five sizes (40", 43", 50", 55" and 65") and supports super-detailed 4K Ultra HD content. The Alexa Voice Remote lets you easily choose shows, launch apps, search for genres and play music just by asking.
ENDLESS ENTERTAINMENT
Never run out of great shows and movies to watch. The JVC Fire TV Edition gives you access to over 200,000 shows on Prime Video and other streaming services. Not only that, but when you connect an HD aerial, you can ask Alexa to search for shows that are being broadcasted on live TV just as easily.
You'll also get personalised recommendations of what to watch, so you can find the right program for you in a flash. With thousands of apps, channels and Alexa skills, there's no limit to what your TV can do.
SO MUCH MORE THAN TV
Lower the lights, turn up the heating and start the movie. With the JVC Fire TV Edition, you can do all this and more just by asking. Alexa is compatible with a huge range of smart home devices, which you can control from the comfort of your sofa.
But that's not all. Get immediate answers to your burning questions without having to turn off the movie. Planning a weekend getaway? Just say, "Alexa, what's the weather like this weekend?" Can't make it to the big game? Ask Alexa how your team are getting on in the league. And if there's a song you can't get out of your head, just ask Alexa to play it.
Compare FireTV Family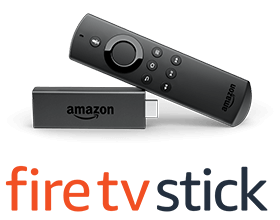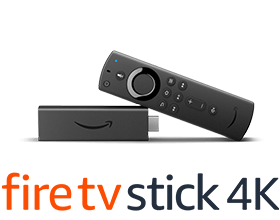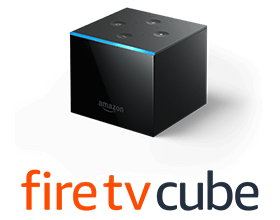 Up to 4K Ultra HD with support for HDR, HDR 10, HDR10+, HLG and Dolby Vision
Up to 4K Ultra HD with support for HDR, HDR 10, HDR10+, HLG and Dolby Vision
Built-in speaker:

Far-field voice control of Fire TV
Far-field voice control of Fire TV:

Far-field voice control of compatible home entertainment devices
Far-field voice control of compatible home entertainment devices:

TV and device control with Alexa Voice Remote (2nd gen.)
TV and device control with Alexa Voice Remote (2nd gen.):

TV and device control with Alexa Voice Remote (2nd gen.):

TV and device control with Alexa Voice Remote (2nd gen.):

Listen to Fire TV with compatible Bluetooth headphones
Listen to Fire TV with compatible Bluetooth headphones:

Listen to Fire TV with compatible Bluetooth headphones:

Listen to Fire TV with compatible Bluetooth headphones:

Supported audio:
Dolby Audio
Supported audio:
Dolby Atmos
Supported audio:
Dolby Atmos
802.11ac dual-band MIMO Wi-Fi
802.11ac dual-band MIMO Wi-Fi:

802.11ac dual-band MIMO Wi-Fi:

802.11ac dual-band MIMO Wi-Fi:

Ethernet support:
With optional Amazon Ethernet Adaptor
Ethernet support:
With optional Amazon Ethernet Adaptor
Ethernet support:
Ethernet Adaptor included in the box