iPad Pro
All new. All screen.
All powerful.
The new iPad Pro has been
completely redesigned

and packed with Apple's most advanced technology. It will make you rethink what iPad is capable of.
And what a computer
is capable of.
The new

all-screen design

means iPad Pro is a magical piece of glass that does everything you need, any way you hold it.¹
With new,

intuitive gestures

, getting around is simple.
Just swipe up to go Home.
The new

Liquid Retina display

goes from edge to edge.
True-to-life colour and ProMotion technology make everything look gorgeous and feel responsive.
You've got to see it — and
touch it — to believe it.
Face ID

comes to iPad. It's engineered for secure unlocking and works seamlessly whether you hold it in portrait or landscape.
It's the world's most secure
facial authentication in a tablet.
And in
a computer.
Use Face ID to unlock your iPad Pro, log in to apps and

pay with a glance

.
It's one password you
can't forget.
A12X Bionic

is the smartest, most powerful chip Apple has ever made. It has the Neural Engine, which runs five trillion operations per second and enables advanced machine learning.
Translation: It's faster
than most PC laptops.
Put all that power to work by

multitasking

with just a few swipes. Work on a creative project, message with a friend, search the web for inspiration and make a FaceTime call.
All at the same time.
Introducing the new
Apple Pencil

.
Apple Pencil now

responds to your touch

. With a double tap you can quickly change brushes or switch to the eraser, without interrupting your flow.²
And it attaches magnetically to

pair and charge

.
In other words, it's a
snap

.
The redesigned
Smart Keyboard Folio

provides a great typing experience and elegant front and back protection.²
USB-C

gives you a high-performance connection to accessories like an external display or camera.²
You can even charge your
phone with it.
iPad Pro has

two great cameras

equipped with Smart HDR. A 12MP camera great for stunning photos, 4K video, document scanning and AR experiences. And a TrueDepth camera perfect for Portrait selfies, FaceTime, Animoji and Memoji.
At less than half a kilo, it's more

portable

than ever. Connect on the go with fast Wi-Fi and 4G LTE Advanced.³
And with up to
10 hours of battery life.⁴
That's a look at the new iPad Pro.

It's the biggest change to iPad since iPad.
Portable Design


With its thin, light design
10-hour battery life, you can take
it anywhere and use it all day.2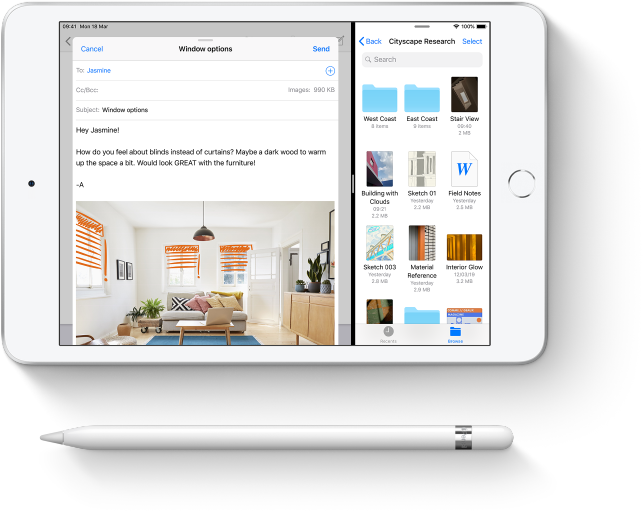 A12 Bionic Chip


Delivers incredibly fastperformance
and can run the most powerful apps.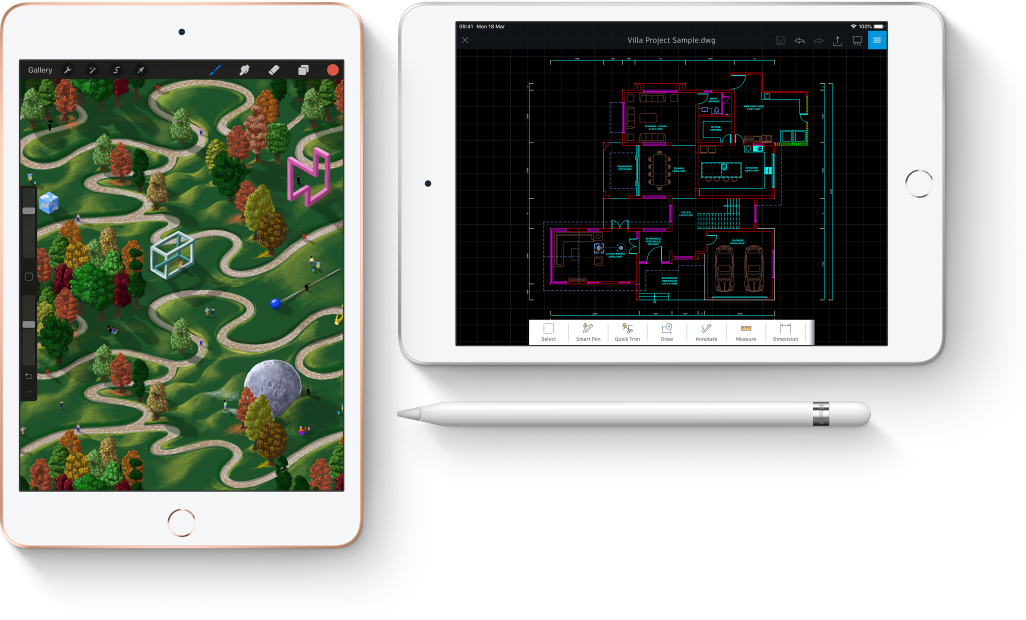 7.9-inch Retina Display


Stunning colour and easy reading
in any light.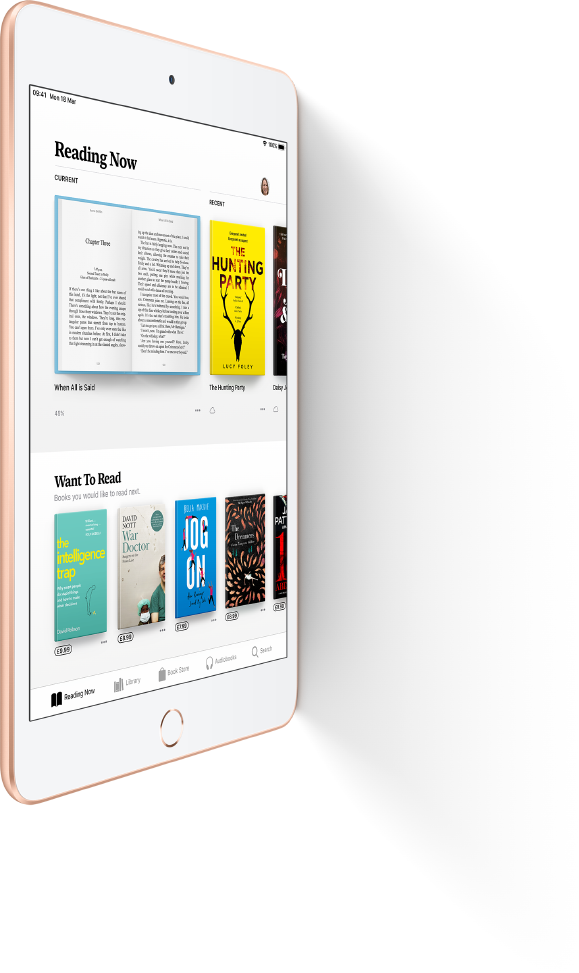 Cameras


Stay in touch. Shoot in HD. Play in AR.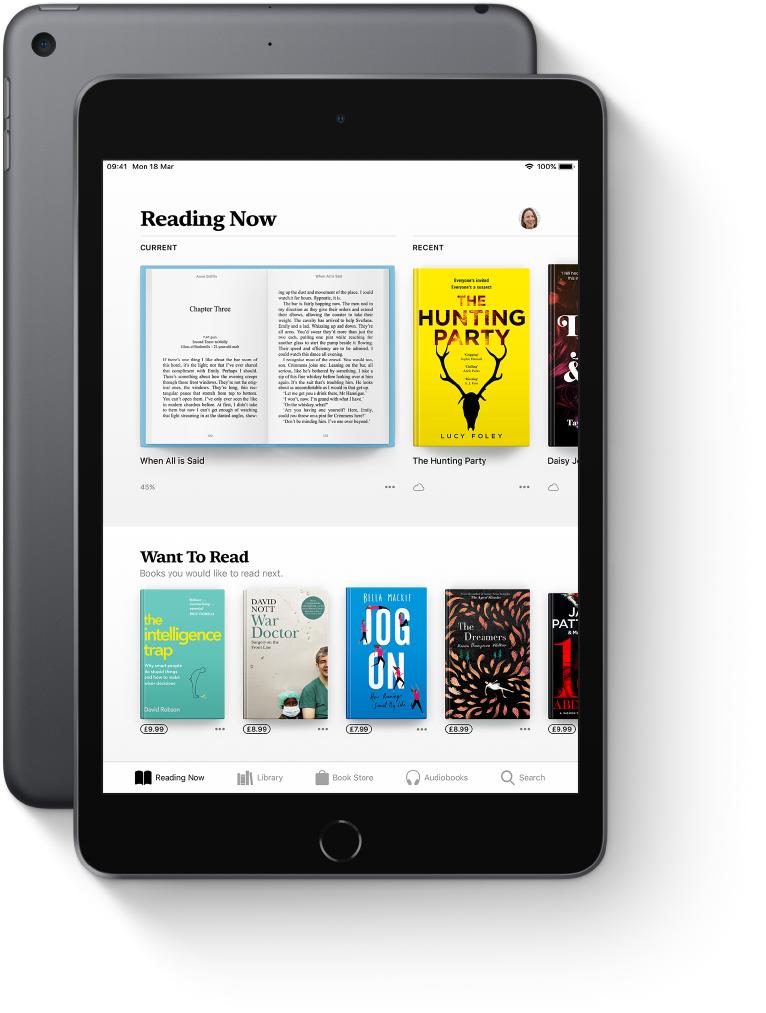 Apple Pencil


Take notes, sketch and more
with Pixel-perfect precision.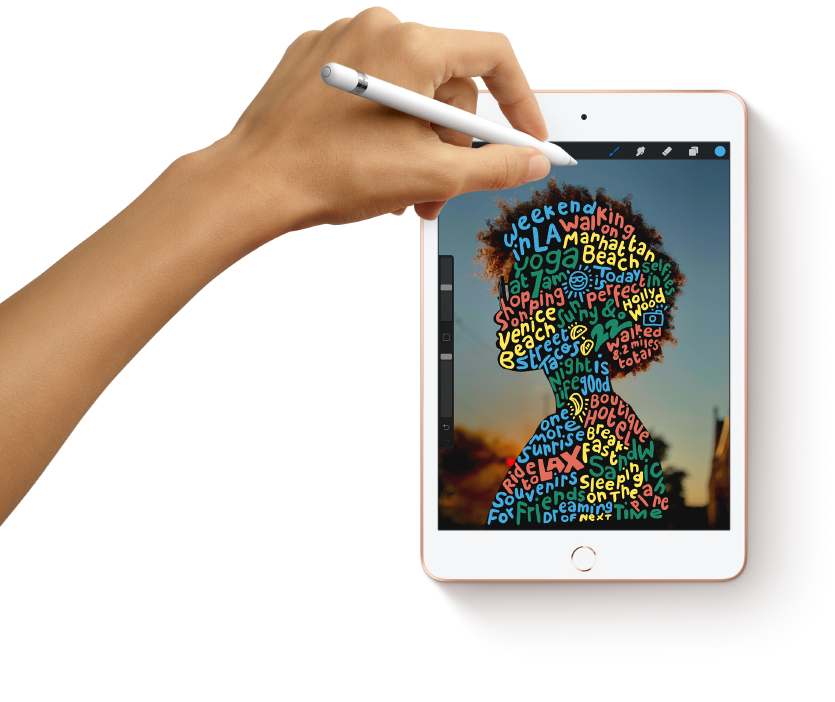 1. Accessories sold seperately.
2. Battery life varies by use and configuration. See www.apple.com/uk/batteries for more information
Apps are available on the App Store. Title availability is subject to change.
The new 9.7-inch
The new 9.7-inch
Like a computer.
Unlike any computer.
If the computer were invented today, what would it look like? It would be powerful enough for any task. So mobile you could take it everywhere. And so intuitive you could use it any way you wanted — with touch, a keyboard or even a pencil.¹ In other words, it wouldn't really be a "computer". It would be the new iPad.
Power for what you do today. And what you'll discover tomorrow.
Enlight Videoleap
A smart video editor.
A10 Fusion chip. Engineered for performance.
64-bit architecture. Four-core design. Over 3.3 billion transistors. Translation: iPad is incredibly fast. Which comes in handy when you want to edit a 4K video, play graphics-intensive games or experience the latest augmented reality apps.
Microsoft PowerPoint
Create, edit and show
presentations.
It multitasks easily.
So you can too.
iPad packs enough power to use multiple apps all at once. Work on your business plan while doing research on the web while making a FaceTime call to a colleague at the same time. It's even easier than it sounds.
Froggipedia
View the anatomy
of a frog in AR.
The most immersive
way to experience augmented reality.
Augmented reality (AR) is a new technology that brings virtual objects into the real world. And every aspect of iPad — from the display to the processing power to the cameras to the motion sensors — is designed to make AR apps more magical than ever before.
Augmented reality apps fundamentally change what you're capable of. Learn something new whether you're inside or outside a classroom. Solve everyday problems. Immerse yourself in entertainment and games. With iPad and AR, the possibilities are endless.
So versatile, it's your notepad, camera and everything in between.
Notability
Easy note-taking
and annotations.
Apple Pencil. Dream
it up. Jot it down.
iPad has always been a great way to get what's in your mind down on the page. And now you have a new way to do it. Write notes, paint a watercolour or sign a lease. With Apple Pencil, you'll do it all with pixel-perfect precision and responsiveness. Use it as naturally as you would a pencil, while doing a whole lot more than you would with one.
Two great cameras
that do more than take great photos.
Built-in front and back cameras allow you to shoot gorgeous photos and cinematic videos, scan documents, make FaceTime calls or even create a floor plan using augmented reality.
Connect and
compose with any
Bluetooth keyboard.
Need to sit down and hammer out a research project, email or your blockbuster screenplay? iPad has an intuitive onscreen keyboard, but it's also compatible with all kinds of Bluetooth keyboards.
Loaded with
powerful built-in apps.
Cut a track with GarageBand, make a compelling presentation with Keynote, or shoot and edit a short film with iMovie. iPad comes with a collection of apps from Apple so you can start creating straight out of the box.
With over a million apps for iPad, iPad can do countless things.
Every one of the 1.3 million iPad apps has been designed specifically for the large iPad display. There are apps for anything you want to do — photography, drawing or just getting some work done. And finding your new favourite apps is as easy as visiting the App Store, where editors are always curating the best of what's new and noteworthy.
Built to go wherever
your ideas take you.
Thin, light, durable.
And in three great finishes.
At less than half a kilo and only 7.5mm thin, iPad is a breeze to take wherever you go. It's built to be durable, so you have peace of mind knowing you can take it anywhere. And it's just as beautiful as it is portable — available in silver, space grey and a new gold.
Paddington 2 is available on iTunes.
Wi-Fi and 4G LTE.
Get online anywhere.
iPad features Wi-Fi speeds up to 866 Mbps, 4G LTE speeds up to 300 Mbps and Apple SIM, which connects you to mobile data networks in over 180 countries and regions.² So you're always free to catch up on your favourite programme during your commute, send an email on the go, or post holiday photos during your trip.
10 hours of battery life on a single charge.
With all-day battery life, iPad gives you more time to surf, write, draw, work, shop and whatever else you need to do between charges.³
Keep all your stuff safe, organised and always with you.
iCloud keeps things like your photos, files and notes safe and conveniently available on all your devices. And the Files app puts all your files of any type in one place, including those you store with cloud services like Google Drive, OneDrive and Box.
Incredible technology that's incredibly simple to use.
Swipe, pinch, tap.
It's that easy.
iPad is designed so that using it feels like second nature, even if you never have before. Multi-Touch gestures let you do things like browse photos, edit documents and organise your files simply by touching the beautiful 9.7-inch Retina display.
Dock. Get to your favourite apps fast.
With iOS 11, the new Dock is just a swipe away. So it's easy to get to an app from another app without having to go back to the Home screen. Add your favourite apps to the Dock. Or multitask in a flash by opening apps directly from it.
Drag from here.
Drop to there.
Designed specifically for Multi-Touch, drag and drop makes it easy to move text, images and files between apps just by touching them. Make your document more engaging by dropping in a photo. Or simply add an attachment to your email. You can even select multiple items to move with a few taps of a finger.
ProCreate
Sketch, paint and illustrate,
anywhere you are.
Retina display.
As beautiful as it is functional.
The 9.7-inch Retina display is an immersive way to experience all the things you can do with iPad. Whether you're writing a business plan or painting a masterpiece, the spacious display offers a vividness and clarity that's so stunning you can't help but touch it. Which is exactly the point.

Fancy
A crowd-curated catalogue of
unique products.
Unlock securely
and shop easily
with Touch ID.
Touch ID makes unlocking your iPad simple and secure. You can also make purchases conveniently and safely with Apple Pay. Just place your fingertip on the Touch ID sensor and you're good to go.
Designed with
everyone in mind.
The most powerful technology is technology that everyone can use. That's why iPad comes with many assistive features for vision, hearing, motor skills, learning and literacy. You can talk to Siri just by typing. Customise display colours to aid visibility. Or have the content on the screen read aloud to you.
Portable Design


With its thin, light design
10-hour battery life, you can take
it anywhere and use it all day.2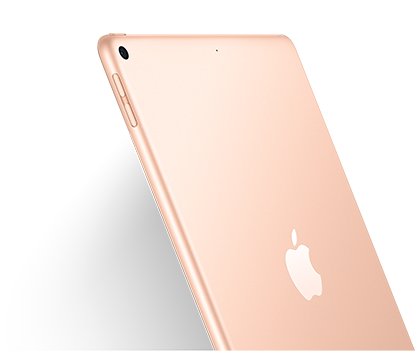 A12 Bionic Chip


Delivers incredibly fast
performance and can run
the most powerful apps.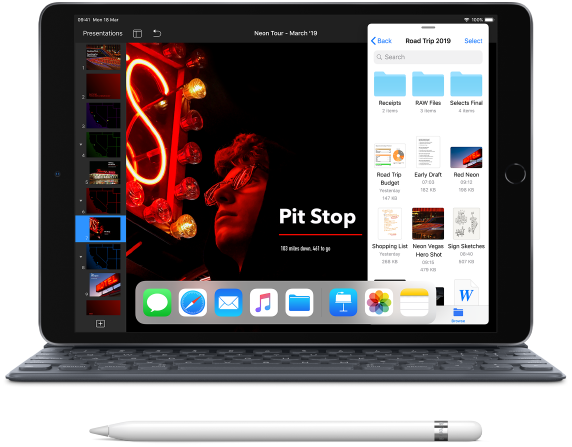 10.5-inch Retina Display


Completely immersive display
with stunning colour, and easy
reading in any light.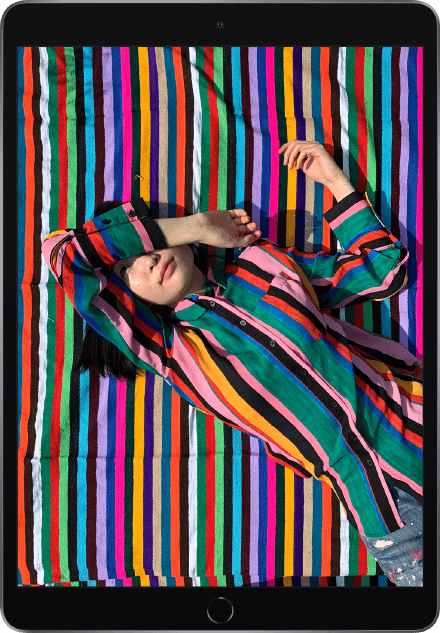 Cameras


Stay in touch. Shoot in HD. Play in AR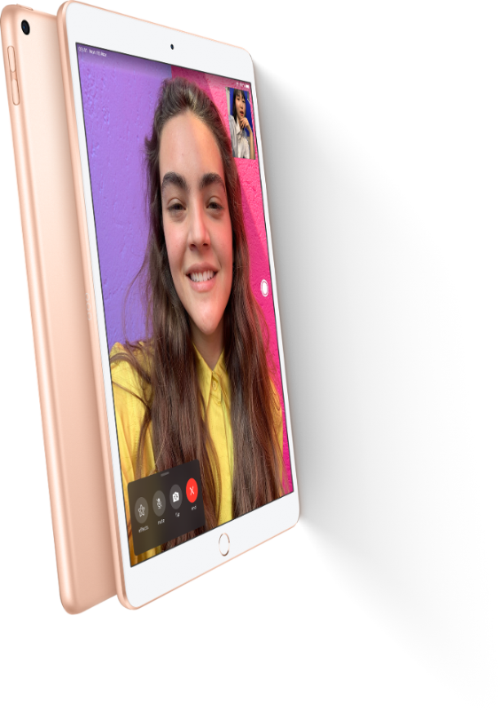 Apple Pencil


Take notes, draw and jot down ideas
with Pixel-perfect precision.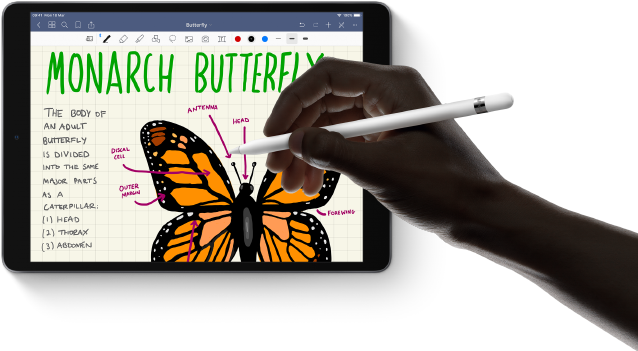 Smart Keyboard


No pairing. No charging. Just typing.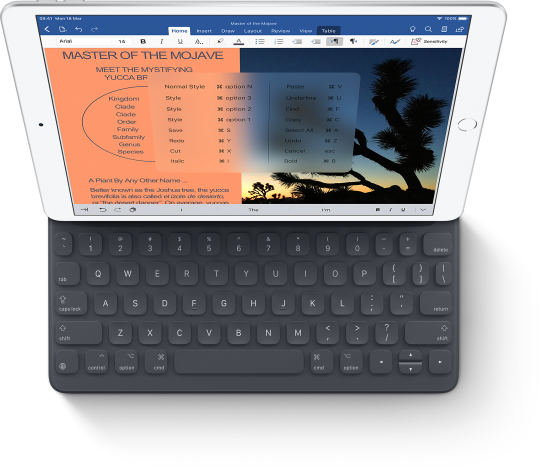 1. Accessories sold seperately.
2. Battery life varies by use and configuration. See www.apple.com/uk/batteries for more information
Apps are available on the App Store. Title availability is subject to change.