Bosch Ovens


Bosch Ovens
Whatever you're looking for, Bosch can help. With our range of Single and Double Ovens you won't be short of options. Packed with advanced technology, cooking has been made easy, all you have to do it choose.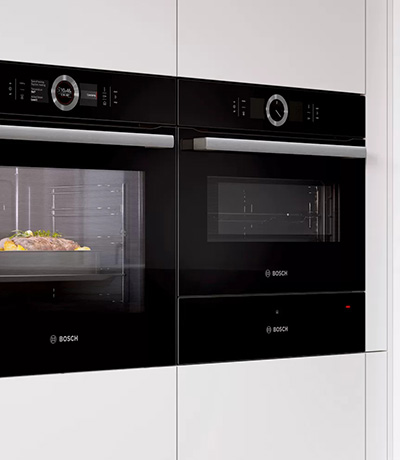 Single Ovens
With advanced technology like Pyrolytic cleaning and the HotAir Functions, you can't go wrong with Bosch Single ovens.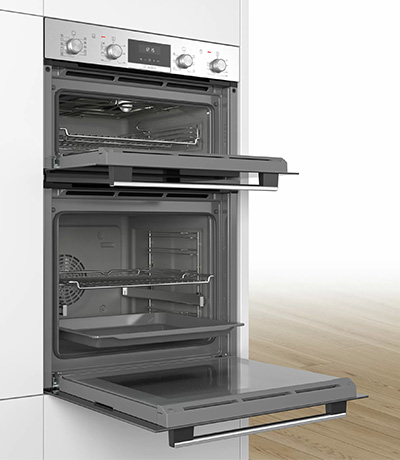 Double Ovens
With double the space, you can cook more. That does not mean that keeping your oven clean is going to be double the work.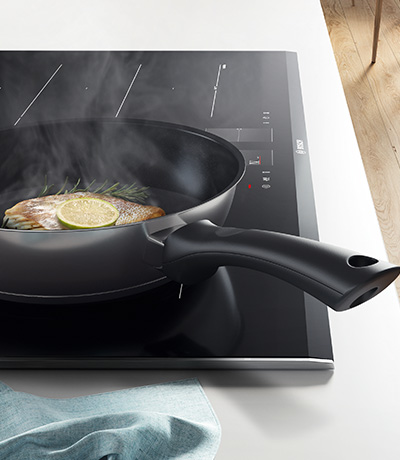 Hobs
Bosch Hobs are made using high quality materials and add contemporary elegance to a kitchen.
Simple Self-Cleaning: Pyrolytic Ovens
Pyrolytic Cleaning burns away all the dirt and grease from your oven. By withstanding a temperature of 480 °C you can be sure your ovens is rid of all the dirt that has built up while in use. All you need to do is wait for the oven to cool and wipe away the ash that's been left behind.

Bosch Home Connect gives you the ability to start your oven on your way back from work so dinner is ready and waiting for you when you get home! Via the app you can also find different recipes to create with your oven and adjust the temperature accordingly.
4D HotAir
With 4D HotAir, you are able to bake and cook on different levels without the flavours mixing. Your food can be on any shelf and the final results will be perfect and heat is distributed evenly around the oven, so everywhere gets the same amount of heat top to bottom.
3D HotAir
By maintaining the right temperature across three shelf levels, consistently even cooking results are achieved.
Fighting grease for you: EcoClean Direct Ovens
Bosch's EcoClean Direct function will clean your oven, while you're using it, with a special coating in your oven all you need to do is wipe it down after you've finished using it. The coating regenerates every time you use your oven.
Assist Function
Bosch's Assist function is able to adjust the oven temperature for individual dishes. It also controls the baking and roasting. You can choose the oven setting you want to use and the oven will change the settings accordingly.