The Best OLED TV Models
The best OLED TVs have loads of features to fall in love with, including an ultra-thin frame, amazingly sharp picture, cinematic audio, easy navigation to your favourite shows and HDR compatibility.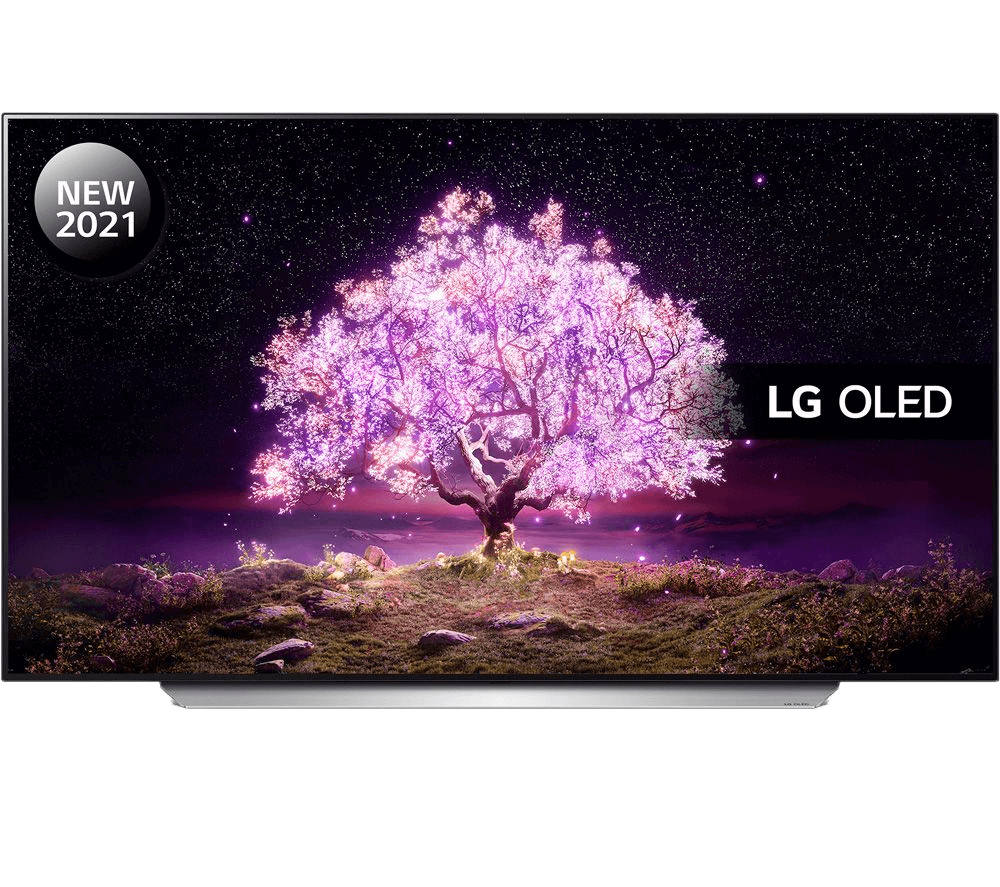 LG C1 55"
a9 Gen 3 Processor for outstanding colour & contrast
Cinematic sound with Dolby Atmos
HDR:Dolby Vision IQ/HDR10/Hybird Log-Gamma (HLG)
4K streaming
Freeview HD/Freesat HD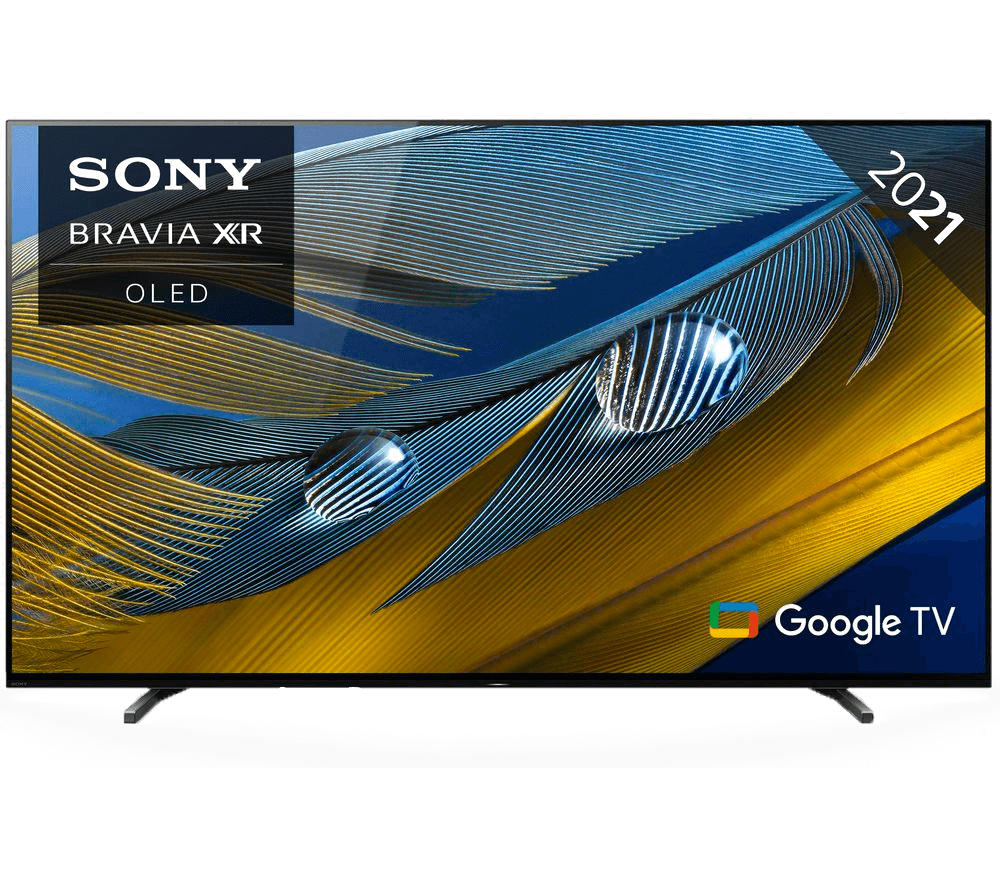 Sony BRAVIA A84 55"
BRAVIA XR OLED - Cognitive Intelligence TV
Sound from the screen with Acoustic Surface Audio+
HDR: Dolby Vision / HDR10 / Hybrid Log-Gamma (HLG)
Catch-up TV & 4K streaming
Freeview HD with YouView / Freesat HD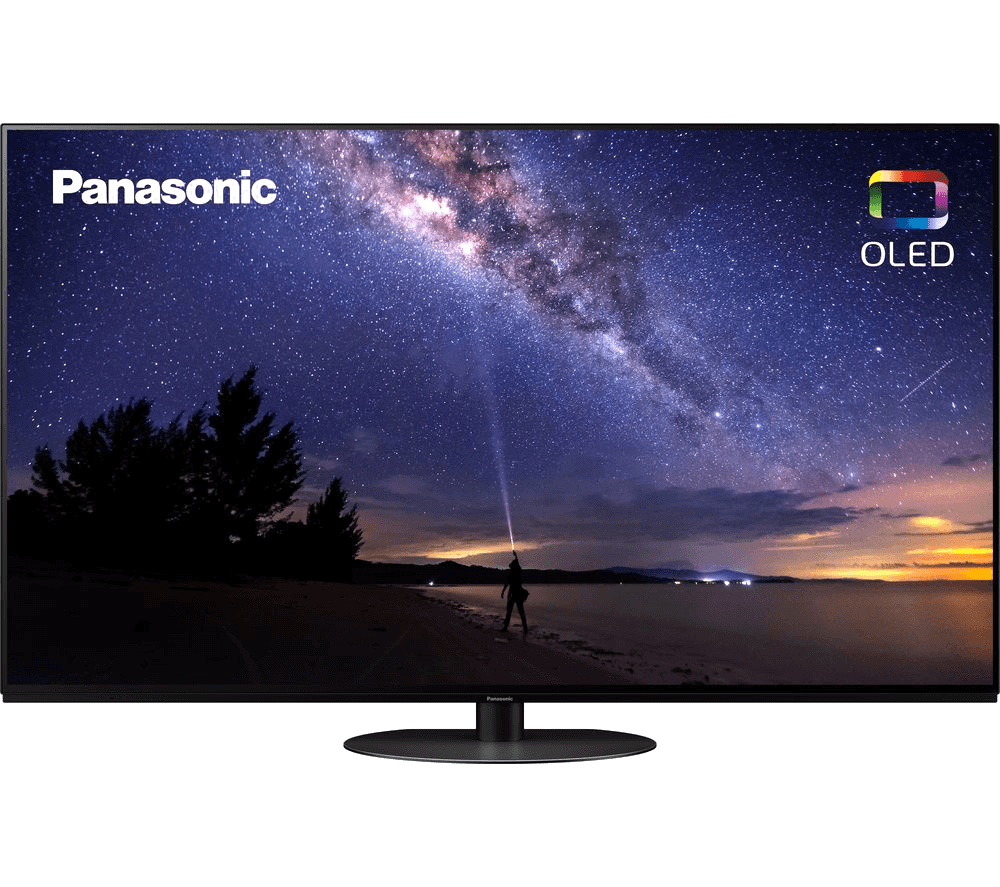 Panasonic JZ1000B 55"
HCX Pro Intelligent Processor for cinematic contrast & clarity
Cinematic sound with Dolby Atmos
HDR: Dobly Vision IQ/HDR10+/HDR10/HLG Photo
Catch-up TV & 4K streaming
Twin Freeview HD with Freeview Play/Twin Freesat HD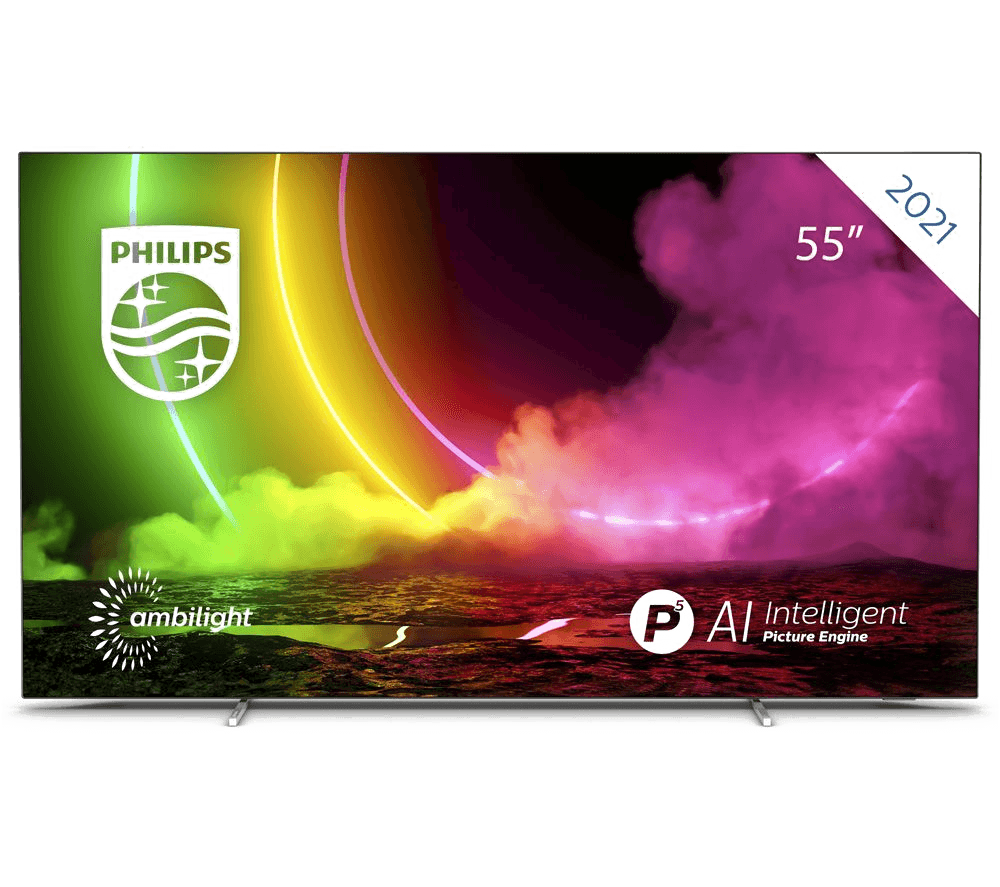 Philips Ambilight 806 55"
Ambilight LED lighting for immersive entertainment
Cinematic sound with Dolby Atmos
Picture quality: 120 Hz
HDR: Dolby Vision / HDR10+ / HDR10 / Hybrid Log-Gamma (HLG)
Catch-up TV & 4K streaming
Real Reviews on Currys
Beautiful design, sleek interface, excellent options for gamers, picture quality is amazing especially in Dolby Vision. Nice rich sound.
currys.co.uk customer review
Amazing quality picture Love the IMAX enhanced feature Sound from the screen sounds great Good price for the new XR technology TV is future proof for many years
currys.co.uk customer review
Beautiful TV, amazing picture, this is probably the best value for money OLED TV on the market, Phillips "Ambilight" is the icing on the cake, once you have watched an Ambilight TV, you'll never go back.
currys.co.uk customer review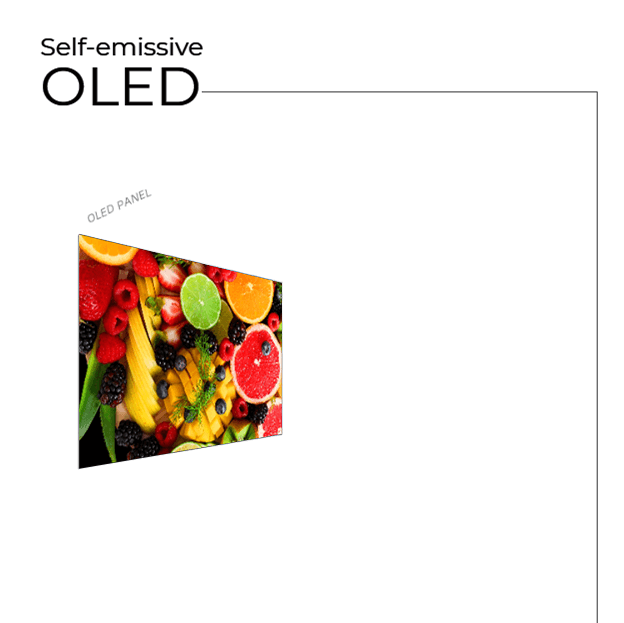 OLED is a self-emissive technology which controls light and colours by pixel. It reproduces perfect black without halo effect. In addition, since it does not require a liquid crystal layer, you can see vivid and clear images undistorted from any viewing position.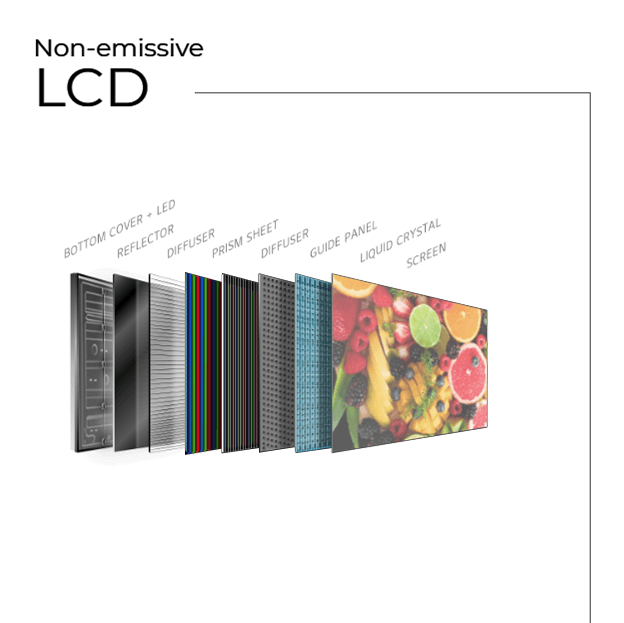 Unlike OLED, LCD is not self-emissive. The light produced from the backlight travels through varieties of layers, such as colour filters and polarisers, to create images. Due to this complex structure, LCD cannot realise perfect black, hence causing halo effect, poor viewing angle performance and other limitations.

Get accurate image quality and exceptional colour with '100% Live Pixel' control
Do you still have a TV with a backlight that ruins the image? OLED has no image distortion because its millions of pixels all light up on their own for perfect colour and contrast control. Only TVs with OLED can deliver truly detailed images without exaggeration or quality loss.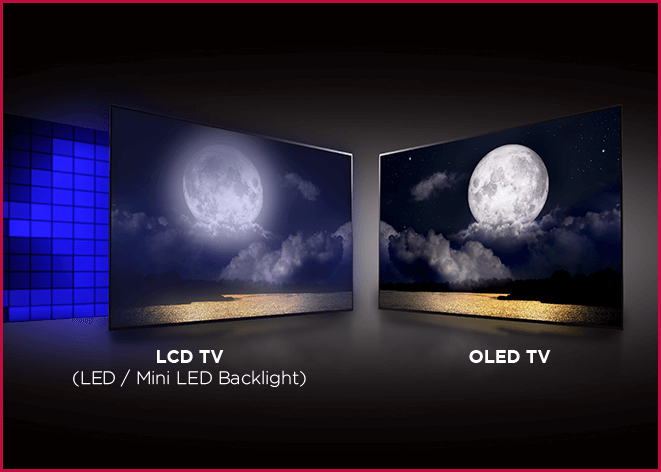 See it all exactly how the creators intended with '100% Colour Fidelity'
All TVs claim to have improved colour, but only OLED TV allows you to experience 100% perfect colour accuracy.
Check to make sure you have an OLED TV to get natural colours and see everything the way creators intended.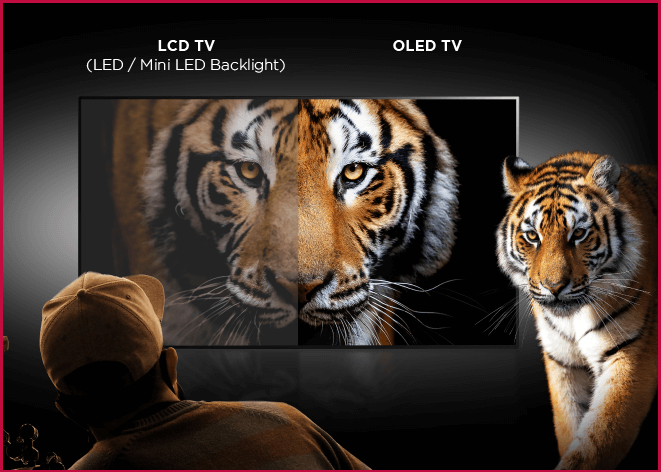 See fine details in the dark and bring colours to life with 'Perfect Black'
Check out the difference between 'better black' and 'perfect black'. If you want to see all the stars of the universe pouring out in front of you, or the delicate emotional lines of an actor's expression in the dark, make sure your TV is OLED.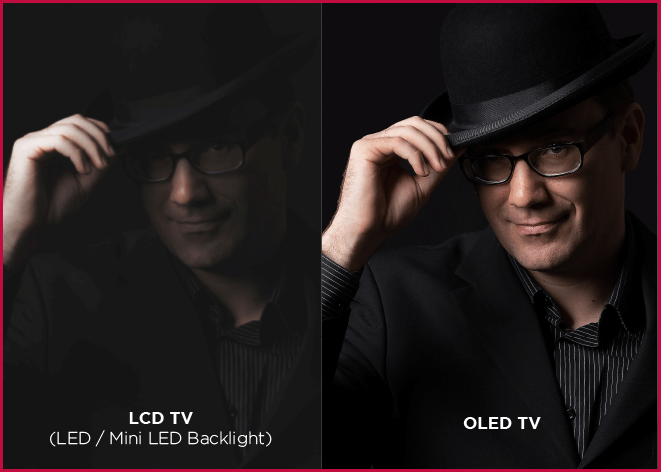 Enjoy wide viewing angles and show everyone the whole picture with an 'All Around View'
Check if your TV has slightly wider viewing angles, or if it has the best picture quality from any angle. OLED TV delivers the best picture quality to everyone in the room. Only OLED TVs give you the freedom to watch from any angle.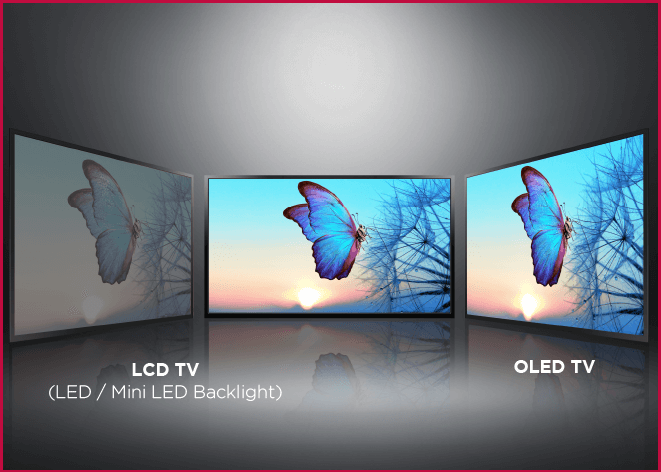 See every scene reproduced true to the original with 'Faster Response Time'
If you have one TV that can't display a video correctly, and another TV that accurately reproduces the original source, which would you choose? For faster response time, make sure it's OLED, and see every moment flawlessly without smearing or tearing.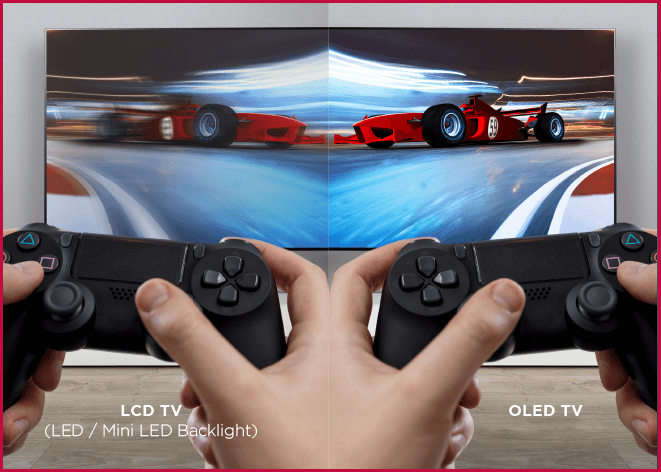 Designed with 'Eyesafe' for both eye safety and image quality, so you don't miss out on anything
Today, TVs don't just bring us entertainment and information, but also play an important role in education and work. If you want the best picture quality without worrying for your family's eye health, the answer is 'Eyesafe' certified OLED.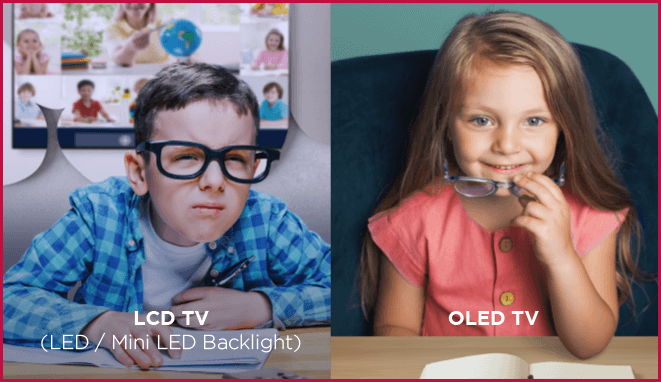 Relieve eye strain with 'Low Blue Light' that doesn't interfere with your sleep
Between a TV with high levels of blue light, and a TV with low blue light, which would you choose? Check for UL and TUV-certified OLED displays with 50% lower blue light.*
*Compared to Premium LCD TVs, based on LGD measurements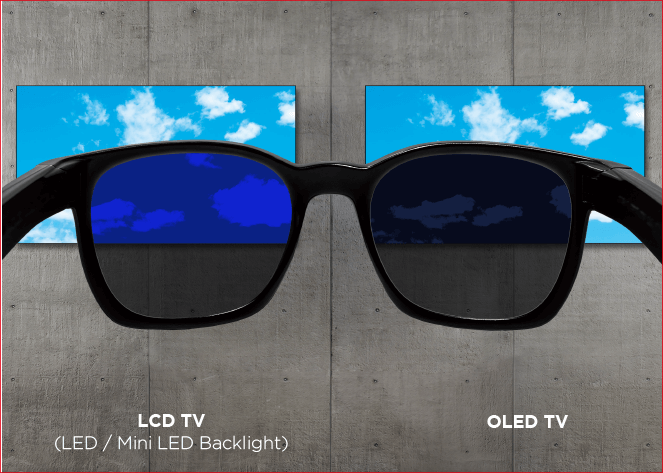 Unburden your eyes from invisible flicker and enjoy comfortable, 'Flicker Free' viewing
OLED minimises eye strain by eliminating flicker that can't be detected by the naked eye. If you're concerned about your and your family's eye health, choose OLED, both UL and TUV-certified.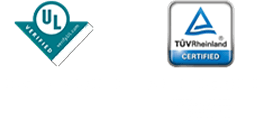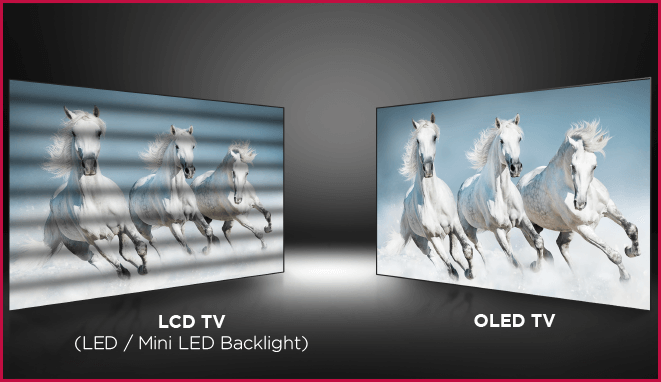 Eco-friendly displays with 'Higher Recyclability' leave less trash on our planet
Between a TV that pollutes with excessive parts, or a TV that reduces unnecessary plastics and offers the best performance, which would you choose? OLED enables the thinnest and most beautiful TVs in the world with minimal plastic and waste.