Beef Cobbler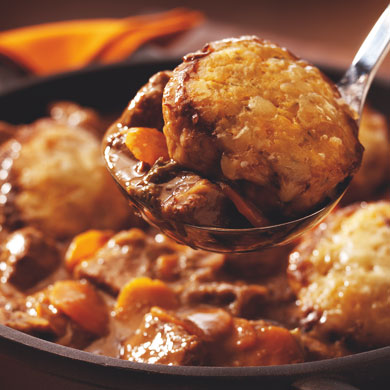 Ingredients for the cobbler dough
50 g cheddar cheese
2 tbsp Parsley chopped
250 g strong flour
2 eggs
30 g butter
2 tbsp milk
1 tsp Dijon mustard
1/2 tsp horseradish sauce – optional
Ingredients for the stew
3 tbsp olive oil
300 g onions
150 g leeks
150 g carrots
100 g celery
2 garlic cloves
1kg braising beef
100 g flour
25 g tomato purée
250 ml red wine
500 ml beef stock
2 tbsp chopped parsley
2 bay leaves
3 sprigs thyme
Seasoning to taste
Serves 6
3 hours 40 minutes
Hard
For the cobbler dough:
Attach the 4 mm grating disc to the food processor, grate the cheese and reserve.
Attach the knife blade and chop the parsley.
Add half the cheese, all the flour, butter, mustard and horseradish sauce to the parsley in the food processor bowl.
Process until it resembles breadcrumbs.
Add the floured meat and allow to brown. Remove and reserve.
Add the milk in a steady stream until a dough is formed.
Flour your hands and divide the mixture into 8 pieces.
Roll the pieces into ball shapes and place on a baking tray. Reserve in the fridge.
For the stew:
Attach the 4 mm slicing disc to the food processor.
Slice the onions, leeks, carrot, celery and garlic.
Cut the beef into 3cm chunks and roll in some flour.
Heat some of the oil in a saucepan.
Add the floured meat and allow to brown. Remove and reserve.
Heat the remaining oil in the saucepan.
Add the onions, leek, carrots, celery, garlic and tomato purée and cook until softened.
Add the red wine and allow to boil until the wine has reduced by half.
Turn the temperature down to a gentle simmer.
Add the meat being careful not to splash.
Slowly add the stock stirring all the time to thicken.
Pour the stew into an ovenproof dish.
Chop the thyme and add with the bay leaves to the mixture.
Place the cobbler balls on top and cover the pot with a lid or tin foil.
Cook in a preheated oven at 160°C / Fan 140°C / Gas 3 for 2 hours.
Remove the lid / tin foil.
Scatter the remaining cheese (25 g) over the top of the cobblers.
Return to the oven for another 30 minutes until the cheese has turned golden brown.