Classic Beef Burger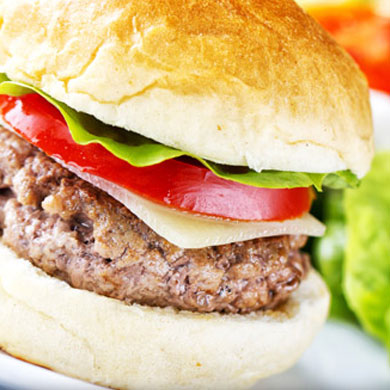 Ingredients
500 g lean mince beef
1 tbsp Worcestershire sauce
½ tsp ground black pepper
1 tsp garlic salt
½ onion, finely chopped
1 tbsp parsley, finely chopped
4 large sesame seed hamburger buns
Lettuce
Tomato
Cucumber
Salad
Onion
4 cheese slices
Preheat the grill for 5 minutes.
In a medium bowl, use your hands to mix together the mince, Worcestershire sauce, black pepper, garlic salt and onion until the ingredients are evenly distributed. Shape the mixture into hamburger patties.
Place the hamburgers on the grill and cook for 7 - 8 minutes, or until cooked.
Top the bottom halves of the hamburger buns with the burgers then cheese slices. Put the bottom bun halves under the grill for one minute until the cheese has melted.
Top with tomato, tomato sauce, cucumber and lettuce then cover with top halves of the hamburger buns and serve with salad.