Dyson handheld vacuum cleaners
Twice the suction power of any other handheld in use, Dyson vacuum cleaners are ideal for spot cleaning occasions around the home and in the car. Powered by the Dyson digital motor, the weight is in hand for easy handling.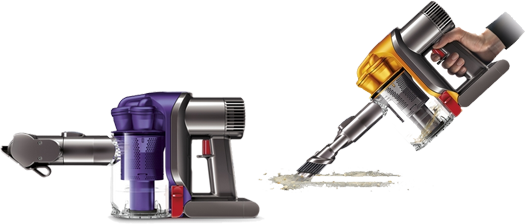 Choose one of the Dyson handheld vacuum cleaners below for more information
Dyson DC34 Multi Floor handheld vacuum cleaner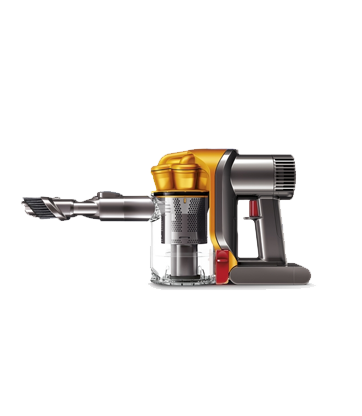 The compact yet powerful Dyson DC34 weighs just 1.3kg with the weight distributed for an easy to use handheld vacuum cleaner.
The Root Cyclone™ technology combined with Dyson's digital motor give you fantastic suction, with the option to increase the suction with the boost mode for tougher ground in dirt.
The Dyson DC34 handheld vacuum cleaner is perfect for getting to the dust and dirt that accumulates in those awkward places such as on top of cupboards, under beds, or along shelves.
Dyson DC34 Multi Floor
Twice the power of any other handheld in use
Root Cyclone™ technology
Guarantees great suction
Dyson digital motor
Small, light and powerful
Dual power mode
High and boost
Lightweight
just 1.3 kg
15 minutes constant suction
3.5 hour recharge time
DC58 Dyson Animal handheld vacuum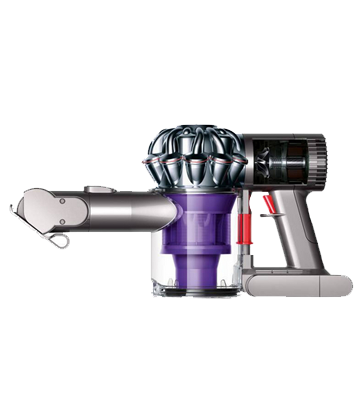 Dyson's latest handheld vacuum cleaner, the DC58, is powered by the Dyson digital motor V6, which spins up to 110,000 times
a minute. That's up to 3 times faster than conventional motors.
Dyson's 2 Tier Radial™ cyclones further enhance suction power. Fifteen cyclones, arranged across two tiers, work in parallel to increase airflow and capture fine dust, with particles as small as 0.5 microns are captured from the airflow.
DC58 has a re-engineered, fade-free nickel manganese cobalt battery which recharges up to 3 times faster than others. This battery delivers a run-time of 20 minutes of powerful suction, or 17 minutes when using the motorised tool. It also has a Boost mode which provides 6 minutes of higher suction power at the push of a button.
The ergonomically design DC58 fits naturally into the shape of the hand, with the centre of gravity located towards the grip to make handling that much easier. In addition to cleaning your home, this easily manoeuvrable cleaner is also ideal for cleaning your car's footwells, upholstery and beneath seats. DC58 Motorhead also comes with a Mini motorised tool for tough tasks. The tool removes hair and dirt from upholstery and tight spaces.
Dyson DC58 Animal
Three times the suction power of any other handheld in use.
Powered by the Dyson digital motor V6
up to 3 times faster than conventional motors.
2 Tier Radial™ cyclones
15 cyclones increase airflow and capture fine dust.
Fade-free power
re-engineered battery transmits 1.5 times more power than its predecessor.
Mini motorised tool
removes hair and dust from upholstery and confined spaces.
20 minutes of powerful suction
17 minutes when using the mini motorised tool.
2 years parts and labour guarantee
Handhelds
Advanced cyclone technology
Dyson digital motor
Re-engineered battery for longer run time
Crevice tool
Combination tool
Mini motorised tool for tough tasks
2 year Parts and labour guarantee
Suitable for:
Spot cleaning
Pet owners
Compact storage
DC34 Multi Floor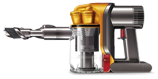 DC58 Animal