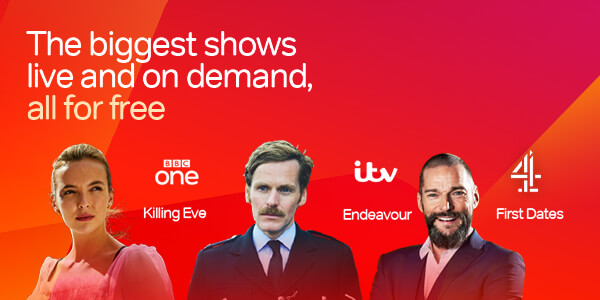 With Freeview Play you get: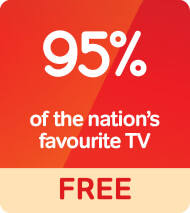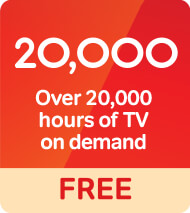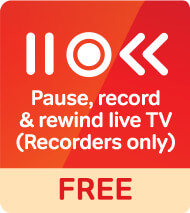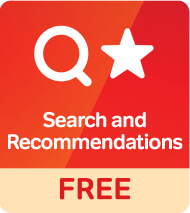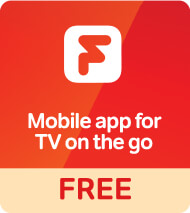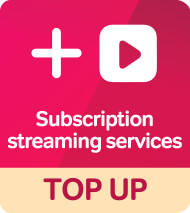 Live and on demand TV
With Freeview Play, you get over 70 TV channels, 15 HD channels and 7 on demand players. So you can enjoy your favourite shows live or on demand all for free. That's a whole lot of something for nothing.
Plus with 7 day catch up built in, you can scroll back through the TV guide to watch shows you missed from the last 7 days. Just make sure your TV or recorder is connected to the internet and you're good to go.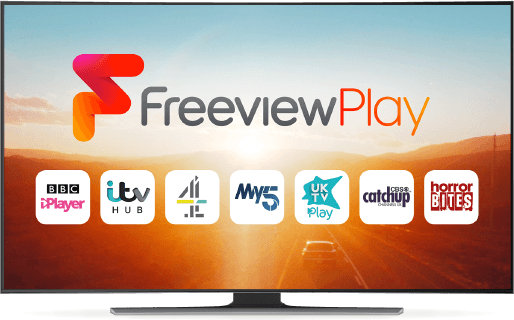 Search and recommendations
With Search and Recommendations in the 'Explore Freeview Play' app, you can easily search for shows across BBC iPlayer, ITV Hub, All 4, Demand 5, UKTV Play, CBS Catch up Channels UK and Horror Bites. Plus with the Recommendations feature, you can sit back whilst we showcase the best shows across all our on demand players, displayed by genre.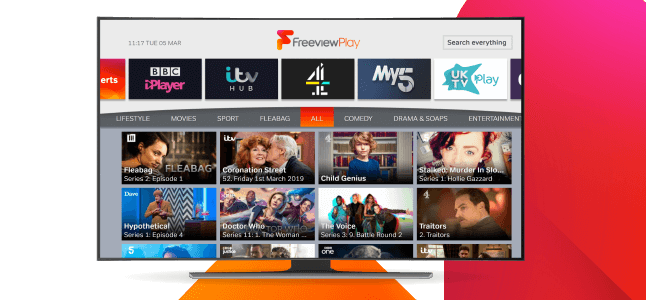 Pause, record and rewind live TV
With a Freeview Play recorder, you'll get all the features of Freeview Play plus you'll be able to record, pause and rewind live TV.
Never miss a TV moment again.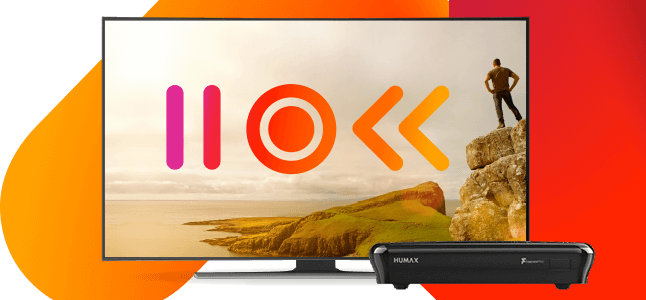 At home and on the go, all for free
You can now enjoy your favourite Freeview shows on your mobile or tablet.
Browse and watch great shows from BBC iPlayer, ITV Hub, All4, My5 and UKTV Play all in one place. Or discover your next favourite show on the go with our Top Picks.
Download from the Apple App Store today.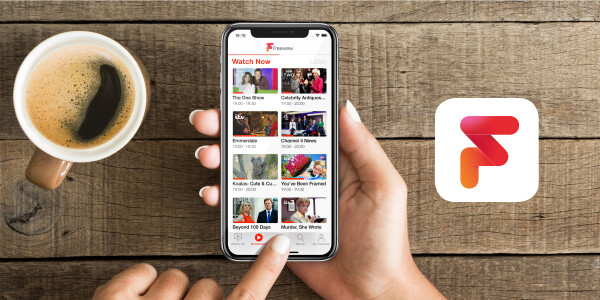 Your guide to Freeview
Buying a new TV or Recorder doesn't have to be complicated. Freeview Play is built into a variety of products, simple choose which suits you. No monthly contracts or costs.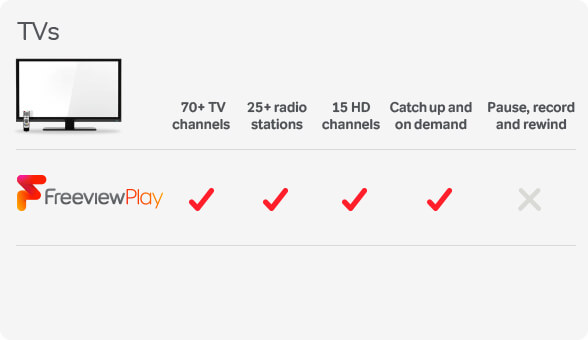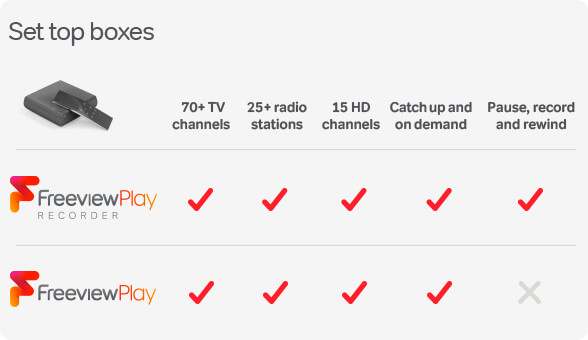 How do I get Freeview Play?
Just follow these simple steps and you'll be watching the biggest shows before you know it.
1

Choose a product

First off, you'll need to buy either a Freeview Play TV or a recorder. You can add Freeview Play to your current TV, just connect your set to a Freeview Play Recorder.

2

Get connected

Next up, make sure your aerial is plugged in securely. Then connect your new TV or Recorder to your broadband using Wi-Fi. Now tune your TV or Recorder to get your Freeview channels.

3

Start watching

There's plenty to explore.

With Freeview Play you get the biggest shows live and on demand, all in one place and all for free. Looking for more? Top up with extra on demand TV, movies and sport from well-known entertainment services, such as Netflix, NOW TV and Prime Video. All from your TV.

All this makes Freeview Play the smart alternative to Pay TV.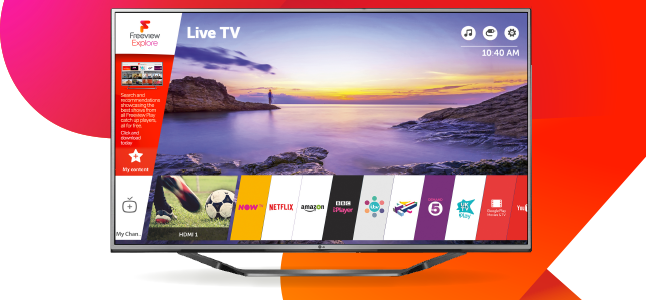 The Freeview service and channels are subject to coverage and may be changed from time to time. Minimum broadband speed of 2Mbps required for catch-up and on-demand services. Seven-day catch-up for selected channels and shows only. Aerial upgrade may be required. Search and Recommendations are available on selected Freeview Play TVs and set-top boxes. Extra costs apply for additional third-party services, which may differ between products or may not be included. Streaming service availability is subject to the device.
The mobile app is currently only available on iOS devices. The app will be available on Android devices in Spring 2019. CBS Catchup channels UK and Horror Bites players are not currently available on the mobile app. Availability of channels subject to geographic location. Enabled location services or postcode entry required upon setup. Connection to WiFi or network data allowance required. Content provider players must be installed to link to On Demand or live episodes from the Freeview App. Content restrictions may apply.