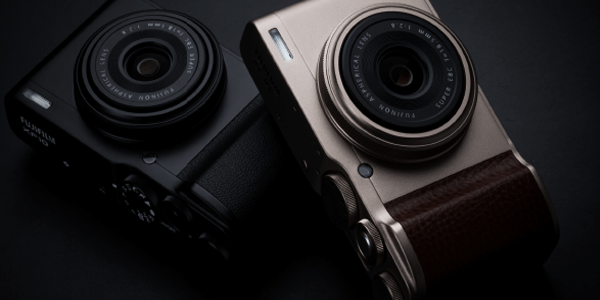 Why choose a FUJIFILM
X Series compact camera?
There may be times when you don't want to carry a full interchangeable lens outfit, or simply want to get better photographs than a smartphone can produce, and on these occasions you should reach for a FUJIFILM compact camera.
They feature the same size sensor as you'll find in one of the FUJIFILM interchangeable lens models, which means image quality is outstanding, plus they're packed full of features to help you get even better images. This includes wireless connectivity, making it easy to shoot and share your shots.

FUJIFILM XF10
Compact cameras don't come more stylish than the FUJIFILM XF10. Available in black or champagne gold, it combines the latest technologies in a body shape that's small enough to fit in your pocket or bag, and light enough to carry everywhere you go.
The XF10 offers a fixed 18.5mm wide-angle lens that is perfect for capturing a huge variety of images, while features including a touchscreen LCD, wireless connectivity and a square format mode make it perfect for social media fans. As well as being great for point-and-shoot simplicity, this camera is ideal for serious image makers. The large sensor delivers high-quality results, plus you can shoot action at up to six frames-per-second, take full exposure control and shoot Full HD and 4K video footage.

FUJIFILM X100F
The X100F is the fourth generation version of the original X100 camera. This time the concept has been honed to perfection. It's now the compact that many discerning photographers turn to as a go-anywhere camera.
The X100F features a fixed 23mm lens, which also has a digital teleconverter function to give additional framing options. The sensor is the X-Trans CMOS III unit that you'll find in many other X Series cameras, which means it delivers great results in a wide range of lighting conditions. Plus, it has 15 Film Simulation modes that digitally recreate the look of selected old films. The viewfinder is an optical/electronic hybrid that offers multiple viewing options, so you're sure to find one that suits your shooting style.
Compare FUJIFILM compact cameras
Model
Megapixels
LCD size and type
Viewfinder type
ISO range
Frame-per-second
Integrated flash
Weight (body + battery)
Weather-resistant
XF10
24.2
3.5-inch, fixed
N/A
100-51,200 (extended)
6
Yes
279g
No
More info
X-A20
24.3
3.5-inch, fixed
Hybrid
100-51,200 (extended)
8
Yes
469g
No
More info

Why choose a FUJIFILM
XP camera?
Cameras tend to be pretty delicate pieces of equipment that you should treat with care to ensure their survival. But there are exceptions – the FUJIFILM XP range is one of them; it loves a bit of rough and tumble!
Ideal for family use, holidays and photographers who enjoy activities in the great outdoors, these brightly coloured models are built to take the knocks, shrugging off being dropped, dunked in water and sub-zero temperatures. If you want to keep taking great pictures but don't want to worry about the camera getting damaged, this is the range for you.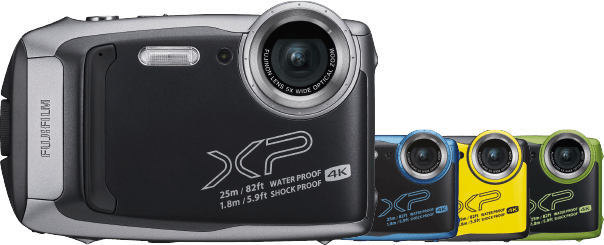 FUJIFILM XP140
The FUJIFILM XP140 is tough enough to shoot in all manner of hostile environments, from ski slopes to beaches and even underwater. It can withstand dust, temperatures down to -10˚C, water depths as low as 25m and falls from up to 1.8m.
Beneath this thick skin lies sophisticated technology. A 16.4-megapixel sensor captures great images at up to 10fps, even in low light, and now offers high-quality 4K video, too. The 5x FUJINON zoom lens offers a 28mm (equivalent) view at its widest setting, and a magnified view for portraits and action subjects. A large three-inch, 920K-dot LCD monitor makes shooting and viewing images a pleasure, while Bluetooth and Wi-Fi helps the XP140 work with your smartphone for easy image sharing and remote camera control.
XP140 at a glance specifications
Model
Megapixels
LCD size and type
Viewfinder type
ISO range
Frame-per-second
Integrated flash
Weight (body + battery)
Weather-resistant
XP140
16.4
3.5-inch, fixed
N/A
100-12800 (extended)
6
Yes
279g
No
More info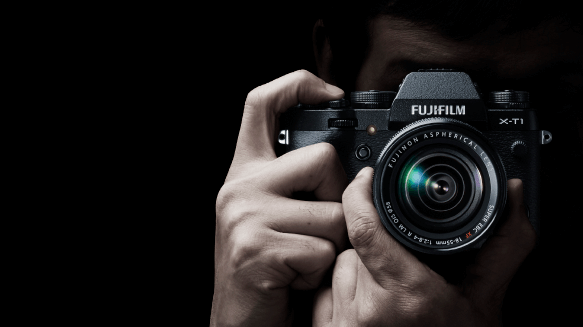 Choose a FUJIFILM
compact system camera
to match your lens
Whether you're looking to upgrade your X Series camera or want to take your first steps into the system, we can help. Click below to find out more about the cameras compatible with XF lenses.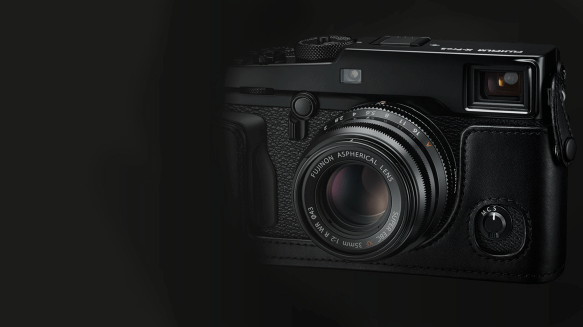 Accessories for your FUJIFILM camera
Selected FUJIFILM accessories will help you get even more from your camera. Whether it's a performance-enhancing grip or a strap to keep your investment safe and secure, we've got you covered.