Fujifilm Compact System Cameras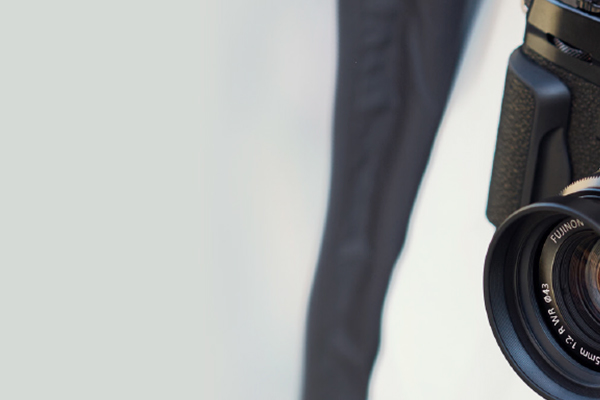 Fujifilm compact system camera range
Award-winning cameras offering advanced functionality and a lightweight alternative to a digital SLR
Lighten your photographic life
Fujifilm X Series compact system cameras (CSCs) are the perfect choice for those photographers after high-quality results and the flexibility of being able to change lenses, without having to carry the weight of a digital SLR. They offer all the same features, plus a few extra in many cases, in a smaller and lighter camera body. This is because, unlike a digital SLR, there is no internal mirror in a CSC, which means that weight and bulk are reduced. But there's no compromise on image quality as X Series CSCs feature the same size sensor as you'll find in many digital SLRs. Add to this a range of excellent FUJINON lenses that deliver great images and you'll soon see the benefits of making the switch.
Fujifilm X-T20
The X-T20 embodies everything that is great about Fujifilm X Series cameras. It has a remarkably compact and lightweight body, but is packed with features that will help you get great shots whether you're a complete novice or a capable enthusiast.
At the heart of the camera is Fujifilm's award winning X-Trans CMOS III sensor and X-Processor Pro imaging engine. Combined, the two offer exceptional image quality and a super-fast picture-taking performance. The camera's Advanced SR Auto mode makes it easy to get great pictures by simply pointing and shooting, plus the touchscreen rear LCD will make those moving up from a smartphone feel right at home. More advanced users can enjoy the benefits of custom autofocus, wireless connectivity and 4K video.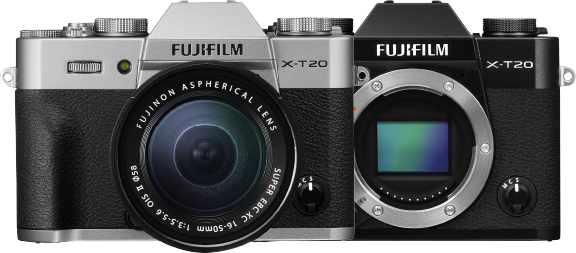 X-Trans Technology
All the models* in Fujifilm's compact system camera range sport unique X-Trans sensor technology, with the latest version – the 24.3-megapixel X-Trans CMOS III – being the best yet. The design of an X-Trans sensor is different to all others in that the coloured pixels that capture the light are arranged more randomly. Whereas conventional sensors use pixels in groups of four, an X-Trans sensor features pixels in groups of 36. This has two advantages. It delivers more accurate colours and negates the need for a quality-sapping optical low-pass filter to be positioned in front of the sensor, which means better image sharpness.
*X-Trans sensor is not used in the Fujifilm X-A10
Compare Fujifilm compact system cameras
| | Model | Megapixels | LCD size and type | Viewfinder type | ISO range | Frames-per-second | Integral flash | Weight (body only) | Weather resistant | |
| --- | --- | --- | --- | --- | --- | --- | --- | --- | --- | --- |
| | X-Pro 2 | 24.3MP | 3-inch, fixed | Hybrid | 100 - 51,200 (extended) | 8 | No | 495g | Yes | More info |
| | X-T2 | 24.3MP | 3-inch, tilting | Electronic | 100 - 51,200 (extended) | 14 | No | 507g | Yes | More info |
| | X-E3 | 24.3MP | 3-inch, fixed | Electronic | 100 - 51,200 (extended) | 14 | No | 337g | No | More info |
| | X-T20 | 24.3MP | 3-inch, tilting | Electronic | 100 - 51,200 (extended) | 14 | Yes | 383g | No | More info |
| | X-A10 | 16MP | 3-inch, tilting | N/A | 100 - 25,600 (extended) | 6 | Yes | 331g | No | More info |
Superior quality FUJINON lenses for your compact system camera
When you've chosen your camera body, you need lenses to put on it. Fujifilm produces a range of high-quality FUJINON lenses that are specifically designed to deliver optimum results with X Series compact system cameras.
More info
Accessories for your Fujifilm camera
Selected Fujifilm accessories will help you get even more from your camera. Whether it's a performance-enhancing grip or a strap to keep your investment safe and secure, we've got you covered.
More info