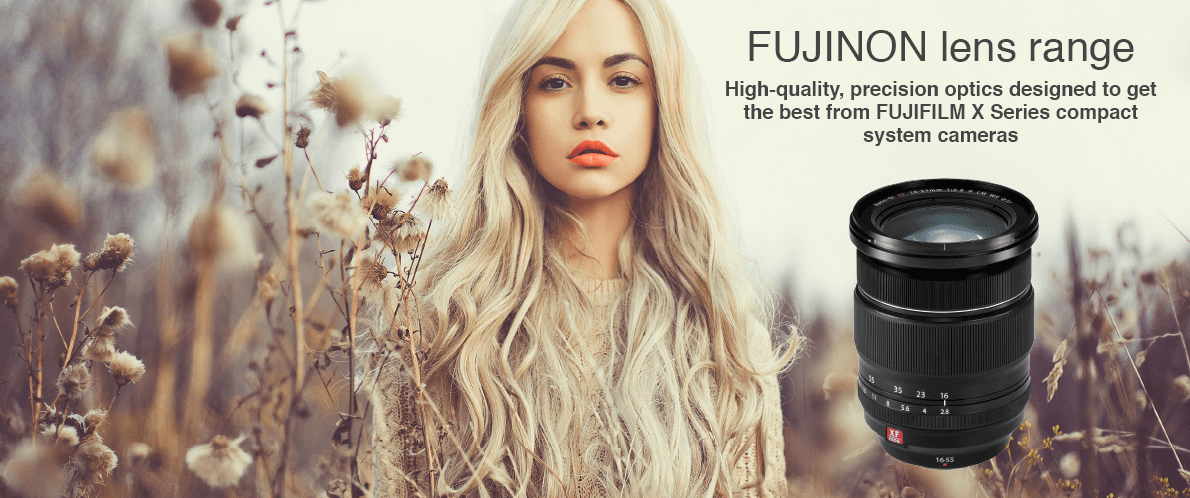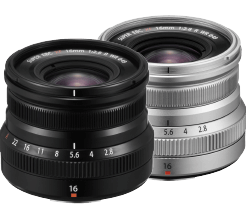 FUJINON XF16mmF2.8 R WR
Small and light, this portable wide-angle lens offers the equivalent of a 24mm on a 35mm camera. It's perfect for landscapes and travel images where you shoot expansive views of the places you visit.
The weather-resistant design allows you to shoot in all conditions, while AF is fast and the image quality is impressive.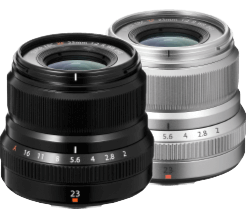 FUJINON XF23mmF2 R WR
This compact and lightweight lens is a great general purpose wide-angle optic, featuring a weather-resistant design and a maximum aperture of F2. It is well-suited to landscapes, travel and street images, and delivers high-quality results, as well as a fast autofocusing performance that should help avoid missed shots.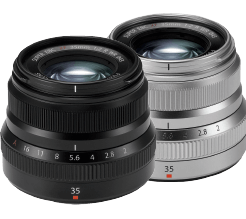 FUJINON XF35mmF2 R WR
Offering the equivalent of a 53mm lens on a 35mm camera, this is considered a standard lens, which means it is well-suited for day-to-day picture taking.
The XF35mmF2 R WR is small and light, but offers great picture quality, fast autofocusing and a weather-resistant design for shooting in all conditions.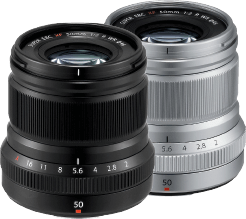 FUJINON XF50mmF2 R WR
This is a great choice if you like to shoot portraits with your X Series camera, or want to get a little closer to subjects.
Fast autofocusing and impressive image quality really make this a standout lens, but you'll also be surprised by just how small and light it is – making it a great option for travel and everyday shooting.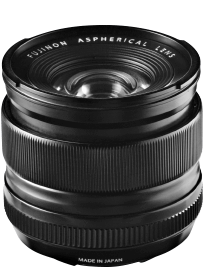 FUJINON XF14mmF2.8 R
The widest single focal length lens in the XF line-up, the 14mm offers the equivalent of a 21mm on a 35mm camera so it's great for wide landscapes and architecture shots.
Like other XF lenses, the 14mm is solidly built so it can take the rigours of daily use and it also features a useful depth-of-field scale on the lens barrel. This makes it easy to judge image sharpness. Picture quality is impressive with superb sharpness right into the corners of the image and the lens focuses down to just 18cm for extra versatility.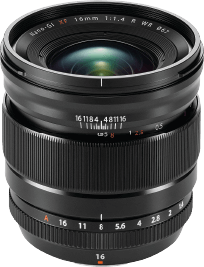 FUJINON XF16mmF1.4 R WR
Thanks to its wide angle of view – equivalent to a 24mm lens on a 35mm camera – and weather-resistant design, this lens is popular with landscape photographers who like to be out and about, whatever the weather. You can confidently keep shooting in dusty or damp conditions as well as temperatures as low as -10°C.
This is also a good lens for close-ups as it focuses down to just 15cm, plus it features a high-speed focusing system that achieves focus in as little as 0.11sec.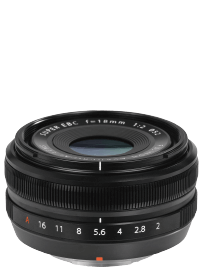 FUJINON XF18mmF2 R
Small and lightweight, the XF18mmF2 R 'pancake' is a great all-round lens, equivalent to a 27mm lens on a 35mm camera, and it makes a truly portable package when paired with any X Series camera body.
Thanks to its moderate wide-angle view, it's great for landscape, urban and architecture images, with superb image quality that delivers great results time after time.
The F2 maximum aperture offers great versatility, making it an ideal lens for low light shooting situations.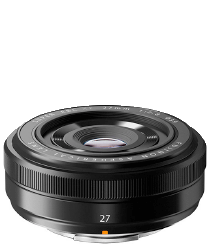 FUJINON XF27mmF2.8
Super lightweight and portable, this 'pancake' lens is the perfect partner to your X Series camera, giving a sleek and discreet look and delivering great results thanks to high-precision autofocusing and impressive optical quality.
With a focal length equivalent to 41mm on a 35mm camera, this lens gives a view similar to the human eye, making it ideal for a range of subjects including street and travel photography, which is further enhanced by its feather-light weight; it tips the scales at a mere 78g.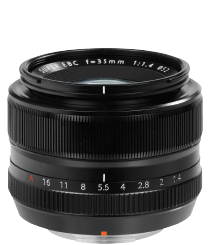 FUJINON XF35mmF1.4 R
One of the most popular lenses in the entire XF range, the XF35mmF1.4 R is a 'standard' lens equivalent to a 53mm lens on a 35mm camera, and is suitable for a huge range of uses, from portraits to documentary, and more.
The lens' maximum aperture of F1.4 affords extra versatility when shooting in low light as it will allow more light into the camera, plus it also provides professional-looking out-of-focus 'bokeh' effects thanks to specially designed aperture blades with rounded edges.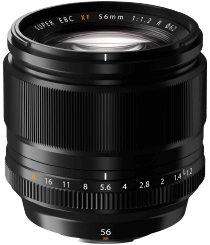 FUJINON XF56mmF1.2 R
If you're keen on shooting high-quality portraits with your X Series camera, then this stunning lens is an absolute must-have! With a focal length equivalent to an 85mm lens on a 35mm camera, it is perfect for flattering portraits, plus the wide maximum aperture of F1.2 delivers stunning out-of-focus backgrounds for a really professional look.
As well as delivering impressive image quality, the XF56mm is also beautifully made and feels nicely balanced on any X Series camera body.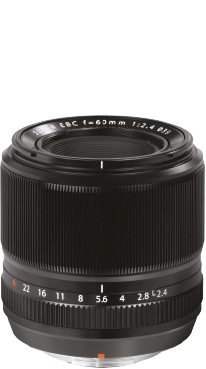 FUJINON XF60mmF2.4 R Macro
This is a super sharp lens that produces great results and enables you to get up close and personal with your subjects. Equivalent to a 91mm lens on a 35mm camera, it allows you to fill the frame with details thanks to its 1:2 magnification ratio, which makes it perfectly suited for flowers, insects and other minibeasts.
But it's also much more than just a lens for close-ups. It's well suited to portraits, with a wide maximum aperture and a focal length that's ideal for head-and-shoulders shots.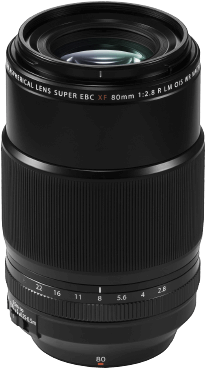 FUJINON XF80mmF2.8 R LM OIS WR Macro
Equivalent to a 122mm lens on a 35mm camera, this stunning lens offers great versatility. It is the only lens in the XF range that has a 1:1 macro ratio, which means subjects appear the same size on the sensor as they are in real life. The result? Exceptional close-up images.
Technologically speaking, it features a powerful image stabiliser to help reduce camera shake, is weather-resistant and has a new autofocusing system to optimise image quality when shooting close-up.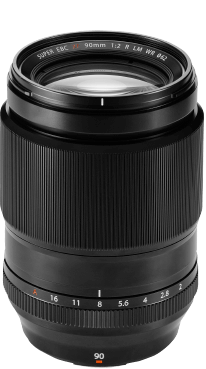 FUJINON XF90mmF2 R LM WR
Fast focusing and capable of exceptional results, this lens has a wide range of applications, whether you like shooting portraits, landscapes or even some sports, thanks to its focal length equivalent to a 137mm on a 35mm camera.
Beautifully made and designed to last, the XF90mm features a quad linear AF motor to focus in as little as 0.14sec, while the wide maximum aperture provides stunning out-of-focus bokeh effects. Buy this lens and shoot like a professional!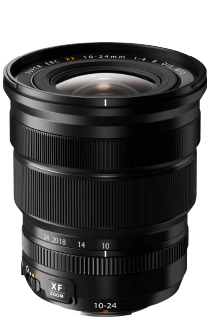 FUJINON XF10-24mmF4 R OIS
One for the landscape and architecture photographers, this is the go-to choice for those who like to walk on the wide side of life. It offers the equivalent to a 15-36mm lens on a 35mm camera, which means you can pack plenty in the frame for shots with bags of impact.
Despite the focal range, this is a compact and lightweight zoom lens that is never a burden to carry. And if you ever leave the tripod at home, the built-in image stabiliser should mean you still get shake-free shots.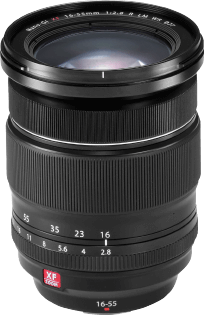 FUJINON XF16-55mmF2.8 R LM WR
This lens proudly wears the FUJINON red badge, which means it's a premium zoom lens, capable of results as good as a prime lens. But far from resting on its picture-taking laurels, this is a fully featured optic, equivalent to a 24-84mm lens on a 35mm camera is suitable for a huge range of shots from portraits to landscapes and more!
Solidly built to stand the test of time, the XF16-55mm simply oozes quality and also features a weather-resistant design so you can keep shooting in all weather.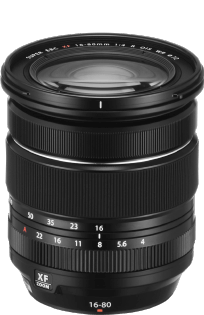 FUJINON XF16-80mmF4 R OIS WR
This standard zoom lens is great for both stills and video shooting. As well as offering a versatile zoom range that can be used to capture anything from landscapes to portraits, the XF16-80mm features an extremely powerful Optical Image Stabilisation (OIS) system, which helps ensure your shots aren't spoiled by camera shake.
A weather-resistant design that allows you to keep shooting in damp, cold or dusty conditions and focusing down to just 35cm completes the impressive specification.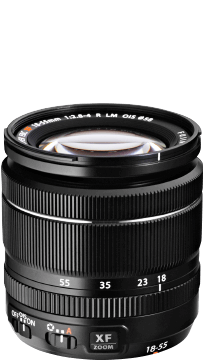 FUJINON XF18-55mmF2.8-4 R LM OIS
This compact zoom is a great all-rounder, offering high-quality results for a wide array of photography subjects and genres. Ideal for photographers who want to shoot anything from portraits to landscapes and close-up details, without having to swap lenses all the time. It's great for capturing video, too.
It delivers consistently good shots right across its focal range, is beautifully made and has a powerful image stabiliser to reduce camera shake.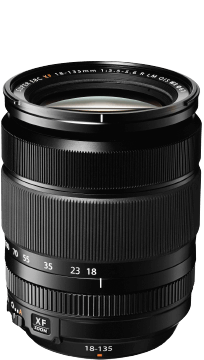 FUJINON XF18-135mmF3.5-5.6 R LM OIS WR
If you only want one lens for your X Series camera, buy this one. The focal range, which is equivalent to a 27-206mm on a 35mm camera, is suitable for a huge range of subjects, whether you want to shoot wide scenic views or tightly cropped portraits. The lens is also weather sealed in 20 areas so you can keep taking photographs in wet, dusty or cold conditions without having to worry.
The lens has a powerful image stabilisation system to beat camera shake and provide rapid autofocusing.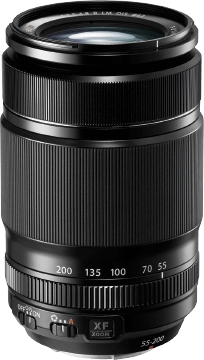 FUJINON XF55-200mmF3.5-4.8 R LM OIS
If you want to pull in distant subjects, or shoot sport, look no further. With a focal range equivalent to 84-305mm on a 35mm camera, this beautifully made lens will get you to the heart of the action.
The large zoom control makes it easy to fine-tune your compositions, plus there are large manual focusing and aperture rings for complete control. Image stabilisation allows you to keep shooting without a tripod when light levels dip, while high-quality glass delivers superb results.

FUJINON XF100-400mmF4.5-5.6 R LM OIS WR + XF1.4X TC WR
This has to be the ultimate telephoto combination: the powerful XF100-400mm plus a 1.4x teleconverter that boosts the focal range of the lens even further to pull in the most distant of subjects.
The teleconverter fits between the lens and camera body, multiplying the focal lengths by 1.4x, but retaining all the camera functions, including autofocus and autoexposure. Just like the lens, the teleconverter is weather-resistant for year-round shooting.
Compare FUJINON interchangeable lenses
| | Model | 35mm equivalent | Minimum aperture | Filter size | Close focusing distance | Aperture ring | Weather resistance | Weight | |
| --- | --- | --- | --- | --- | --- | --- | --- | --- | --- |
| | XF14mmF2.8 | 21mm | F2.8 | 58mm | 18cm | Yes | No | 235g | Coming soon |
| | XF16mF1.4m | 24mm | F1.4 | 67mm | 15cm | Yes | Yes | 375g | More info |
| | XF16mmF2.8 | 24mm | F2.8 | 49mm | 17cm | Yes | Yes | 155g | More info |
| | XF18mmF2 | 27mm | F2 | 52mm | 18cm | Yes | No | 116g | More info |
| | XF23mmF2 | 35mm | F2 | 43mm | 22cm | Yes | Yes | 180g | More info |
| | XF27mmF2.8 | 41mm | F2.8 | 39mm | 34cm | No | No | 78g | More info |
| | XF35mmF1.4 | 53mm | F1.4 | 52mm | 28cm | Yes | No | 187g | Coming soon |
| | XF35mmF2 | 53mm | F2 | 43mm | 35cm | Yes | Yes | 170g | More info |
| | XF50mmF2 | 76mm | F2 | 46mm | 39cm | Yes | Yes | 200g | More info |
| | XF56mmF1.2 | 85mm | F1.2 | 62mm | 70cm | Yes | No | 405g | Coming soon |
| | XF60mmF2.4 | 91mm | F2.4 | 39mm | 26.7cm | Yes | No | 215g | Coming soon |
| | XF80mmF2.8 | 122mm | F2.8 | 62mm | 25cm | Yes | Yes | 750g | More info |
| | XF90mmF2 | 137mm | F2 | 62mm | 60cmm | Yes | Yes | 540g | More info |
| | XF10-24mmF4 | 15-36mm | F4 | 72mm | 24cm | Yes | No | 410g | More info |
| | XF16-55mmF2.8 | 24-84mm | F2.8 | 77mm | 30cm | Yes | Yes | 655g | Coming soon |
| | XF16-80mmF4 | 24-122mm | F4 | 72mm | 35cm | Yes | Yes | 440g | Coming soon |
| | XF18-55mmF2.8-4 | 27-84mm | F2.8-4 | 58mm | 30cm | Yes | No | 310g | More info |
| | XF18-135mmF3.5-5.6 | 27-206mm | F3.5-5.6 | 67mm | 45cm | Yes | Yes | 490g | More info |
| | XF55-200mmF3.5-4.8 | 84-350mm | F3.5-4.8 | 62mm | 1.1m | Yes | No | 580g | More info |
| | XF100-400mmF4.5-5.6 | 152-609mm | F4.5-5.6 | 77mm | 1.75m | Yes | Yes | 1375g | Coming soon |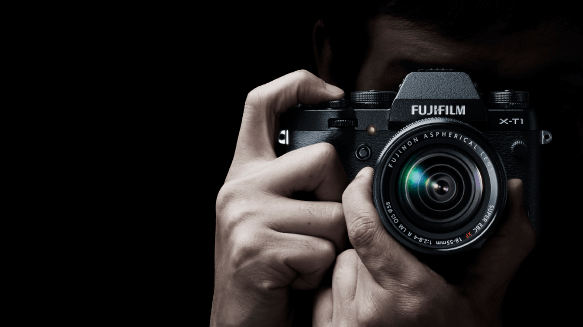 Choose a FUJIFILM
compact system camera
to match your lens
Whether you're looking to upgrade your X Series camera or want to take your first steps into the system, we can help. Click below to find out more about the cameras compatible with XF lenses.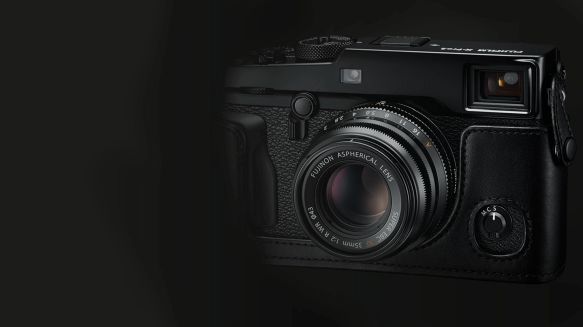 Accessories for your FUJIFILM camera
Selected FUJIFILM accessories will help you get even more from your camera. Whether it's a performance-enhancing grip or a strap to keep your investment safe and secure, we've got you covered.