Gaming PC and Monitors Buying Guide
Gaming PC & Monitors
Don't settle for second best. Upgrade your gaming setup with our range of desktops, laptops and monitors, all designed to get the most out of your favourite titles. Play in 4K, jump into VR gaming and get all the flashy RGB lighting you ever wanted (and then some). Whatever you need to level up your gaming, it's here.
Still need to figure out what's right for you? We've created this page to give you a helping hand.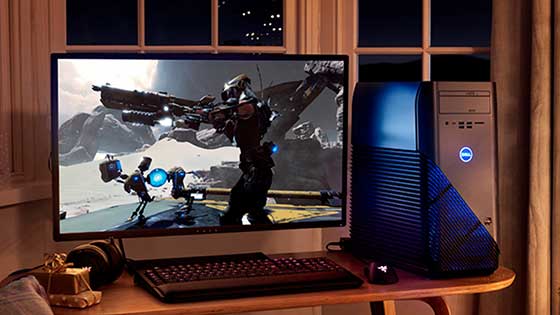 Resolution
Just like TVs, when getting a gaming monitor, it's important to look out for the resolution.
The higher the resolution, the better the quality of the image. Gaming monitors are typically Full HD 1080p, Quad HD 1440p or 4K Ultra HD 2160p.
To get the best possible picture you'll need a powerful graphics card so your game won't lose quality when the action heats up.
Screen Size
Monitor screen size all depends on your gaming setup. For standard PC gaming 21" to 27" are the most popular as you'll be sitting up close.
But if you want to use your monitor for console gaming or plan on streaming films, you can get much larger monitors at over 40".
Refresh Rate
A monitor's refresh rate is measured in Hertz (Hz), and tells you how often the image on screen is refreshed per second.
The higher the refresh rate, the faster and smoother your graphics will appear.
Response time
Measured in milliseconds (ms), a gaming monitor's response time tells you how quickly pixels take to change colour.
When it comes to response time, lower is better – so keep an eye out for 1 ms monitors.
This means that when fast-moving action is on screen there won't be any motion blur.
View all Gaming Monitors with 1-3ms response
Connections
Gaming monitors come with a huge range of connectivity, but these are the key ports to look for:
DisplayPort: The best choice for good quality audio and video, allowing for the best refresh rates at high resolutions.
HDMI: Good for mid-range gaming PCs but won't deliver the same refresh rates as a DisplayPort.
Audio out: Allows you to connect your headphones or speakers to the monitor rather than the PC itself.
View Gaming Monitors with HDMI ports
View Gaming Monitors with DisplayPort
Laptop or Desktop?
Not sure whether you want a laptop or desktop? Gaming laptops are designed for convenience and portability, while desktops get you more power for your money and can be easily upgraded.
When getting your new PC you also need to keep in mind what games you want to play – if you enjoy the latest first-person-shooters you should prioritize the graphics card. But if you prefer simulations then focus equally on the processor.
And if you want to jump into VR, make sure you get an all-rounder that hits the minimum specs for the HTC Vive or Oculus Rift.
View all Gaming Laptops
View all Gaming Desktops
Graphics card
Arguably the most important component to consider in your gaming setup, the graphics card you choose will determine the quality of your gaming and make sure that you have the power to play the latest titles.
While a good processor is important for running the game's background processes, the graphics card will determine what you actually see.
And if you want to make the most of your monitor, you'll need a graphics card that can match the resolution and refresh rate.
View all graphics card
Processor
Most gaming laptops and desktops will come with a high end processor (typically an Intel® Core™ i5 / i7 or AMD Ryzen 5 / 7).
These will all have the power to run a ton of games, and are still great for everything else you do like catching up on work.
View all processors
Cooling
Powerful processors and graphics cards tend to create a lot of heat, so they require decent cooling to keep your PC running well.
Most gaming laptops and desktops will have heatsinks and cooling fans, but higher end models can feature liquid cooling systems for exceptional cooling with virtually no noise.
View all processors
VR Compatibility
Design
If looks matter, there's a huge variety of options available. Choose multi-coloured backlighting, unique fan and impressive chassis designs for a personalised look for your PC.
Upgradeability and size
Gaming components are constantly improving, so to make sure you stay on top of the newest specs, look out for a gaming desktop that can be easily upgraded.
If you can access the interior it's easy to swap out the RAM, graphics card and fans. And you can even add additional elements like liquid cooling or additional RGB lighting.
The larger full and mid-tower desktops will give you more room to upgrade, but if you just want to connect to a TV or monitor, smaller form factors or laptops are ideal.