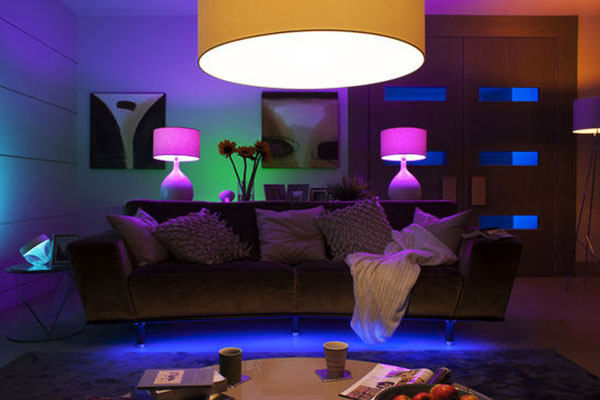 Smart Lighting
Smart lighting lets you adjust the brightness and colour of your lighting to suit your mood or environment – dim the lights for a movie night, wake up to refreshing bright light, or create a party atmosphere - all from your smartphone or smart speaker.
Adding elegance, ambiance, and convenience, smart lights also offer home security and better energy efficiency.
How can smart lighting save you energy and money?
Smart lighting helps reduce the amount of energy you are using, and therefore save you money on your energy bills. With instant smartphone control wherever you are, you can easily see if you have left a light on at home and switch it off. Because you're not lighting an empty home, you can ensure your household is more efficient.
You can also link your smart lights to motion sensors – for example Philips Hue lighting is compatible with Samsung SmartThings sensors. Lights can automatically come on when you walk into a room and motion is detected – for example a dark hallway when you arrive home – then switch off again after you have left, making sure no one leaves the lights on.
LED lights are far more efficient than traditional bulbs and are therefore cheaper to run. They also have a much longer lifespan making them great value for money. Some smart lighting will even monitor the bulb's energy usage so you can see how much you are using.
Shop Smart Lighting
How does smart lighting make life easier?
Imagine walking through the door and the lights are already on as it's past sunset, or sitting on the sofa asking your voice assistant to dim the lights so you can watch a movie – smart lighting lets you do this and much more.
You can automate lights to come on and off whenever you like – set a light to get gradually brighter to wake you in the morning, or dim slowly at night when you go to bed.
Home or away – you can check which lights are on or off from your smartphone for peace of mind.
Shop Smart Lighting
Can smart lighting help with security?
Smart lighting can help make your house more secure – you can easily program your lights to come on and make the house seem occupied when you are out the house or away on holiday.
Some lights use your phone's location to tell when you're on your way home and switch on certain lights for you when you arrive, meaning you never return to a dark home again.
Shop Smart Lighting
What are the different bulb types and colour options?
Smart bulbs are available in most popular fittings, including E27, B22, GU10, and E14 so it's easy to replace your existing bulbs without any special adapters.
Bulbs are available in white or colour versions. White bulbs differ in colour temperature and let you adjust the brightness. Colour bulbs offer a wide array of dimmable colours – ideal for instantly changing the atmosphere of the room to suit your mood. Bulbs can be grouped together to create scenes of coordinating or contrasting colours.
How easy is smart lighting to install?
It's simple – download the app for the brand of lights you have purchased, fit the new bulbs in the same way you would replace any other bulb, and then follow the instructions in the app to link them to your WiFi.
Some lighting brands such as Philips Hue also require a hub for the lights to connect to – check the product page or ask an in-store colleague for more information before you buy.