Hotpoint Cooking Appliances
COOKING
Let us help you choose the perfect kitchen appliances to suit all of your cooking needs. Discover our great range today.
Even cooking results, always...
"We've all been there – you've spent ages preparing a gorgeous family meal, only for the oven to go and ruin it by overcooking some stuff and leaving something else underdone. Multi-Flow Technology takes that pain away, with a perfectly even cooking temperature throughout the whole oven – no more burnt edges or uncooked middles."
- Jamie Oliver
What our customer say
"Quiet, efficient, cooks perfectly. Can't fault it at all. Very easy to install. Excellent."
- Dawn
"Very big oven takes large roasting tins with ease, looks nice, once you've had a quick read of the manual the controls are very simple and straightforward to use."
- Jason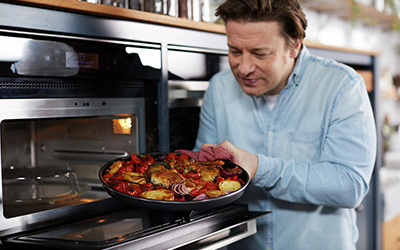 Dynamic Crisp Microwaves
"Dynamic Crisp Technology for microwaves is really impressive. It cooks all those delicious things that you'd normally roast, but so much faster. Use it for perfect roasties and delicious juicy chicken with crisp, golden skin in just 12 minutes."
Direct Flame Hob
"I love cooking on gas and the control you get. Hotpoint's Direct Flame Technology means the flames point directly up and hit the pan evenly, so you get no hot or cold spots, to cook your food evenly and efficiently. Happy cooking."
Class 4 Single Oven
The Hotpoint SI4 854 C IX Built-In Oven comes in a black look and features a stylish monodial control. This oven has eternal catalytic liners which means they will never need to be replaced. They work by burning off grease and food when temperatures reach over 200°C, meaning no need for harsh chemicals or elbow grease to get your oven sparkling clean. It features 8 traditional functions and 6 automatic programmes so you get involved as much or as little as you like. Complete with electronic temperature control and anti fingerprint steel, this oven takes all the hassle out of cooking.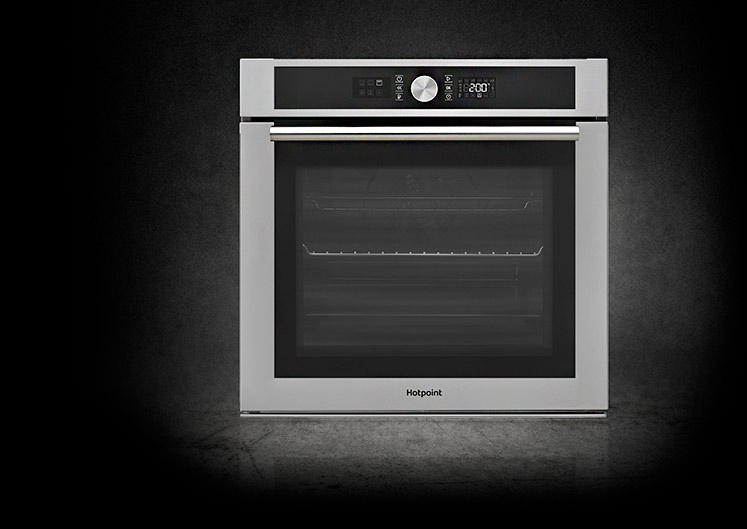 Class 2

Always have perfectly cooked food.

Class 4

No need to strain your back cleaning the oven.

Class 6

More room to cook the things you love.

PERFECTLY CLEAN WITHOUT THE NEED TO REPLACE
Eternal Catalytic liners

PERFECTLY EVEN COOKING RESULTS
Multiflow Heat Distribution

GREATER VOLUME TO CATER FOR ALL YOUR NEEDS
Large capacity 73L