Washer dryer buying guide
Washer dryer buying guide
A washer dryer is ideal if you do not have enough space for a separate washing machine and tumble dryer. They have many similar features to a washing machine but with the built in benefits of being able to dry clothes as well.
From size and capacity, to energy rating and spin speed, buying a washer dryer can seem like a bit of a minefield. That's why we've created this short, straightforward buying guide containing all the info you need to make the right choice for your family, home and lifestyle.
Look out for the 'Our Experts Love' range to find washer dryers that showcase the most exciting and useful features.
And of course, if you want to see what's on offer for yourself, come down to one of our stores and we'll be happy to help find the right appliances for you.
View All Washer Dryers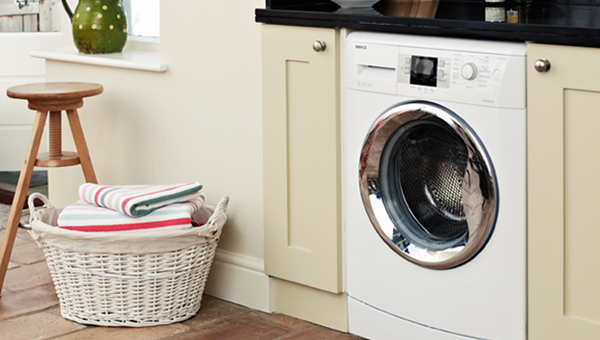 Standard Features
Before buying a washer dryer these are the key features to consider.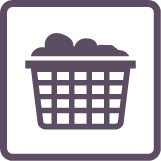 What capacity washer dryer do I need?
Washer dryers have 2 capacities – a washing capacity and a drying capacity
Washing capacities vary from 5 kg to 10 kg and as a rule of thumb, 5 t-shirts equate to 1 kg
A 5 kg machine will wash 25 t-shirts, whilst a 10 kg can wash up to 50 t-shirts.
A larger capacity machine means you can wash more at once, saving time and money on energy.
In terms of drying capacity, it is always less than the washing capacity as clothes condense when wet and need more room to spin while drying.
Drying capacities range from 4 to 7 kg, so you may need to remove some of the laundry before drying.
Some washer dryers can go from a wash cycle into a drying cycle automatically but the size of the load needs to be based on the maximum drying capacity.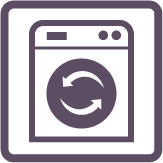 What spin speed should I go for?
Spin speed varies from 1200 to 1600 rpm.
Higher spin speeds reduce the water left in your clothes when they've finished washing so they dry quicker either on the line or use less energy to dry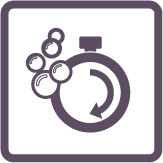 How long is a quick wash?
Quick washes take between 15 and 30 minutes for a wash cycle.
Usually a reduced load size e.g. 2 kg.
Designed to freshen up the load, so don't expect it to remove stains.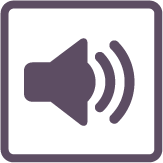 How noisy is a washer dryer?
The average volume of the machine's wash and dry cycles, is measured in decibels (dB).
The higher the dB, the noisier the machine will be.
To reduce noise levels as much as possible, look for models with new technology like brushless or inverter motors, and anti-vibration systems.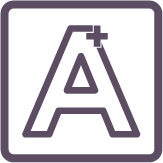 How energy efficient are washer dryers?
All washer dryers have an EU energy rating between A and C, with A rated models being the most energy efficient.
Eco wash cycles use up to 60% less energy by running for longer.
Also look for average water consumption per wash cycle, to help keep costs down for water usage.
Look for a washer dryer which has sensor drying which switches off automatically when the clothes are dry.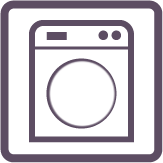 What's the difference between a freestanding and an integrated washer dryer?
An integrated washer dryer (also known as built-in) sits behind a cupboard door in your kitchen. They tend to have smaller capacities than freestanding washer dryers.
You've got more options when it comes to placing a freestanding washer dryer – they can be placed directly in your kitchen rather than behind a cupboard.
You do not need to vent washer dryers. They are condensers, which means they collect water from the load being dried and remove it through a waste water pipe. This means you won't need to empty water tanks or run hoses through your kitchen.
Now you know the standard features here are additional features to consider to ensure you find your perfect washer dryer.

Money Saving Features
There are lots of ways to save money from choosing economy wash options to looking out for sensor drying.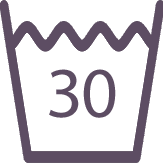 Programmes
Most machines have standard programmes such as cotton, synthetics and quick wash but some have special cycles to help with different types of loads.

Controlling your washer dryer
There are different ways to control your washer dryer from simple dials to using your smartphone.
What types of control panels are there?
Most machines have LED or LCD screens that provide details about your wash.
Some have indicators that provide basic information about the programs.
A machine with a memory button will let you save your wash settings to use again.
How can I set my washing to run at a time I want?
Delay timers let you delay the start of the wash, usually by a few hours.
This can be anything from 3 to 24 hours depending on the machine.
Some machines have 'end time' functions, which let you choose when the program finishes, rather than when it starts.
How can I stop my child opening the washer dryer door?
The most common type of child lock disables the controls on the control panel, which will stop children from being able to change the settings or start a program.
The second type of child lock is a device that stops the door from being closed, so your kids won't be able to 'accidentally' trap items such as toys, your valuables, or the cat, in the drum.
How can I control my washer dryer with my smartphone?
Some washer dryers have the ability to be controlled by your phone, choosing when to start the wash and see where it is in the cycle.
Some allow you to download specialist programmes and diagnose problems early.
The washer dryer will need to be connected to WiFi.
Don't forget...
From delivery to installation and recycling, once you've chosen your new washer dryer, we can help with all the extras.
What space does a washer dryer need?
A standard size washer dryer is 850 x 600 x 600 mm (H x W x D).
You will need to make sure that your washer dryer will fit into the space where you would like it to go, considering the width, height and depth. Remember to allow for space for the hoses connected on the back of the appliance, and for the door to open on the front of the dryer.
Why are all washer dryers cold fill only?
All modern washer dryers are cold fill. It takes less energy for the washer dryer to heat the water, helping to cut down on the energy used.
Starting with cold water gives better wash results when you're using biological detergents, as the enzymes work best at low temperatures.
What do I need to get my machine up and running?
Washer dryer require three different connections, each within 1.5 m where you'd like to put your appliance:
A cold water feed – this is for clean water to enter the machine and is a connection on the plumbing in your home. This is a round, threaded connection and will usually have a small blue valve next to it that rotates 90 degrees to turn the water supply on and off.
A waste connection – this is for the used, dirty water to drain from your machine at the end of the wash cycle. This can come in two different styles - a standpipe in an upright position that should be almost has high as the washer dryer, which the waste hose on the appliance is inserted into, or a spigot which is a threaded connection and approximately 12.5 cm long. This is usually on the u-bend below a sink.
A plug socket – washer dryer come with a standard 3-pin plug to power the machine and heat the water.
All connections must be within 1.5 m of the machine although we will supply and use a longer cold water pipe and extension waste hose if safe to do so.
Sometimes the cold water valve can get seized or corroded when not used for a long time. It is important that you check the blue valve still rotates to isolate the water supply prior to disconnecting any hoses. If there are any issues with this it is recommended that you contact a plumber to resolve.