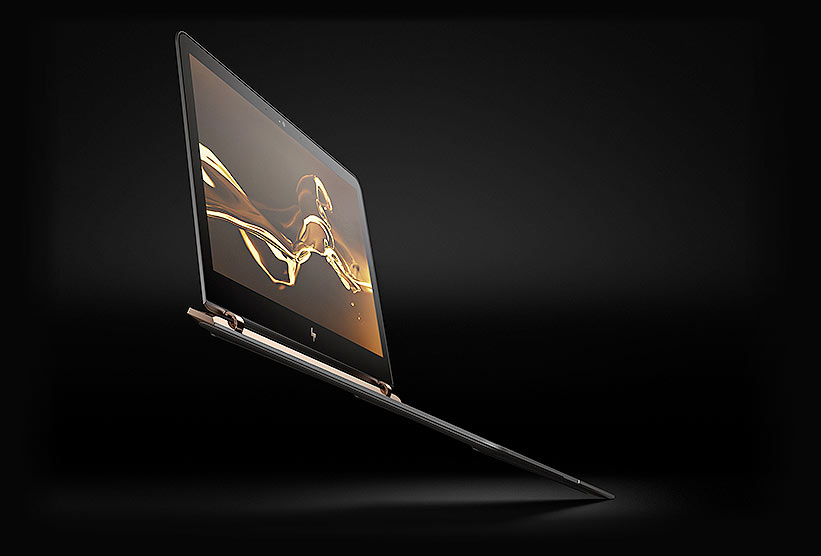 HP Spectre Laptop
Power never looked so thin
This is design and technology taken to a whole new level. Artisan materials and striking craftsmanship create an experience unlike anything else. With a breathtaking composition that's 10.4 mm thin and full Intel® Core™ i5 or Intel® Core™ i7 power2 , this luxurious Laptop is completely irresistible.


Inspiration for innovation
Power never looked so thin. Discover just how powerful thin can be.
There's thin and there's thinner
Experience Our thinnest laptop ever.
This featherweight 33 cm (13") diagonal laptop weighs just 1.1 kilograms.3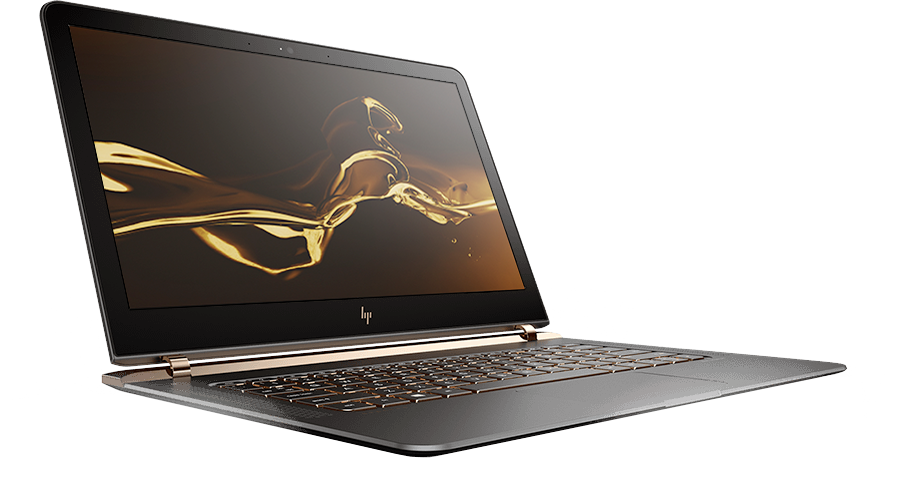 More artisan than manufactured
The details make all the difference. Carbon fibre and aluminum craftsmanship give this device the look and feel of pure luxury. The two-tone finish on the copper-coloured spine is an example of the beauty of contrast.
Edge-to-edge Corning® Gorilla® Glass
Finished with a durable and scratch resistant edge-to-edge Corning® Gorilla® Glass display.

Backlit keyboard and glass trackpad
From the backlit keyboard to the glass trackpad, every detail was curated for an exceptional experience.
Piston hinge design
Drawing inspiration from high-end furniture details, the stunning simplicity of the artfully-crafted piston hinge folds flush for a clean, nearly hingeless look.
More power in every millimeter
HP's unique approach to cooling to enable Intel® Core™ i performance
Equipping a device so thin with this much power requires a special approach to cooling. Breakthrough hyperbaric cooling technology from Intel® actively draws cool air in, rather than just venting heat out. This allows us to utilize a more powerful processor without overheating. Combined with dynamic power settings that adjust to your workload, this laptop keeps cool and stays at peak performance.
Hyperbaric cooling
Our breakthrough hyperbaric cooling system doesn't just push heat out of the machine - it actually draws in cool air and directs it over the processor, to keep it running at peak performance.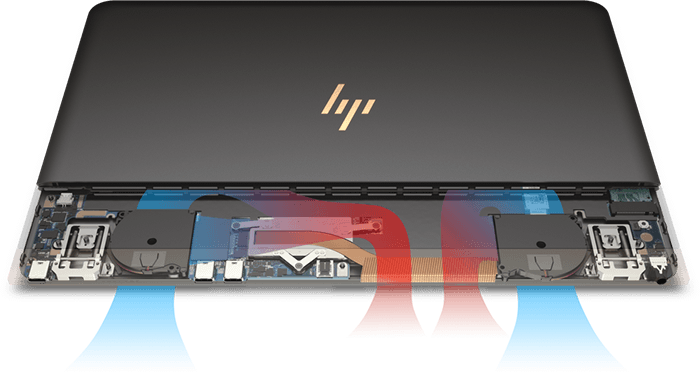 Performance specs
Windows 10
Windows® 10 is here. Do great things.4
PCIE based flash storage up to 512GB
With up to 512GB of PCIe-based flash storage, scrolling through photo libraries, loading game files, and accessing all your documents is lightning-fast.5
6th Generation Intel® Core™ i Processor
The 6th generation of Intel® Core™ i processors enhances your computing experience like never before.
Up to 8 GB RAM
Up to 8GB of memory can keep up with you.
2x2 Wi-Fi antenna
We used a next-generation 802.11 ac 2x2 Wi-Fi antenna to give you faster wireless speeds and positioned it perfectly to maximize reception.7
Multi-Use Ports
The three multi-use USB-C Type-C™ ports all support charging, high-speed data transfer, and external displays.
A sensorial masterpiece
Your favorite movies, albums, photos, and projects matter to you. So this laptop is comes fully-loaded with entertainment features that let you get the most out of every frame, every note, and every pixel.
HP Audio Boost
HP Audio Boost gives you the maximum volume you need to experience entertainment to the fullest with outstanding clarity and more dynamic sound.
Full HD IPS Display
Immerse yourself in the vibrant Full HD IPS display. The crisp picture and ultra-wide viewing angles ensure you never miss a detail.6
Bang & Olufsen Audio
Dual HP speakers, and audio custom-tuned in collaboration with experts at Bang & Olufsen, bring entertainment to life with sound you can feel. Awaken your senses with PC audio perfection.

Long battery life
The HP Spectre laptop is our first to incorporate a hybrid battery. Four prismatic battery cells are distributed throughout the device in order to maximize the battery capacity in this ultra-thin design, enabling you to work longer on a single charge.

Legal
1. Based on HP's internal analysis as of 2/10/16 of vendors shipping >1 million units worldwide annually with clamshell design, Windows or OSX, priced > £281.52 ($400USD), measured at z-height. For more details click here.
2. Multi-core is designed to improve performance of certain software products. Not all customers or software applications will necessarily benefit from use of this technology. Performance and clock frequency will vary depending on application workload and your hardware and software configurations. Intel's numbering is not a measurement of higher performance.
3. Weight will vary by configuration.
4. Not all features are available in all editions or versions of Windows. Systems may require upgraded and/or separately purchased hardware, drivers, software or BIOS update to take full advantage of Windows functionality. Windows 10 is automatically updated, which is always enabled. ISP fees may apply and additional requirements may apply over time for updates. See http://www.microsoft.com.
5. For hard drives, GB = 1 billion bytes. Actual formatted capacity is less. Up to 35GB of hard drive is reserved for system recovery software.
6. Full high-definition (FHD) content required to view FHD images.
7. Wireless access point and Internet service required. Availability of public wireless access points limited. The specifications for the 802.11ac WLAN are draft specifications and are not final. If the final specifications differ from the draft specifications, it may affect the ability of the notebook to communicate with other 802.11ac WLAN devices.
Intel, the Intel Logo, Intel Inside, Intel Core, and Core Inside are trademarks of Intel Corporation in the U.S. and/or other countries.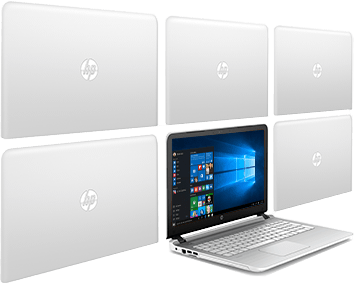 HP Pavilion
Expressive colors.
Impressive power.
Redesigned with you in mind, the colorful HP Pavilion keeps getting better. Our best-selling notebook is now more powerful so you can watch more, play more, and store more, all in style.
View the Pavilion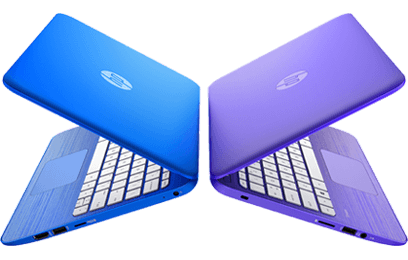 HP Stream
Free cloud storage.
Looking for a notebook that can keep up with your busy day? The HP Stream is the hard-working, smartly-designed notebook that's light on price.
View the Stream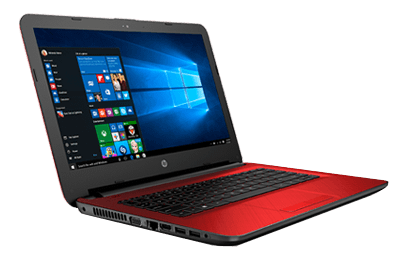 HP Notebook
Essentially exciting.
Get the perfect combination of style and productivity, while keeping your wallet in mind - now that's something to get excited about.
Coming soon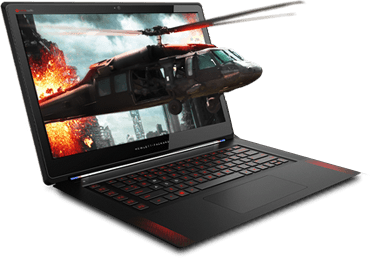 HP Omen
YEAH, YOU SHOULD BE SCARED.
Take on the competition anytime, anywhere with the high-performance HP Omen Notebook. Dominate your opponents with stunning graphics, lightning-fast processing, immersive sound, and customizable features.
Coming soon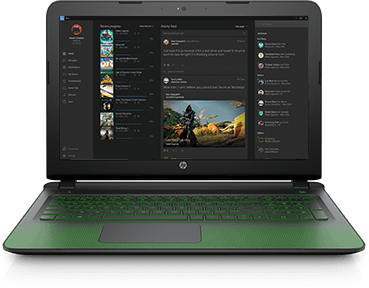 HP Pavilion Gaming
Never stop. Gaming.
Rise above the competition with a notebook that'll give your enemies something to talk about. Equipped with powerful hardware and a venomous design, you'll always be prepared to complete the next epic quest.
View the Pavilion