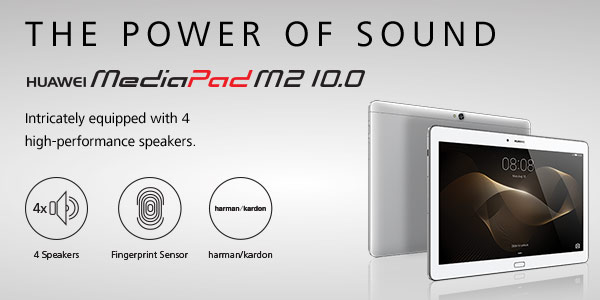 About Huawei
With a focus on high resolution screens, great quality photography and lightweight designs, Huawei's range of tablets is perfect for modern life. In a variety of specifications and styles, you can be sure to find a tablet to suit your needs, without compromising on powerful performance and quality design.
The M2 MediaPad range focuses on enhanced audio and photography performance, whilst the T1 range prioritises speed, power and battery life. Running on the Android operating system with access to millions of apps from Google Play, every Huawei tablet lets you work, play and browse exactly how you want.
Shop Huawei Tablets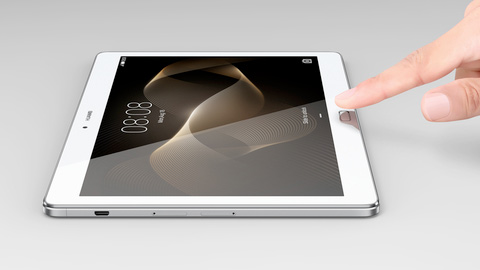 Browse the range of Huawei Tablets
Unrivalled Audio Performance co-engineered with Harman Kardon
Providing high-quality listening pleasure, four advanced speakers and the latest audio technology makes the MediaPad M2 10" a standout for music quality. Music is richly layered, movie soundtracks are a revelation, voices are clearer and every sound you hear takes on a new life.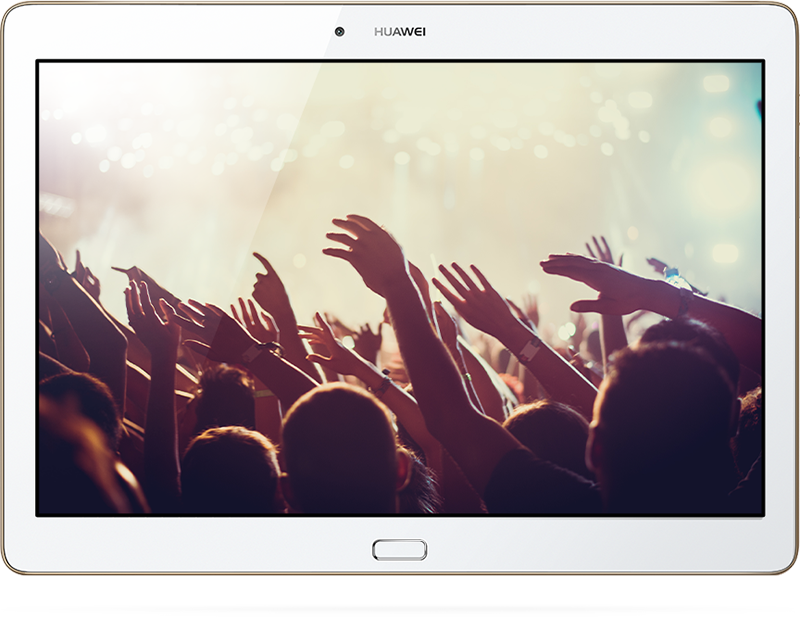 2X2 Treble and Bass Configuration
For richer sound on every film and song, the M2 has a 2 x 2 treble and bass speaker configuration with an all-band audio response. For more immersive sound there is a booming bass, richly layered treble and an impressive mid-range.

2X2 4 bass loud speaker

THE POWER OF INCREDIBLE
For visuals and sound like never before, the MediaPad M2 10 has a wide-screen high-resolution display with ultra-powerful surround sound. Turn it on and take your senses for a ride.

2X2 treble and bass

Harmon/Kardon Clari-Fi

SWS 2.0

Huawei ClariVu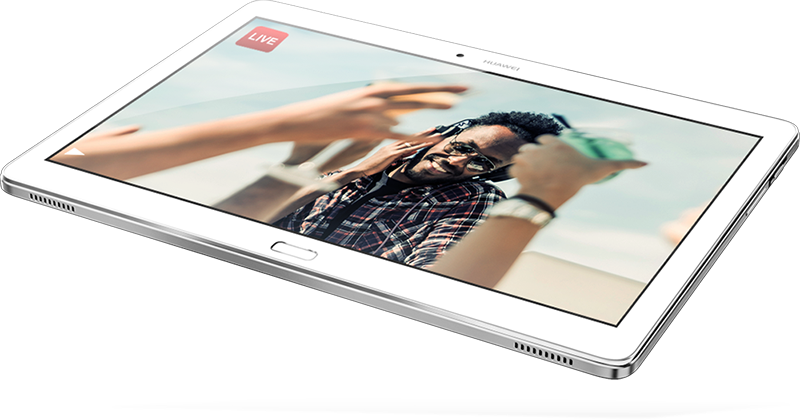 Fingerprint Recognition With Gesture Control
The MediaPad M2 10 is the first Android tablet to support the next generation of enhanced fingerprint recognition technology. It allows 1-second screen unlocking for up to 5 sets of fingerprints and using the intuitive gesture control, you can easily navigate between pages. A long press on the sensor takes you back to the home screen, a left swipe returns you to the previous screen and a right swipe moves you onto the next page.

Seamless unlocking

Innovative gesture control

Multi-users management
7.5MM METALLIC BODY
With a sleek metallic design, the MediaPad M2 10 is 7.5 mm thin, tapering to only 5 mm at the slimmest point. The sleek metal back, discretely embedded screen and symmetrically arranged speakers give an overwhelming sensation of elegant simplicity. Choose from Luxurious Gold or Moonlight Silver.

CAMERAS
The MediaPad M2 10 raises the bar for high-end tablet cameras, giving you the chance to capture the images you've always wanted. The 13 MP rear camera with F2.0 large-diaphragm lens intelligent image processing engine and blue glass filter lets you take amazing pictures, even in low-light conditions. With multiple photographic modes you can choose from panoramic, time-lapse, night time photography and light painting. The 5 MP front camera has an 88-degree wide angle lens so that video calls and front facing photos are more dynamic.