Customer Services
Computer Upgrade
Why Us?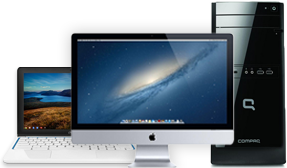 It's not always necessary to replace your computer when technology moves on. We can help with software and hardware install.
SOFTWARE INSTALL
We'll install your software on your existing computer and configure it to download the latest updates.
Choose your software
We'll install it
Just bring your PC in
Advice on upgrades
£45
Find the nearest Repair & Service Centre
HARDWARE INSTALL
We'll install your new piece of hardware; anything from memory and graphics cards to a printer or a broadband dongle. Anything more complex, like a motherboard or CPU, we'll send it to our National Repair Centre.
Upgrade your computer
Improve performance and functionality
Mac and Windows covered
Secure recycling of old parts
from £45
Find the nearest Repair & Service Centre