Go Beyond HD
The exclusive HDX display brings together unsurpassed pixel density (323 ppi or 339 ppi), perfect colour. accuracy (100% sRGB), reduced glare and improved brightness for a superior viewing experience.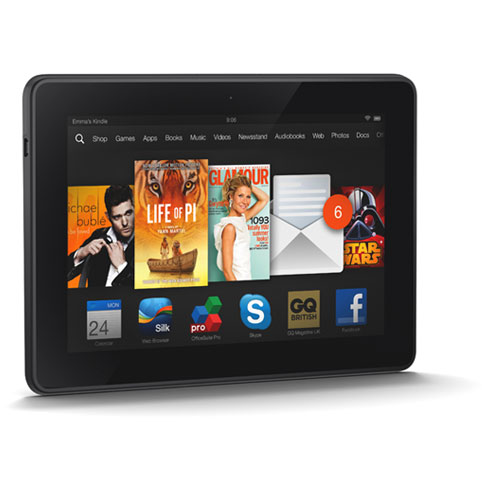 Breakthrough HDX Display
Both Kindle Fire HDX has a resolution that goes beyond standard HD. Kindle Fire HDX 7" has a resolution of over 2 million pixels(1920x1200) and a high pixel density (323 ppi). Kindle Fire HDX 8.9" has the highest resolution (2560x1600) and the best pixel density (339 ppi) of any Kindle Fire tablet, providing an incredible multimedia experience. The display of Kindle Fire HDX 8.9" features over 4 million pixels for vivid, lifelike images.
Perfect Colour
Both the 7" and 8.9" Kindle Fire HDX displays feature perfect colour (100% sRGB), displaying images and videos as the photographer or videographer intended.
Better Viewing Indoors and Out
The HDX display features dynamic image contrast, a unique feature that automatically optimises the colour of each pixel based on the amount of light in your surroundings. This makes images and videos even easier to see under any lighting conditions, including outdoors.
Front-Facing HD Camera
Both the 7" and 8.9" Kindle Fire HDX tablets have a front-facing 720p HD camera, perfect for Skype HD video calls and taking photos to share via Facebook or e-mail. The 8.9" model also features an 8MP rear-facing camera with LED flash for high resolution photos and 1080p video.
Breakthrough ultra-light design
The Kindle Fire HDX 8.9" weights just 374 grams, and its magnesium unibody makes it 34% lighter than the previous generation.