The Kindle Paperwhite 3G will provide you with the ultimate reading experience, making all the simple things superb. New fonts and adjustable sizes allow you to customise your read. With a wide variety of books available, enjoy pleasurable reading with the Paperwhite Kindle.
Unsurpassed Resolution
The Paperwhite display offers more pixels, rendering exceptionally sharp text and images.
Stunning Contrast
With 25% higher contrast, enjoy crisp, dark text against a brilliant white background that makes for the perfect read.
Innovative Built-in Light
Paperwhite guides light towards the display from above instead of projecting it out at your eyes like back-lit displays, thereby reducing screen fatigue. You can adjust your screen's brightness to create a perfect reading experience in all lighting conditions, from bright sunlight to bedtime reading.
Uncompromised Battery Life
A single charge lasts up to eight week, showcasing the Kindle Paperwhite 3G's breakthrough power management technology. This allows you to leave the light on at all times for the best possible contrast without sacrificing battery life.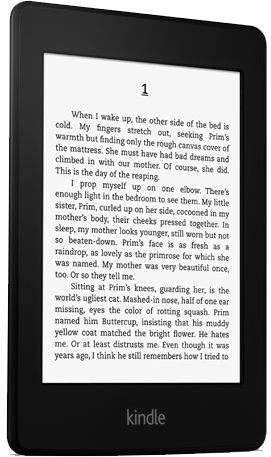 | | | | | |
| --- | --- | --- | --- | --- |
| Which kindle is right for me? | Kindle Fire HD | Kindle Fire | Kindle Paperwhite | Kindle |
| Screen size | Full colour 7" display | Full colour 7" display | Most advanced 6" E-Ink screen | 6" E-Ink screen |
| Display Technology | HD LCD | HD LCD | Paperwhite with Built-in light | E-Ink screen Pearl |
| Resolution/Pixel Density | 1280 x 800, up to 720p HD | 1024 x 600 | 212 PPI | 167 PPI |
| Content | Over 22 million movies, TV shows, songs, books and magazines, plus tens of thousands of popular apps and games | Over 22 million movies, TV shows, songs, books and magazines, plus tens of thousands of popular apps and games | Over 1 million books including exclusive Amazon content | Over 1 million books including exclusive Amazon content |
| Connectivity | Dual-band, dual antenna Wi-Fi | Wi-Fi | Free 3G + Wi-Fi or Wi-Fi only | Wi-Fi |
| No Monthly Fees or Annual Contracts | | | | |
| Battery Life | Over 11 hours | Almost 9 hours | Up to 2 months | Up to 1 month |
| Storage | 16 GB or 32 GB on device plus free cloud storage for all Amazon content | 8 GB on device plus free cloud storage for all Amazon content | 2 GB on device plus free cloud storage for all Amazon content | 2 GB on device plus free cloud storage for all Amazon content |
| Weight | 395 grams | 400 grams | 222 grams (3G); 213 grams (WiFi) | Less than 170 grams |
| Deals & Special Offers | | | | |
| Built-in Dictionary | | | | |
| Books in 60 Seconds | | | | |
| Speaker | Dolby Audio dual-driver stereo speakers | Stereo speakers | | |
| Camera | Front-facing | | | |
| Dual-core Processor | | | | |
| Web Browser | Amazon Silk | Amazon Silk | Experimental browser | Experimental browser |
| | | | | |