SELF-LIT OLED

If you love speeding along in your Ford F150 Raptor, only self-lit pixels can deliver the experience you're looking for.
The power of the high-performance engine is only matched by the wonder of the idyllic scenery and the splendor of the four seasons — driving has never looked this good, or felt this real.
*Conventional LED TVs are LED (Light Emitting Diode) TVs with displays that use a backlight panel.
SELF-LIT PIXELS

OLED races ahead when it comes to picture quality. Self-lit pixels allow LG OLED TVs to be ultra-slim and produce picture-perfect views out the window and over the horizon.
By contrast, conventional LED use backlights and numerous other display layers, which affect both screen thickness and picture quality.
It doesn't matter how many backlights are used or how small they are, LED still can't take over OLED.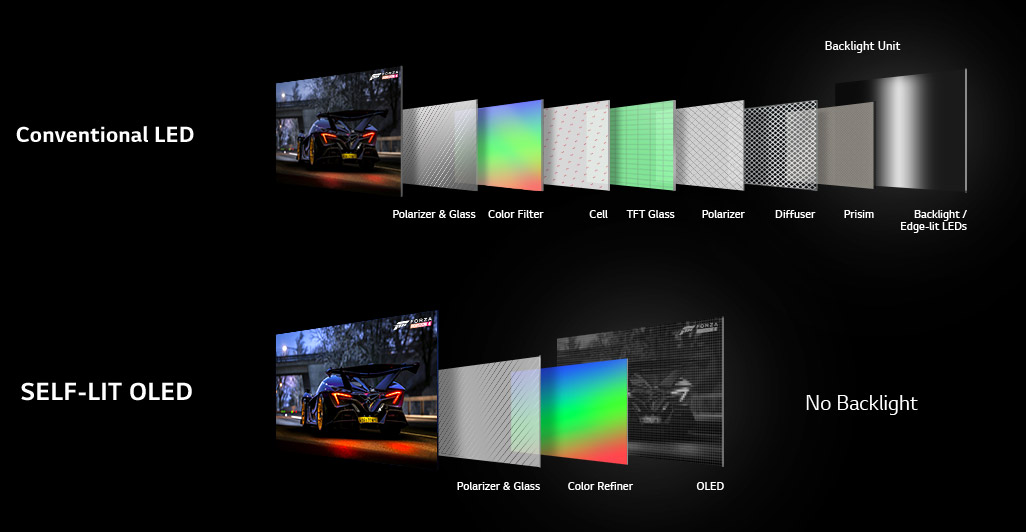 *Conventional LED TVs are LED (Light Emitting Diode) TVs with displays that use a backlight panel.
Infinite Contrast

Your Forza experience might look different depending on your TV's display technology. LG OLED TVs have self-lit pixels that can turn on and off to achieve perfect black and infinite contrast.
Whereas LED TVs use backlights that can't achieve the same perfect black and might create a halo effect instead. Self-lit pixels don't have this problem — so your view from the driver's seat will look better than ever.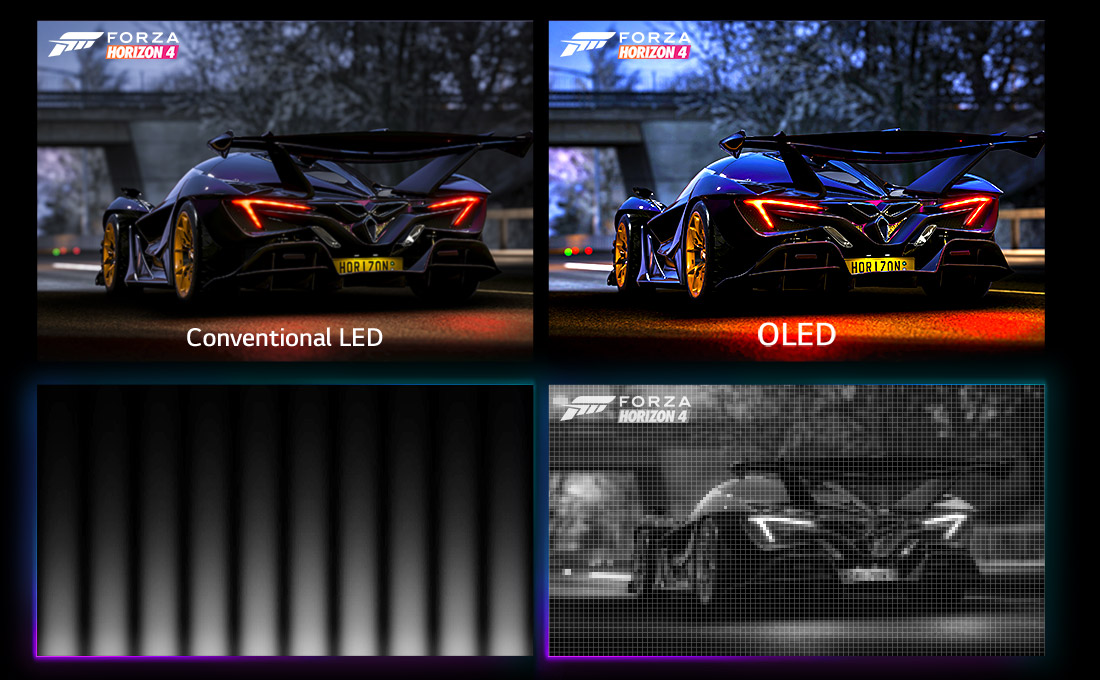 *Screen images simulated.
*Conventional LED TVs are LED (Light Emitting Diode) TVs with displays that use a backlight panel.
Game Optimiser

Game Optimizer lets you access every setting in one place for greater control over picture and sound. It also provides optimized settings for other specific game genres including, FPS, RPG, and RTS. And you can toggle VRR, NVIDIA G-SYNC, and AMD FreeSync™ technologies.
This added control ensures every drive is clear and smooth with less lag, stutter, and tearing.
*Game Optimizer is supported on 2021 LG OLED TV models.
G-SYNC, FreeSync & VRR

Long sweeping corners, giddying amounts of oversteer, and burning rubber — the art of the drift is a joy to behold.
Thankfully, LG OLED is equipped with G-SYNC, FreeSync, and VRR, top-of-the-line upgrades that allow smooth, fluid gameplay with synchronized graphics at higher resolutions. Racing lines have never been so smooth.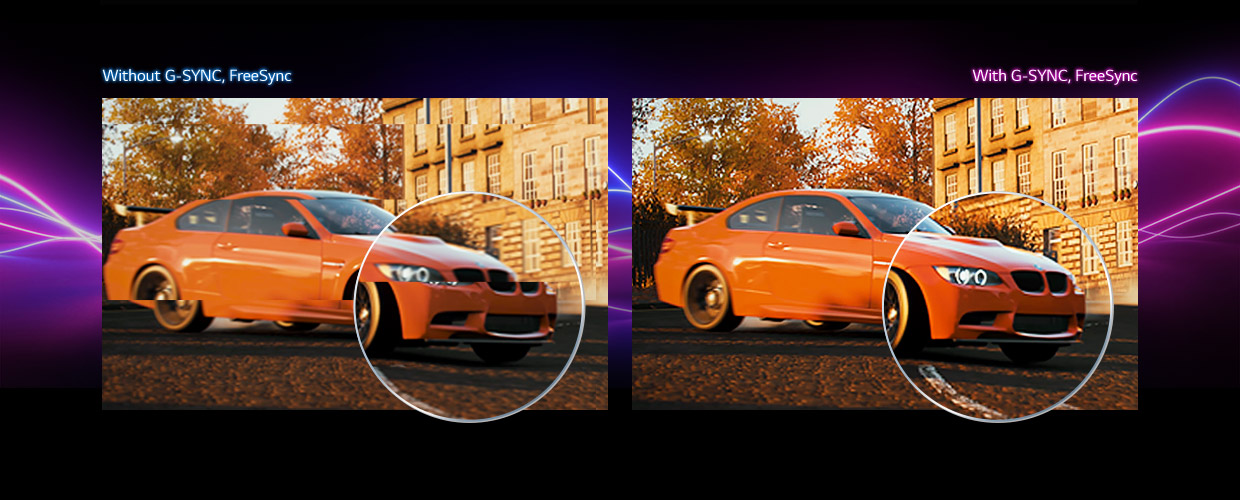 *Only the PC version of the FORZA series game support NVIDIA G-SYNC.
VRR(variable Refresh Rate) is certified as HDMI 2.1.
Test Specifications: 2.1d (with HDCP, FRL 12G(8K60), CEC, ARC, 6G, HBR, 4K).
VRR is only supported on Z1, G1, C1, and B1 models.

Nvidia G-SYNC

LG continue to work with industry-leader NVIDIA to make LG OLED TV the only G-SYNC compatible TV. LG OLED TVs use the precision and control of individual self-lit pixels to take full advantage of the G-SYNC compatibility, allowing fast response times and smoother gaming, even at high resolution.
*NVIDIA G-SYNC is only supported on the PC version of Forza. AMD FreeSync™

We also partnered with AMD to bring FreeSync™ Premium to LG OLED TVs. Less flicker and low latency allow action-packed games to perform at their absolute peak with clear and fluid gameplay.
*AMD FreeSync™ Premium is only supported on Z1, G1, C1, and B1 models.
Dolby Vision IQ & Dolby Atmos

The simple pleasure of a beautiful car, against a beautiful backdrop. The 1969 Dodge Charger might be as photogenic as it gets in Forza, so why not give it the quality it deserves. Whatever your scenery of choice, Dolby Vision IQ produces imagery that's breathtakingly realistic, while Dolby Atmos immerses you in the sounds of a finely tuned engine.
*Xbox Series X supports both Dolby Atmos (available at launch) and Dolby Vision (coming soon).
*Dolby Vision IQ is expected to be supported on LG OLED TV models in 2021.
1ms Response Time &
Low Input Lag & ALLM & 4K Gaming up to 120fps

At 320 mph the smallest movements on the steering wheel make a big difference. These extreme speeds are nothing without delicate control. That's why LG OLED TVs have low input lag with an incredible 1ms response time, as well as ALLM, so every maneuver you make is displayed instantly on screen.
*4K @120Hz and ALLM(Auto Low Latency Mode) is certified as HDMI 2.1.
*Test Specifications: 2.1d (with HDCP, FRL 12G(8K60), CEC, ARC, 6G, HBR, 4K).
*ALLM is only supported on Z1, G1, C1, and B1 models.
*OLED A1 model is 60Hz, supports ALLM, but does not support VRR.

Four HDMI 2.1 Ports

Frame rates can often change throughout a game. If a TV can't match these changes, you get image tearing. VRR and ALLM minimize this, and that's why LG OLED TVs are equipped with four HDMI 2.1 ports — to reduce motion blur and ghosting to barely discernible levels, with fast motion transitions and seamless gameplay up to 4K 120fps, and at the highest resolution.
*HDMI 2.1 is only supported on Z1, G1, C1, and B1 models. *A1 model isn't certified as HDMI 2.1
OLED Motion Pro

Because LG OLED TVs have self-lit pixels, they can display fast-moving cars with less blur than backlit LED TVs. OLED Motion Pro inserts black data of adaptive duration to reduce the motion blur.
*This delivers smoother action and a clearer viewing experience than before, allowing you to see the subtle detail of every maneuver, even at top speed.

*OLED Motion Pro is included in G1, C1, B1 models.
*Screen images simulated.
Eye Comfort

Whether you're on the track or the open road, you need a view you'll never get tired of. LG OLED TVs have received an 'Eye Comfort Display' certification. They are flicker-free and emit low levels of blue light, therefore posing no photobiological hazard to your eyes.
So strap in, hit the road, and enjoy the view.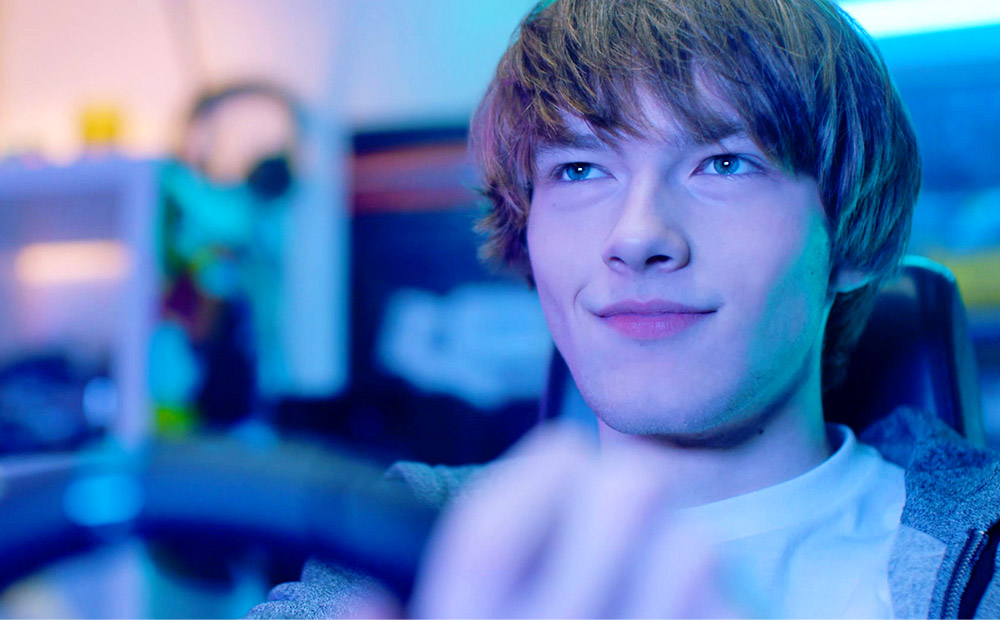 Flicker-free

You may have noticed the flashing on a monitor before — that's flicker. If your eyes are exposed to this for too long, it's inevitable that you'll feel tired. The flicker effect can be both visible and invisible, and even the invisible flicker can put stress on your eyes. Flicker occurs on LED TVs when they have an operating system that makes backlights blink in order to control brightness, this is compounded by the slow response times of the LED panels.
LG OLED TVs don't have that flicker because they don't have backlights and the response time of the OLED panel is fast.
Low Blue Light

Blue light comes from many sources — street lights, interior lights, the sun, and even your TV.
Exposure to large amounts of blue light can suppress melatonin and lead to problems such as sleep disturbance. Children and adolescents with underdeveloped irises are particularly vulnerable to retinal damage. So, when you watch TV, it's important which TV you watch.
Tests have found that LG OLED displays emit less blue light than LED displays. Watching LG OLED relieves eye strain and lets you enjoy TV more comfortably.
*Shooting conditions: 120Hz display for both OLED and LED, default picture setting ⁄ shutter speed : 50FPS 120°.
*The results may vary depending on the shooting and playback conditions.
*Screen images simulated.