Liebherr Fridge Freezers
Quality, Design and Innovation
The new Liebherr fridge and freezer range boast impressive features tailored toward all the needs of a modern kitchen. By combining expansive storage capacity and cutting-edge technology, Liebherr fridges and freezers deliver impressive A+/A++/A+++ rated energy efficiency and expert food storage.

LCD touch electronics give you full control over a wide range of features and settings, while BioFresh technology ensures that fresh produce lasts up to 3 times longer. With options such as ice cube makers and wine storage cabinets this exceptional Liebherr range will upgrade any kitchen to a lifestyle that suits you
View range
LIEBHERR BioFresh Fridge Freezer
BioFresh technology is unique to Liebherr and enables you to store both meat and fish and fruit and vegetables in dedicated storage compartments for up to 3 times longer. With over fifteen years' experience and 1 million Biofresh appliances sold, Liebherr are experts in long term storage. This technology addresses the need for a greater level of eco-consciousness in the modern home through less food wastage which means less money spent on replacing spoiled groceries.
BioFresh – Maximising the life of fresh produce
The BioFresh drawers guarantee the perfect climate for long term freshness. With the temperature maintained just over 0'C and with an ideal humidity level fruit and vegetables and meat, fish and dairy retain their healthy vitamins, delicate aroma and appetising appearance for up to 3 times longer than in a traditional refrigerator compartment.
BioFresh drawers
The BioFresh drawers are mounted on telescopic rails which means they are flush with the inner compartment. Even at an opening angle of 90°, they can be pulled-out and are removable.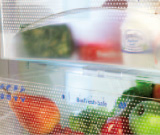 BioFresh Lighting
In comfort and Premium models the refrigerator compartment features a central ceiling light and in Premium Plus models LED lighting columns are elegantly integrated into the side walls for a flush finish (pictured above in SBSES7165)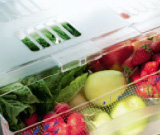 Humidity
Unique to Liebherr BioFresh drawers can used in low or high humidity settings with meat, fish and dairy requiring a low humidity setting and fruit and vegetables requiring a high level of humidity.