Nespresso U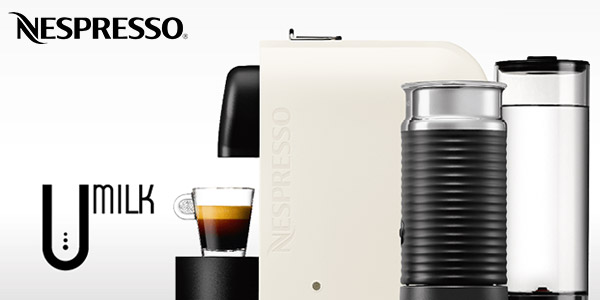 Modular, pure and simple design with sophisticated technology.
U is the automated coffee machine in the Nespresso family, which will help you create your favourite Grand Cru coffees in a single motion.
It offers ultra-convenience with sophisticated technology and fully automated capsule piercing, brewing and ejection by simply closing its slider.
There is no need to press a button, as the U machine memorises the cup size you drink most frequently. After making three coffees of the same size, the U automatically programmes itself to remember your favourite cup size.
Additionally, your U machine will automatically switch on when your finger passes over the sensitive surface or simply when you open the slider, starting the machine heat-up function.
The U adapts to any space with its pure lines and modular design; the water tank can be swivelled 180 degrees around the machine and a completely removable magnetic drip tray allows you to make taller cups of coffees and place the drip-tray on either side of the machine when not required.
View the specs
Modular design with swivelling water tank
Memorises cup size
Removable magnetic drip tray
Optimised heat-up time
Easy capsule insertion
Non-drip technology
19 bar pressure
Automatic and programmable cup size selection
Electronic 'capsule container full' indicator
Empty water tank detection
Automatic shut off after nine minutes
Three year warranty