What's new with Amazon Echo?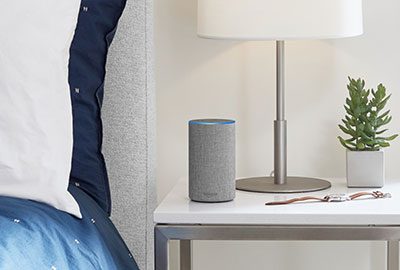 Echo is a hands-free voice-controlled speaker that connects to the Alexa Voice Service, Amazon's virtual assistant. You can play music, ask questions like in a search engine, make calls, and send or receive messages. You can also access the latest news, sports updates, weather, and more - simply by asking.
Echo is equipped with a powerful speaker that's great for playing music. There are also seven microphones with beamforming technology to help your voice commands be heard from anywhere in the room, even when it's noisy. All you have to do is say the word "Alexa" and Echo is ready to respond.
Use your voice to play music
The 2nd generation Echo delivers impressive audio quality - with advanced drivers and dynamic bass response. Stream your favourite songs instantly from Amazon Music, Spotify, Pandora, iHeartRadio and Tunein, as well as loads more just by asking. And with Amazon Music, you can even search by lyrics when you don't know the name of a song, or ask Alexa to pick the music for you. You can also listen to podcasts, radio stations, news, audiobooks and more.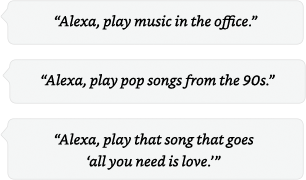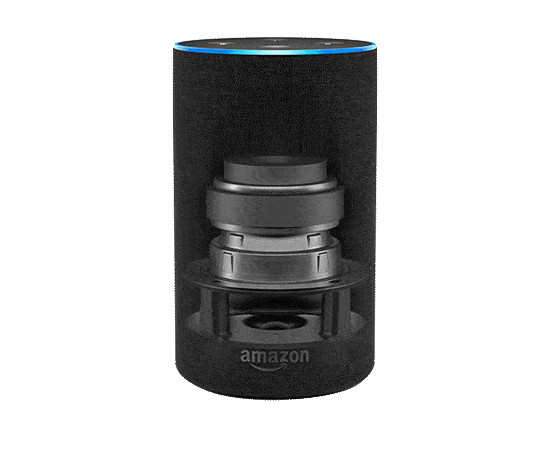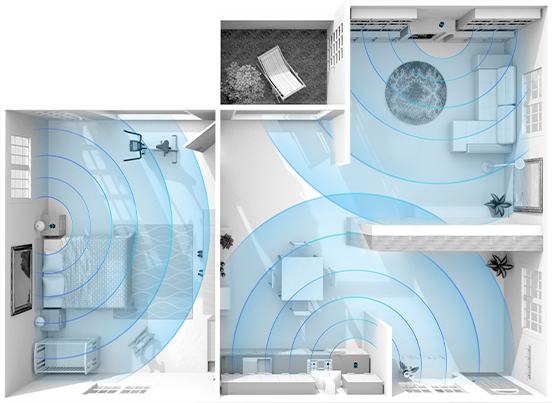 Play music throughout the house
Echo lets you sync compatible speakers throughout your house for multi-room music. This means you can play different songs in each room, or play the same song throughout your entire house.
Use your voice to control your home
Get the coffee maker going as soon as you wake up. Dim the lights for movie night. Or turn off the light before you go to bed. With Echo, you can make life much easier with just a simple request. You can also turn on your Smart TV, adjust the volume, or play specific movies from Fire TV and other select devices such as Sony, Dish, and Logitech. Echo works with a variety of appliances in your home, including lights, switches, and thermostats from manufacturers including WeMo, Phillips Hue, SmartThings, Insteon, Nest, ecobee and Wink.
Calls and messaging at your command
Instead of dialing numbers on your phone, you can ask Alexa to call anyone in your contacts list and speak to them hands-free using the Echo. The person you call will see your phone number, so it's the same as using your phone. This also works for messages, which you can dictate to Alexa and send to anyone who has a compatible Echo device, or whose phone has the Alexa App. Additionally, you can enable Drop In when you want to relay messages through compatible devices around the house, from telling your family that dinner is ready to telling the kids it's bedtime.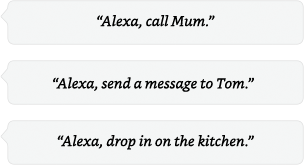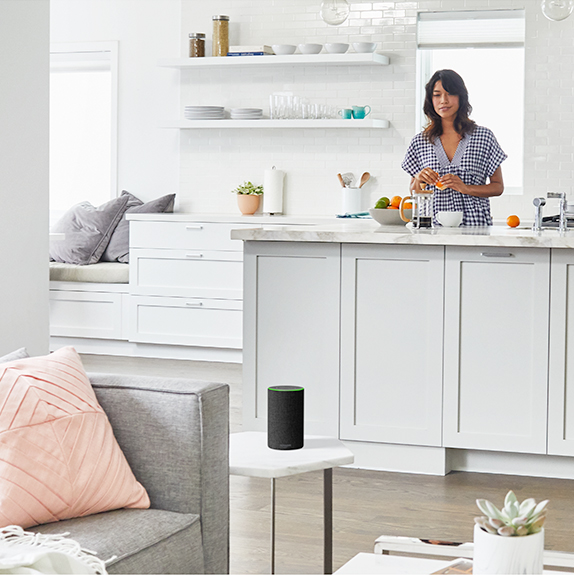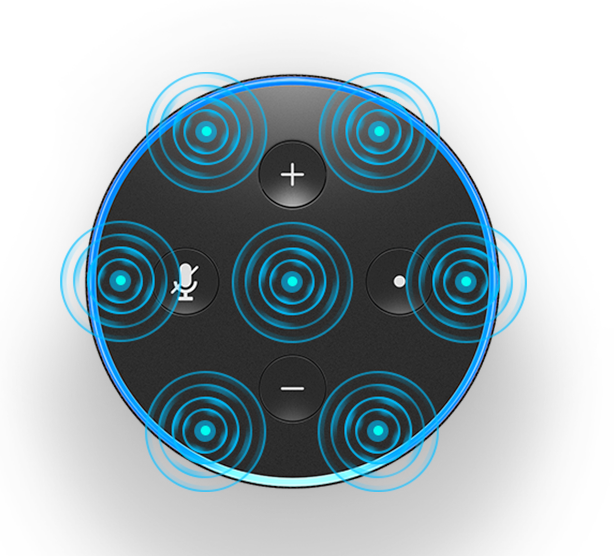 Far-field voice recognition
The Echo has seven microphones that use beamforming along with noise-cancellation technology, so that even in noisy rooms, Echo will be able to respond to your command. All you need to do is say "Alexa".
Echo skills
Echo Skills lets you order a pizza from select restaurants, such as Dominos, measure your workouts with FitBit as well as so much more. The number of Skills is growing all the time, and a full list can be found in the Alexa App, along with ratings and reviews from other customers.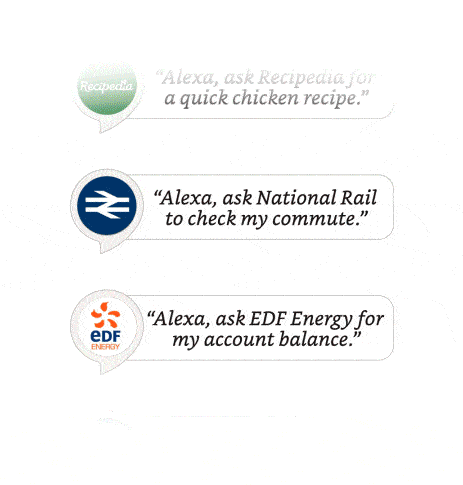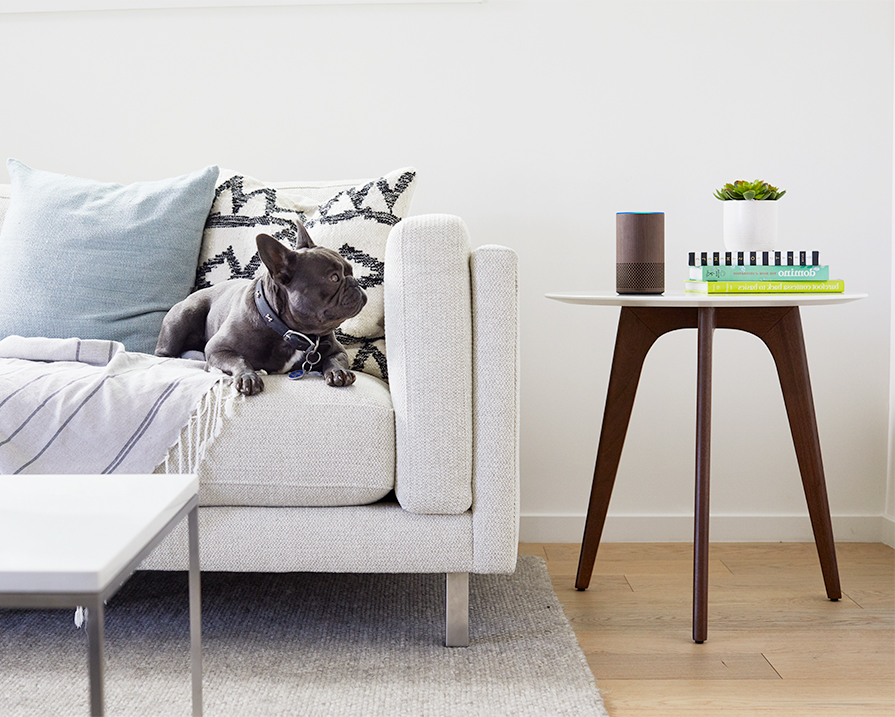 Learning all the time
The more you use Echo, the more Alexa learns. Alexa adapts to your speech patterns, vocabulary, and tastes, and as it's based in the Cloud, updates are added instantly to make Alexa more intelligent. Recent updates from Amazon include calling and messaging, multi-room music and reminders, plus thousands of other Skills from third-party developers.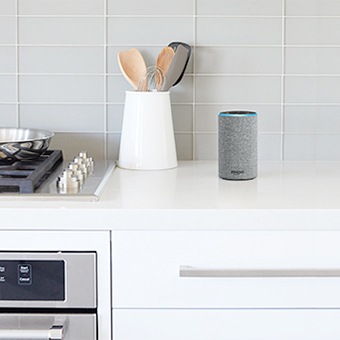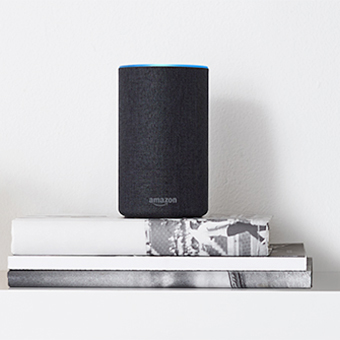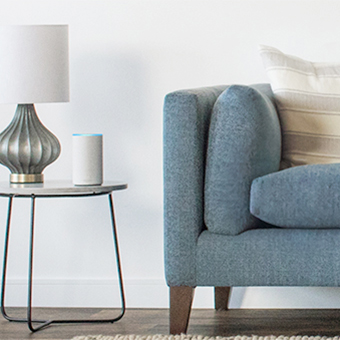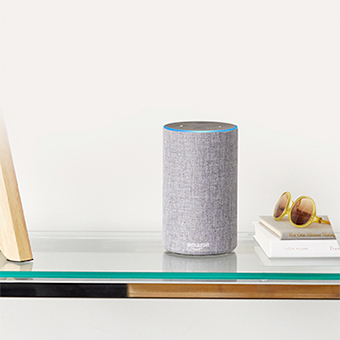 Suit your style
Customize your Echo for any room with Echo Shell, available in a range of fabrics and finishes.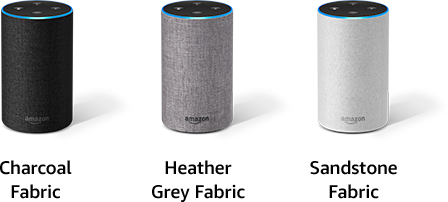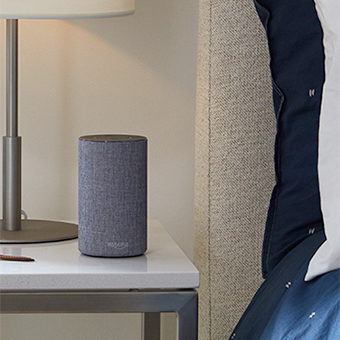 Compare Echo devices
|   | Echo Dot | Echo | Echo Plus | Echo Spot | Echo Show |
| --- | --- | --- | --- | --- | --- |
| Overview | Add Alexa to any room. | Room filling sound with six fabrics or finishes | The simple way to start your smart home | Stylish and compact Echo with a screen | Optimised for visuals and room filling sound |
| Speaker size | 0.6" speaker | 2.5" woofer and 0.6" tweeter | 2.5" woofer and 0.8" tweeter | 1.4" speaker | Dual 2.0" speakers |
| Screen size |   |   |   | 2.5" screen | 7.0" screen |
| Dual speakers with room-filling sound, powered by Dolby |   | | |   | |
| Play video from Amazon video and more |   |   |   | | |
| Built-in hub for simple setup of compatible smart home devices. |   |   | |   |   |
| Streaming Wi-Fi music (including Amazon Music, Spotify, Pandora and more) | | | | | |
| Line-out with 3.5 mm cable or Bluetooth | | | | | Bluetooth only |
| Free audio calls to US, Mexico and Canada | | | | | |
| Control smart home devices | | | | | |
|   | | | | | |
Technical details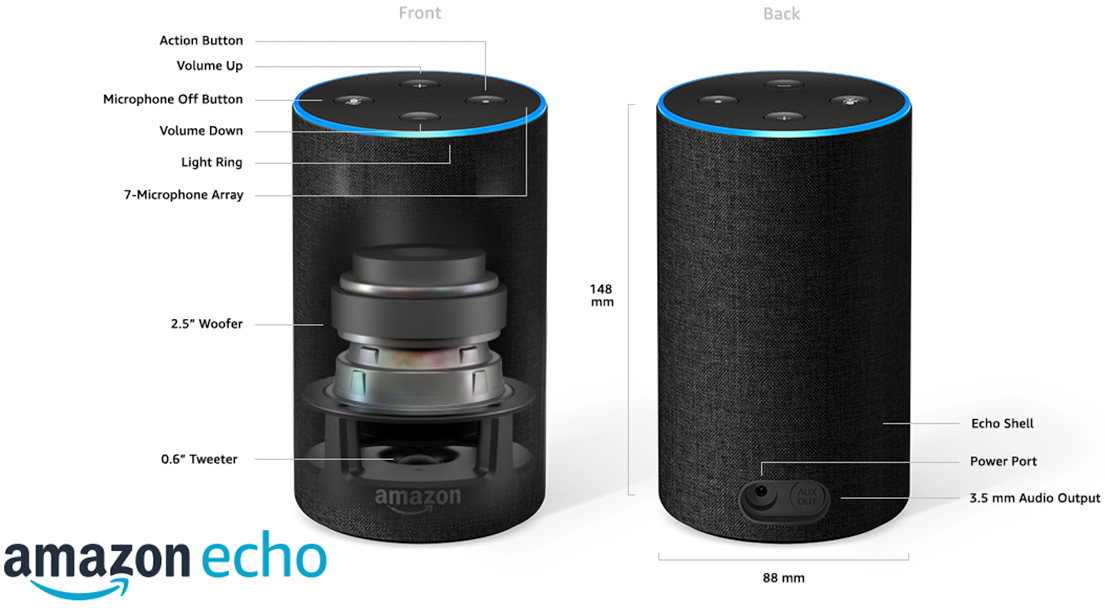 Weight
29.3 oz. (830 grams)
Actual size and weight may vary by manufacturing process.
Audio
2.5" woofer and 16mm tweeter.
Alexa app
The Alexa app is compatible with Fire OS, Android and iOS devices and also accessible via your web browser.
Bluetooth connectivity
Advanced Audio Distribution Profile (A2DP) support for audio streaming from your mobile device to Echo or from Echo to your bluetooth speaker. Audio/Video Remote Control Profile (AVRCP) for voice control of connected mobile devices. Hands-free voice control is not supported for Mac OS X devices. Bluetooth speakers requiring PIN codes are not supported.
Wi-Fi connectivity
SoC integrated Wi-Fi supports 802.11 a/b/g/n. Does not support connecting to ad-hoc (or peer-to-peer) Wi-Fi neetworks.
Warranty and service
1-year limited warranty and service included. Optional 1-year, 2-year and 3-year extended warranty available for US customers sold separately. Use of Echo is subject to the terms.
Included in the box
Echo, Echo Shell, power adapter/cable (6ft). Things to Try card, quick start guide.