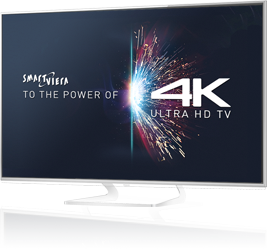 THE RESOLUTION REVOLUTION
The newest evolution in TV is its most beautiful yet. A resolution of 3840x2160 means the 4K display fits four times as many pixels into the screen as Full HD. With this much detail the world you look at inside the screen is almost as real as the one outside your window.
Four times the detail, depth and sharpness of Full HD, you'll see just what you've been missing with the Panasonic 4K.
The SmartVIERA 4K Ultra HD TV gives you much more to see, do and share – now is the time to join the resolution revolution.