GOJI
GPLNGRY20 USB to Lightning Cable - 1 m
Product code: 271815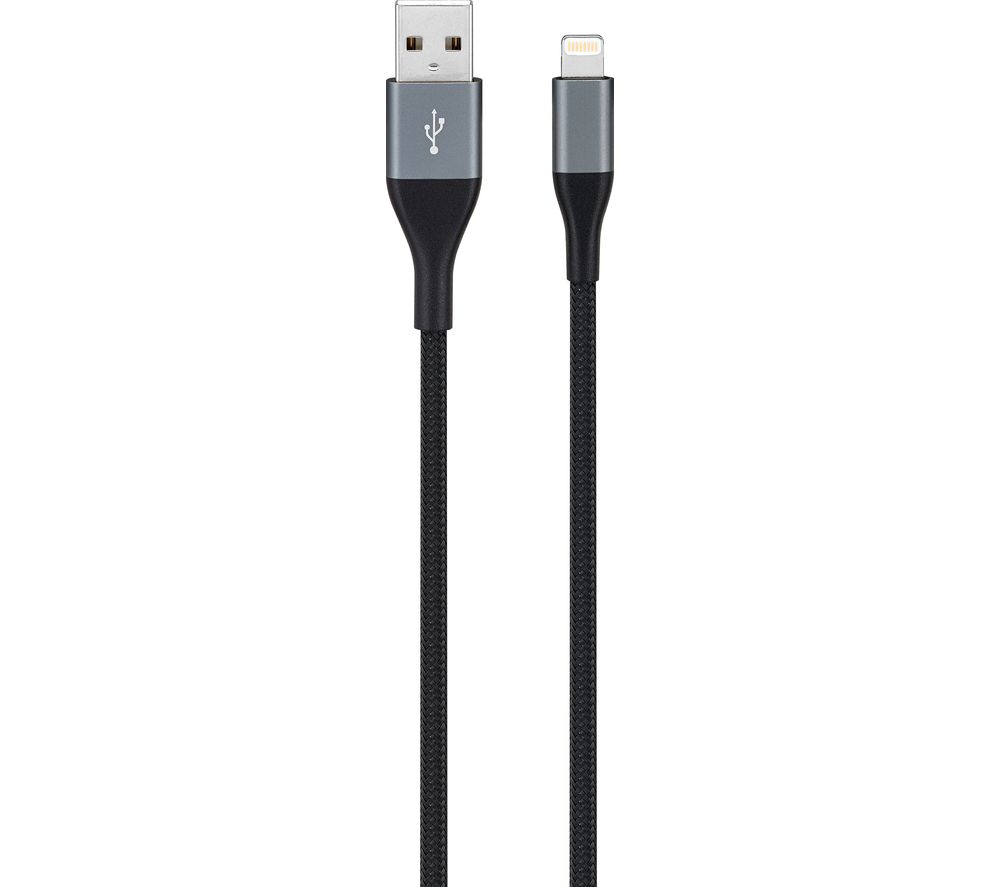 Product features
Compatible with Apple Lightning devices
Out of stock
Sorry, this item is out of stock.
Please click here to view similar products.
Product features
Compatible with Apple Lightning devices
Product information
Connect your iPhone to a PC or charger with the Goji GPLNGRY20 USB to Lightning Cable.
Price Promise, delivery & returns
You won't get it cheaper. Full Stop.
You won't get it cheaper. Full Stop.
We'll price match any product against any other retailer, online or in store. We'll also match discount codes.
PS5, Xbox Series X and Xbox Series S consoles excluded from price match.
How to request a price match
Delivering your online order
Get this delivered when it suits you

We'll show you your current delivery options for this item in checkout. Subject to the time you order, and where you want delivery, these options will include:

FREE standard delivery in 3-5 working days
Next day delivery or any following day between 8am & 5pm (£5.00 - order by 9PM)
Delivery in a timeslot of your choice next day or any following day (£10.00 - order by 9PM)
Please note: if we're out of stock of an item but getting more in, we indicate – on listings pages and the product page – how soon we can dispatch for delivery to you. In this case, please go ahead and order, and we'll contact you later to confirm an exact delivery date.
Important update on our delivery service for small items
Our courier partners (DPD, Royal Mail and On the Dot) have all updated their delivery processes to take extra precautions due to Coronavirus (COVID-19). Please follow the below advice:
1. Customers can use the DPD app to nominate a 'safe place' for their delivery to be left if they do not want close contact.
For customers unable to use the DPD app, DPD is still able to offer a contact-free delivery and will take a picture of the property and capture a proof of delivery name instead of capturing a customer signature.
2. Royal Mail is an unsigned service. Where Royal Mail needs to deliver a parcel, its teams will place the parcel at the customer's door. Having knocked on the door, the delivery teams will step aside to a safe distance while the item is retrieved. If the delivery cannot take place, Royal Mail will take the parcel to the local depot for collection by the customer.  The parcel will be held for 18 days as per normal process.
3. For On the Dot, where a standard signature delivery is not possible, On the Dot will attempt to leave the parcel in a safe place and inform the customer of where the parcel has been placed.
To see the courier partner for your delivery, please check your dispatch confirmation email (which will also include your tracking reference).
Availability Checker
How and when can you get hold of your selections? Finding out should be quick and easy, so with just a few clicks our Availability Checker shows you:
Delivery dates, time-slots and prices
Local stores with stock you can collect from now
Local stores you can get items sent to for you to collect later
To use our Availability Checker, simply:
Enter a town or postcode in the box on the product page for an item you've selected
Click on the magnifying glass
Review the delivery and collection options local to you – just click on any one to add it to your basket
Stock updates
Find something you want but it's not in stock? On the item's product page, simply click on 'Email me when back in stock', and let us have your email address. We'll let you know as soon as it's available again.
Returns and refunds
Whether an item you've bought is faulty or damaged, or you've changed your mind, it's easy to get a refund.
Items you haven't opened
Within 21 days of receiving
an item you paid for online, on the phone, or in store
you can return it for a full refund – provided your purchase is still in its original and unopened packaging. This promise is in addition to your statutory rights.
Items you've opened
Within 14 days of receiving
an item you paid for online or on the phone
, you can return it, even if you've opened it. To receive a refund, you must:
Let us know you plan to return the item within 14 days of delivery/collection
Physically return it within a further 14 days.
The item must be returned in
'as new condition'
– not used or installed, and in its original packaging.
More on returns and refunds.
Order online and collect in store
Order & Collect
­­– The majority of our stores are now open and offering a collection service, allowing you to safely order online and collect from store contact-free.
Our stores with parking available can offer a
Drive Thru
collection experience using the parking bays clearly marked outside the store. Here's how it works;
Once you've had confirmation your order is ready to collect, drive to the store.
When you've arrived, click on the link in your confirmation email to let our team know.
One of our colleagues will put your order in your car boot.
Stores, including those which
DO NOT
have parking outside, can still offer a safe
Walk Up
service. We have safety measures in place to keep you and our staff protected whilst you queue. Here's how it works;
Once you've had confirmation your order is ready to collect, walk to store and head to the collection point.
When you've arrived, click on the link in your confirmation email to let our team know.
You'll get a text when our colleague is preparing your order for collection.
Please remember to keep 2 metres away from our colleagues and other customers.
If the store already has stock of your item, you may be able to collect on the same day. If your store doesn't have stock, we can get some in, but it may take a little longer. Don't forget to wait for your
ready to collect
email and
check store opening hours
and whether the store can offer
Drive Thru, Walk Up
or
both
collection options before heading out.
We strongly recommend that you
check whether you will be able to carry the item, or whether it will fit in your vehicle
before placing your order.

Flexible credit you control
To spread the cost, pay by Your Plan, our uniquely flexible credit option. Available on orders £99 and over. Exclusions apply. With this uniquely flexible credit option you can:
Spread the cost with monthly payments, 24.9% APR Representative (variable)
Choose the payment term that suits you
No deposit to pay and choose to pay it off early at no extra cost
Plus once you've opened an account, you can use it to shop on credit in the future on purchases £99 and over
Learn more
How to apply
If you're buying this item online, you can apply for credit at checkout. Select delivery option at checkout, credit is currently unavailable on order & collect. Or if you're planning on shopping in store,
apply here
.
DSG Retail Limited acts as a credit broker and not a lender. Credit is provided by Creation Consumer Finance Ltd.
Both DSG Retail Ltd and Creation Consumer Finance Ltd are authorised and regulated by the Financial Conduct Authority.
Out of stock
Sorry, this item is out of stock.
Please click here to view similar products.
GOJI GPLNGRY20 USB to Lightning Cable - 1 m