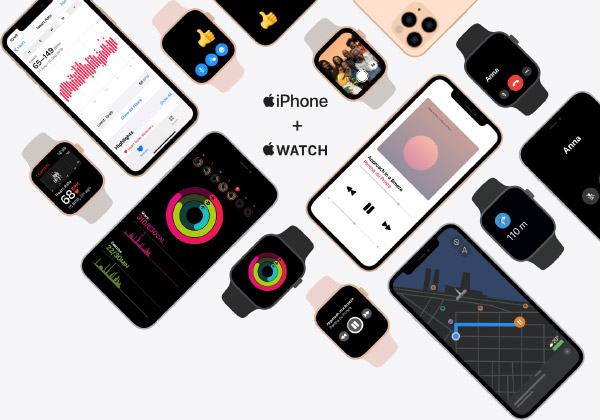 Add them together.
Multiply their power.
Get directions on iPhone and a tap on your wrist when you need to turn. Check your heart rate on Apple Watch and track it over the last hour, day, month or year on iPhone. When you put the two of them together, they add up to so much more.
Take calls
in your stride.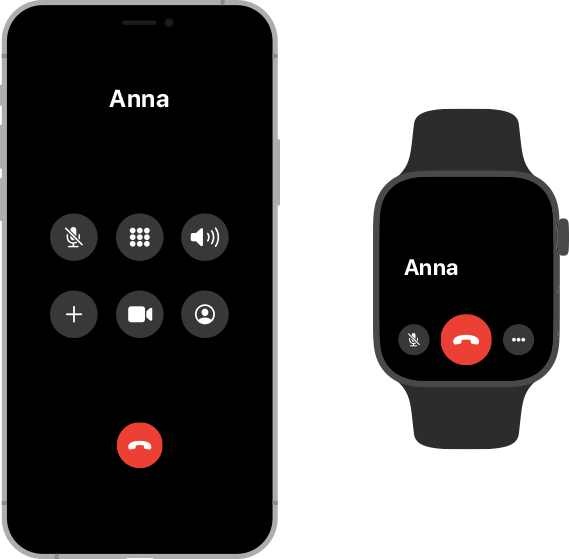 Answer on your Apple Watch.
Left your iPhone downstairs? Having coffee with a friend? Simply glance at your wrist to see who's calling. Take it if it's important — if not, just cover your watch display to silence the call.
Keep talking on your iPhone.
If your quick chat turns into a full-on catch-up, tap your iPhone and continue the conversation there. You can even turn it into a FaceTime call.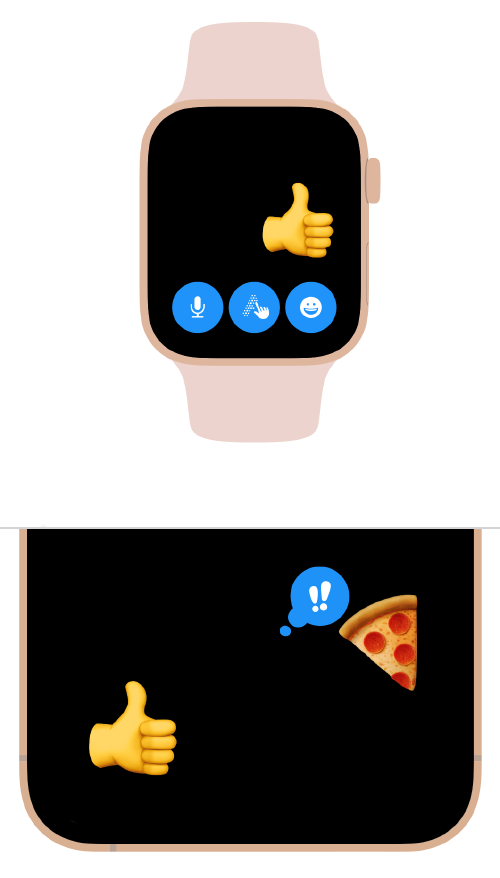 Reply faster than
you can take out
your iPhone.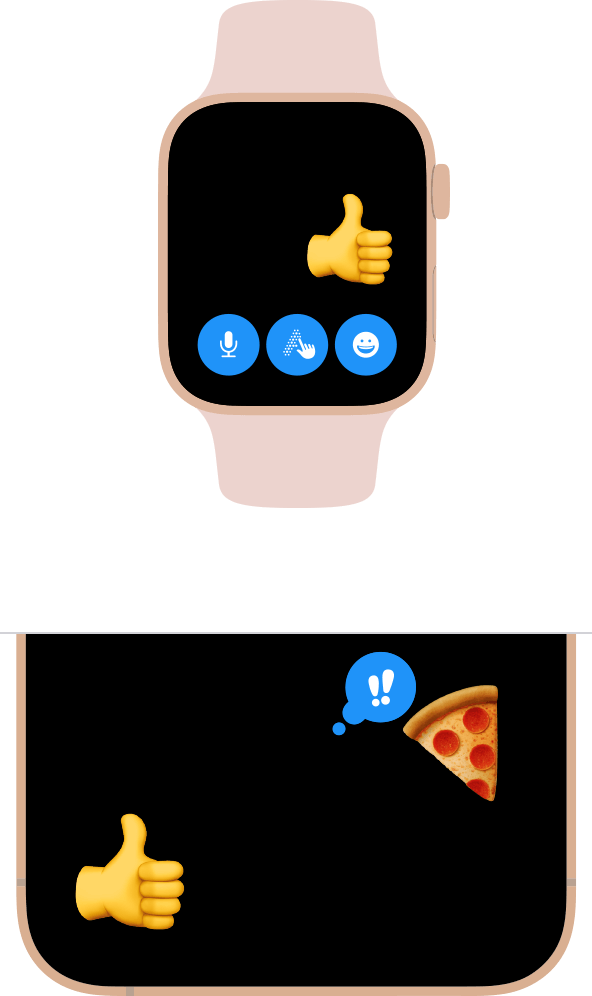 Just raise your wrist to see who's texting.
If your iPhone is in your bag or pocket, you can reply quickly on your watch or use your iPhone for longer responses. You can even go for a walk without your phone — all your texts will come through on your Apple Watch with cellular connectivity.1
Super-easy, super-fun replies.
There are so many ways to reply with Apple Watch — send a quick Tapback, a preset reply, your favourite emoji or even a scribble. You can also dictate exactly what you want to say.
Say it. Send it.
Carrying the shopping home? Ask Siri to send a message or reply to one straight from your Apple Watch.
Snap a photo
here while
your iPhone
is over there.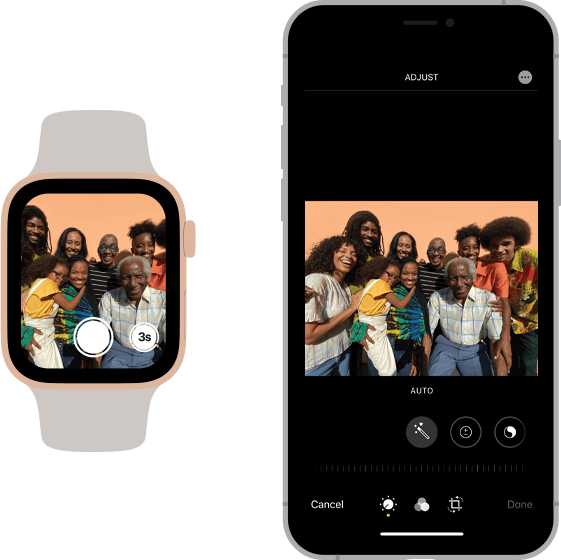 Do even more with your iPhone camera.
Your iPhone takes amazing photos. With Apple Watch, you can set up your shot on iPhone, then snap the photo or set a timer from your wrist — giving you time to look up if you're in the shot. Flip it, crop it or brighten it up on iPhone before sharing.
Control your iPhone camera remotely.
There's so much you can do from the Camera app on Apple Watch. Zoom in, zoom out and get the framing just right by turning the Digital Crown. Switch between the front and back cameras on iPhone. And turn on (or off) HDR, the flash or Live Photos.
Turn photos into watch faces.
On iPhone, choose a favourite photo as your watch face. Or create an album and see a different photo each time you raise your wrist. Who knows, your puppy might pop up just when you could use a smile.


60 million
songs in your
pocket. Even
if you don't
have a pocket.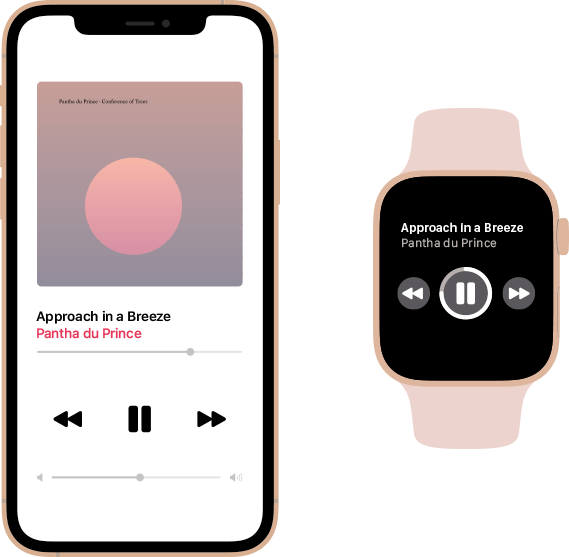 Stream the whole Apple Music library.
It's so easy to stream your favourite songs, albums and playlists on your iPhone or Apple Watch with cellular connectivity.2 You can even ask Siri to play what you want.
Create on iPhone. And go.
Make the perfect playlist on iPhone, then listen with your AirPods and Apple Watch. Now you can take your favourite songs on a run and leave your phone at home.
Your watch is your remote.
Whether you're playing music from your iPhone or Apple Watch, just lift your wrist to shuffle, skip, favourite and turn it up — way up.
Listen to more than music. All the fun stuff you can do with music works with podcasts, audiobooks and live radio too.3
Track your heart
rate without
missing a beat.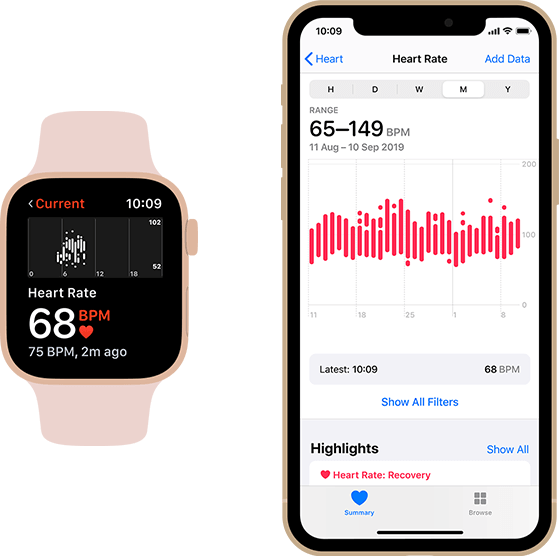 See it now. See it over time.
Apple Watch measures your current heart rate — even during workouts — along with your averages while you're resting, walking or using the Breathe app. iPhone helps you keep an eye on trends over days, weeks, months and years.
Heart health notifications.
If you turn on heart health notifications on iPhone, Apple Watch will let you know when your heart rate seems too high or too low. Go to the Health app on your iPhone to see charts and graphs of your heart rate data over time.
Take an ECG and share it with your doctor.4
Easily and accurately check your heart rhythm for atrial fibrillation with the ECG app on your watch. Then create a PDF and send the results from iPhone.


Training partners.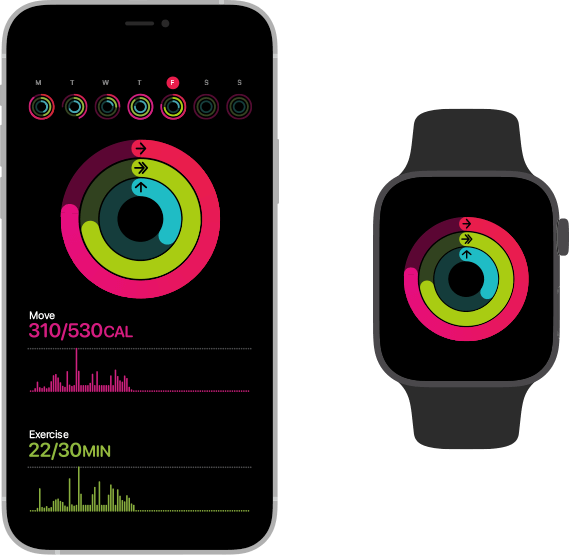 Track your fitness. And your progress.
The Activity rings on Apple Watch track how much you move, exercise and stand. The goal is to close them every day — and it's surprisingly motivating to watch them fill up. iPhone takes it further, showing your Activity history and trends, as well as detailed summaries of all your workouts.
Every walk, swim and downward dog counts.
The Workout app on Apple Watch tracks the stats you want — like calories, distance, lengths, time and pace — for your favourite types of workout. Even if you can't squeeze in a dedicated workout, you'll still get credit towards your Exercise ring for activities like playing tag with your kids.
Know where
to go without
looking at
your iPhone.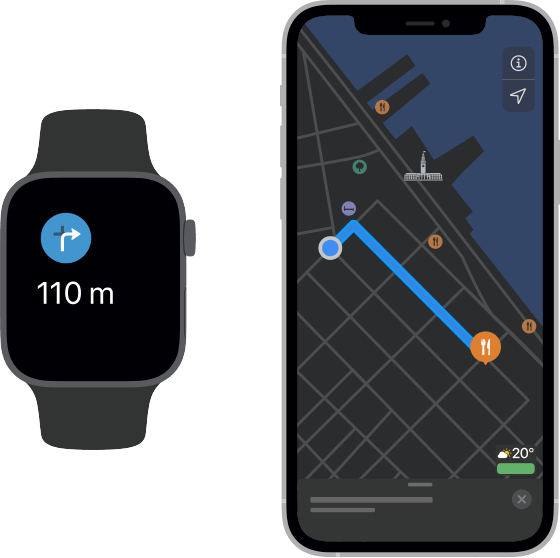 Tap and turn directions.
Going somewhere new? When you pull up the directions on iPhone, they'll also show up on your Apple Watch for easy reference. You'll even get a gentle tap when it's time to turn, which is great when you're walking on a busy street, cycling on a new route, or just want to take in the scenery.


Find your
iPhone with
your watch.
And vice versa.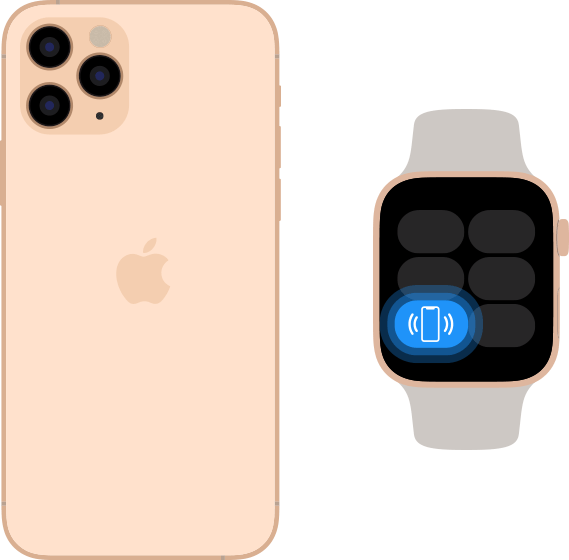 Ping your iPhone.
Whether it's in the other room or at the bottom of the washing basket, just tap the iPhone icon on your watch and follow the sound.
Find it in the dark.
mobile and hold the iPhone icon on your watch to flash the light on your iPhone. Brilliant.
Left your watch at the gym?
If your watch goes missing, you can locate it on a map with iPhone and send an "if found" message to its screen. So if someone finds it, they can give you a call.
Wireless service plan required for cellular service. Apple Watch and iPhone service provider must be the same. Not all service providers support business accounts; check with your employer and service provider. Roaming is not available outside your network coverage area. Contact your service provider for more details. Check apple.com/uk/watch/cellular for participating network providers and eligibility.
Streaming music requires Apple Watch (GPS + Cellular). Apple Music requires a subscription.
Live radio requires sign-in with the Apple ID used for iTunes or Apple Music.
The ECG app is available with the latest versions of iOS and watchOS on Apple Watch Series 4 or later. See apple.com/uk/watch for compatibility details. The ECG app is not intended for use by people under 22 years old.
Apple Watch Series 5 and Apple Watch Series 3 require iPhone 6s or later with iOS 13 or later.
Features are subject to change. Some features, applications and services may not be available in all regions or all languages. See apple.com/uk/ios/feature-availability for a complete list.