Why choose a range cooker?
Range cookers represent the pinnacle of home cooking style, technology and usability. Wider than standard cookers, range cookers have more oven space, more hobs, and masses of features designed to give you a professional cooking centre at the heart of your kitchen. On top of all this, they really look the part and come in a variety of colours and styles.
Choose from dual fuel, electric and gas fuel type range cookers to make a great step towards a more cook-friendly kitchen. With many range cookers offering multifunction, fan and slow-cook ovens and other practical features, they are a great choice for those with the space and ambition to really get cooking.
Gas, electric or dual fuel?
Ovens and hobs can both be powered by either gas or electricity. A combination of a gas hob and an electric oven is known as dual fuel. If you aren't redesigning your home, your existing fuel supply will influence the type of cooker you can choose, and each fuel type brings different benefits to your kitchen.
Hob types
Gas hobs are fast and responsive and are generally cheaper to run. All gas and dual fuel cookers are fitted with FSDs (flame supervision devices) which automatically shut off the gas supply if the flame is accidentally extinguished. Gas hobs are supplied with either easy-clean enamel or more durable cast iron pan supports.
Electric range cookers have either ceramic or induction hobs. Induction hobs are as quick and responsive as gas and are very safe and easy to clean. Induction hobs only work with compatible pots and pans, transferring heat directly to the pot or pan, not the hob surface. This means spills don't cook onto the hob, making cleaning simple. Ceramic hobs take longer to heat up and cool down and spills tend to burn on the glass hob.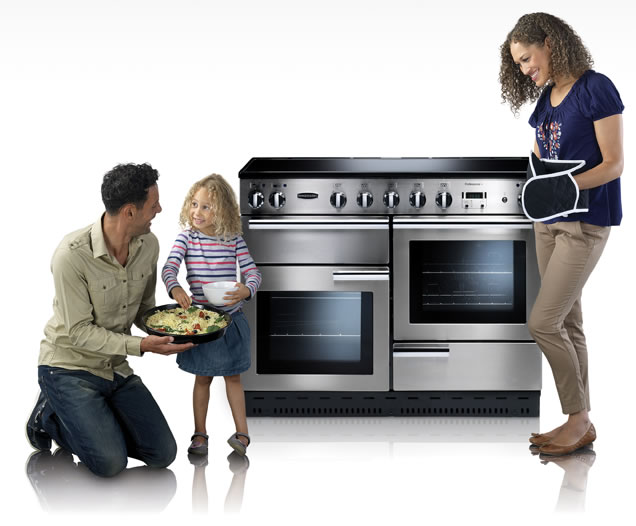 Oven Types
Conventional ovens produce heat from a basic element to create variable heat zones. This makes them ideal for cooking two meals simultaneously – one at the top to be crisped, one at the bottom to cook slower. Conventional electric ovens can take longer to heat up than gas.
Fan ovens circulate hot air in the oven cavity for faster heat-up times and a more even temperature. They also minimise flavour transfer, making them ideal for cooking two dishes at the same time and batch baking. Fan ovens can reduce cooking times by up to 30%.
Multifunction ovens combine the two and add even more, making them the ideal all-rounder for roasting, baking, grilling and browning. With individually controlled elements, multiple dishes can be cooked at once, giving you maximum flexibility.