Customer Services

Let's take your old one away
Got an old electrical appliance or technology you want out of your home? Like to save the hassle of a trip to the dump, or of getting the council to call? Love someone to do all the heavy lifting and disposal work for you?
To make life easy, we offer convenient ways to get your old stuff removed and recycled – when we deliver your new large kitchen appliance, big-screen TV or for free in store.
---
Appliances recycled on delivery
We can take away your old unwanted appliances at the same time we deliver any of these new ones:
Large appliances
If the item you want us to take is a large kitchen appliance or big-screen TV, you can add recycling online as part of your order. Prices for this service start from just £15.
Please note: We can only take for recycling a large appliance that's disconnected and (if it's a built-in model) is unfixed from your units.
If you'd like us to disconnect your old large appliance, this comes as part of our installation service for your new appliance (see below).
Otherwise, please ensure the large appliance is prepared before we arrive to take it away. For a gas or dual-fuel cooker, you'll need a Gas Safe registered engineer to do the disconnecting.
Small appliances
If the items you want removed are smaller – for example, kettles, toasters or vacuum cleaners - when we deliver a large appliance - we'll take them for recycling, provided there's room on our van. This service is free and can't be added as part of your order.
---
Large appliances installed & recycled on delivery
Want your new large appliance delivered and fitted, and your old one gone, all in one go? For maximum convenience, add both installation, and recycling on delivery, to your order in checkout.
Importantly, our installation service includes disconnecting your old gas or electrical appliance. Saving you the hassle of getting a separate tradesman to disconnect it before we arrive.
As standard:
If we're bringing and fitting a freestanding appliance, we'll only disconnect a freestanding appliance.
If we're bringing and fitting a built-in appliance, we'll disconnect either a built-in appliance (includes unfixing it from your units), or a freestanding appliance.
If we're bringing and fitting a electric oven or hob, but your old one is gas please place your order and call us on 0344 561 1234 to make sure we send one of our Gas Safe registered Experts to safely remove this.
However, if we're bringing and fitting a freestanding appliance, and the one to be disconnected is built-in, it's a special job. To arrange this, please call our Customer Service Centre on 0344 561 1234.
---
Free recycling in-store
Whenever you like, and without buying anything new, you can also take to your local Currys PC World store any electricals or electronics you no longer want for free recycling . We accept everything from computers to toasters, and floor cleaners to TVs, whether bought from us or someone else.
---
Recycling conditions
Please make sure any large appliance you pass to us for recycling is in a fit state. Fridges or freezers should be defrosted, with no water left inside.
If we're recycling on delivery, it's important we don't damage your home. So in some cases it may be we can't remove your unwanted kit. Examples include an unmovable appliance, seized-up taps, and an appliance hard wired into a fused spur.
With recycling on delivery, we can only guarantee to remove a large appliance that's roughly the same size as the one we're delivering. Or one that's smaller. However, we're always keen to please, and provided we have space on our truck, we'll take away an appliance that's larger than the one we're delivering.
If the manufacturer is delivering your new appliance direct, they'll only recycle like for like – for example, if you're receiving a new fridge freezer, they'll only take a fridge freezer.
If you're bringing a PC, tablet, laptop or mobile phone to recycle, please ensure any personal data is removed first. Otherwise, there's our data wipe service for computers.
Shop greener with us
As the UK's largest electrical retailer, we collect, re-use and recycle over 65,000 tonnes of waste electronics each year.
Plus, in July 2007, the government introduced new rules to help reduce volumes of untreated waste electrical and electronic equipment (WEEE) going to landfill, and to control its treatment.
To comply with these rules, we only sell electricals and electronics that can be recycled, as indicated by the symbol of a crossed-out wheelie bin which appears on them.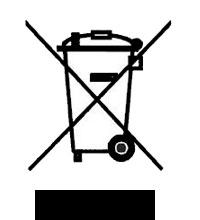 Even if your old electrical appliances or technologies don't bear this symbol, the good news is we'll accept them for recycling.
Better for the environment
Recycle your unwanted electricals and technology, and you help the environment. By diverting these items away from landfill, you prevent the lead and other toxins they contain from polluting the soil and water. The natural habitat, wildlife, and even people's health all benefit.
Bring us your batteries too
For the free recycling of your waste batteries , you'll find dedicated bins in all Currys PC World stores. Here you can deposit AA or AAA batteries, plus batteries used in computers, mobile phones and wrist watches.
We don't accept industrial batteries or car batteries. For more on how to dispose of these, please contact your supplier or local council.